CSA Part 1:
Maintaining your record
Next month CSA
Part 2: Maintaining your equipment.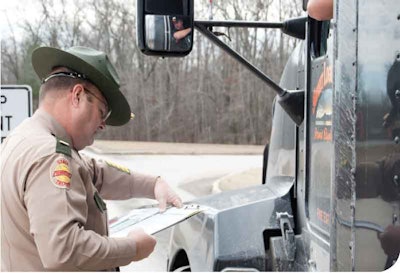 Your driving record carries more weight than ever under CSA. Learn how to access your data, understand it and use it to your advantage.
The Federal Motor Carrier Safety Administration's new Compliance, Safety, Accountability program is finally getting the attention of many in the trucking industry. Inspections are being seen in a new light. Owner-operators and carriers are trying to figure out how the scoring works and how it's going to affect their livelihood.
"Is it really going to take the bad characters off the road?" owner-operator Don Bradley says. "Or is it going to get the Don Bradleys of the world, who have a lot of time and a lot of safe miles? And last week I got my first moving violation in 50 years." Bradley, who's been trucking for 10 of those years, missed a sign prohibiting trucks on an exit in the Northeast.
It's hard for Bradley not to think about that violation in the context of CSA. By itself it isn't enough to put Bradley out of service or jeopardize his lease with his carrier.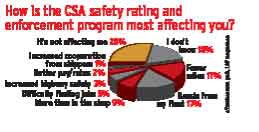 It will, however, contribute points to the carrier's CSA ranking in the Unsafe Driving BASIC (Behavioral Analysis and Safety Improvement Category). It will show up on Bradley's Pre-Employment Screening Program (PSP) report, which documents drivers' inspection and crash histories going back five and three years, respectively. If within three years Bradley attempts to lease to a different carrier, it's highly likely the new carrier will evaluate his PSP, and he will have to explain the minor violation.
While CSA safety scoring for individual drivers is available at present only to drivers and their employing carriers via third-party service providers, insurance providers may be next. "Why wouldn't you, if you've got visibility to relevant indicators of driver risk?" asks Don Osterberg, Schneider National senior safety vice president. Getting the information could be simply a matter of asking "the driver to agree to access as a condition to write a policy," he adds.
Shippers are watching carrier rankings in the new Safety Measurement System (SMS) results. A majority (55 percent) of respondents to a Morgan-Stanley-conducted shipper survey reported they would not use a carrier with a ranking above the intervention threshold in any public BASIC.
"I think it's very important that owner-operators understand the score of the carriers that they're going to work for," says Mike Miller, a Progressive Insurance marketing director. "Going with a motor carrier whose score is poor, they're going to be targeted for inspections." And if shippers avoid carriers with bad scores, freight availability for operators leased to those carriers will be diminished.
How can I access my CSA score?
Any owner-operator who is leased to a carrier and who hasn't had his authority for the last two years does not have, at least technically, a CSA score.
But Tennessee Highway Patrol Trooper Robert Hadden, part of the state's crew of compliance-review/CSA-intervention-ready officers, says there are new levels of driver accountability with the FMCSA's Driver Safety Measurement System (DSMS), introduced in 2009.
During compliance reviews, "Carriers have always been held accountable for the roadside violations," he says. But now, during on-site focused or full compliance review-type interventions, "there will be so-called 'red flag drivers' " in the carrier's CSA data profile. These are drivers who've committed one or more "red flag violations," such as driving without proper credentials or under the influence. "We have to look at those first," he says.
A leased owner-operator's "score," or data profile in the DSMS, is important. Leased owner-operators can gain access to the data the internal measurement is based on via the FMCSA's Pre-Employment Screening Program (psp.fmcsa.dot.gov) for $10. Alternatively, making a Privacy Act request via the FMCSA's Freedom of Information Act office will net you the same results for free, but it takes weeks.
If you haven't accessed the information yet, it's important to do so to make certain it is correct. It will be used by carriers evaluating lease applications, and in the future, it could impact your insurance rates.
Carrier CSA data mining firm Vigillo is offering a driver-focused CSA scoring service called the Roadside Resume (www.roadsideresume.com), free for drivers. Vigillo, which creates in-house systems for carriers to assist in tracking their progress in improving and managing safety and compliance, uses FMCSA's published DSMS methodology to rank drivers accordingly with scorecards. Many carriers using the system share score information with drivers and leased owner-operators.
Safety Director Gary Falldin, with Transport America, based in the former CSA pilot state of Minnesota, says the fleet scored every driver in 2009, a process in which it involved drivers in making compliance improvements. Albertville, Minn.-based Mark Theis, safety director for Long Haul Trucking, notes a similar in-house process, saying the company used Vigillo's scoring system to "place our drivers where they rank in their fleet and in a peer group – ours is 200 to 300 trucks."
However, sharing information with drivers to improve carrier safety scores is not always the route taken, to say nothing of the drivers for carriers who do not use a driver CSA scoring system. "There should be no misunderstanding CSA," wrote Vigillo President Steven Bryan in January, in support of the company's Resume product. CSA is built to focus on driver behaviors, "and yet no outlet exists to communicate … scores to drivers. It is a fundamental flaw in CSA to keep the very 'drivers' of CSA in the dark."
Unlike PSP reports based on DOT law enforcement reports, Vigillo's driver data will be limited to what a carrier has provided; if you haven't driven for or been leased to such a carrier, you won't be in the system. As of late 2010, Bryan claimed to have at least some data on more than 600,000 drivers.
The Vigillo system's limitations are similar to those of DAC report employment histories, offered by HireRight. It's unclear whether the Roadside Resume will present problems for drivers, as DAC has when data provided by fleets is inaccurate or incomplete.
How to get your PSP data free
• Visit fmcsa.dot.gov/foia.
• Make a Freedom of Information Act request in writing and include your name, address and a telephone number via the mailing address noted on the above web page or via fax at (202) 385-2335 or email at foia@fmcsa.dot.gov.
• Specify you are looking for FMCSA Pre-Employment Screening Program data that is linked to your CDL, and include the number and licensing state.
• Make explicit you are requesting the information under the Freedom of Information Act/Privacy Act.
I have my own authority, what about me?
For independents, Carrier Safety Measurement System results are publicly available via csa.fmcsa.dot.gov (click "SMS Results"). Only five of seven BASICs are published; you'll need a Department of Transportation-issued login and PIN number to access the full results for every category to know whether you have a ranking in any BASIC or not.
Most owner-operators have no ranking, but it's believed that will change. The Inspection Selection System scores that all carriers receive also changed with the December switchover to the CSA SMS, says Major Mark Savage of the Colorado State Patrol. He was heavily involved in forming the new ISS algorithm for determining the scores and use of the new ISS and BASICs at roadside.
Savage says the new ISS will help roadside inspectors better prioritize carriers for inspection. Of particular weight in the algorithm will be "serious violations" (see "Red flag violations") and alerts in the Fatigued Driving (hours) or any two or more other BASICs.
"We asked [ISS] to identify carriers that we don't have data on," he says.
Carriers one inspection shy of achieving enough inspections to be ranked in a BASIC will receive an ISS score marking their trucks for inspection, as will those with no inspections or a low inspection rate. Because of new weight given to insufficient data in the algorithms used to compute the ISS score, owner-operators and other small fleets with few inspections on file may have seen their ISS scores jump when the new system went public in December. Others with enough inspections on file to obtain good ratings may benefit from the change. Ronnie Adams, of 30-truck Adams Motor Express, based in Georgia, says inspectors were "hot and heavy trying to get information for the system" on his company's trucks throughout 2010. He estimates receiving five times as many inspections last year compared with 2009.
Since December, when CSA's new SMS results revealed data from enough inspections to provide low, safe scores in three of the five public BASICs, Adams says, "we're not seeing near as many inspections."
How can I use CSA scores/SMS results?
Safety data and any scoring that may be available can be used in many ways.
PROVE SAFETY TO A PROSPECTIVE CARRIER. For owner-operators applying for a new lease and facing carrier qualifying processes, a pristine PSP is expected to carry more weight, as some carriers look to tie driver mileage or percentage pay rates to safety performance.
Providing an up-to-date, clean PSP to a prospective carrier before being asked is something an owner-operator confident in his/her safety performance might do to document safety performance. Using Vigillo's resume offering, if your profile is available there, could provide a statistical window for how FMCSA scores you.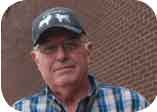 REVIEW DATA QUALITY AND CORRECT ERRORS. Leased or independent, you'll be reviewing information contained within the same database. Make certain all violations or crashes contained in your SMS results or on your PSP are yours. Challenges are conducted via FMCSA's DataQs portal at dataqs.fmcsa.dot.gov.
Joe Rajkovacz, regulatory affairs director of the Owner-Operator Independent Drivers Association, says his organization offers members assistance with navigating this process. And Legal Benefits Group proprietor Rickey Gooch (golegalbenefits.com), who offers a CSA Driver Boot Camp for carriers, will help drivers and owner-operators make challenges themselves.
"The more legal knowledge you have about the situation, the easier it is to get it overturned," he says. "What the court says does mean a lot. FMCSA does not have authority to overturn the court."
Company driver Ed Webb, with eight-truck Indiana-based Prime Hauling, was one of the drivers Gooch consulted. Webb's story suggests two key points about the DataQs process.
1) Go into it with clear evidence proving the violation is in error. Webb attempted to remove an "ill/fatigued driver" ticket he received while taking an early evening nap on a ramp exiting a rest area, which was full at the time. Key to his eventual success was evidence the ticket had been thrown out by the court.
2) Don't take no for an answer if you are right. When a challenge is filed via DataQs, it is routed back to the inspecting jurisdiction, in Webb's case the Indiana FMCSA field office in Indianapolis. The staff person he spoke to there initially "made it his point that I was basically guilty," Webb says, in spite of the court dismissal. Pressed, though, the staffer eventually removed two of three marks on Webb's record.
SATISFY IDLE CURIOSITY. "I was wondering when this info was going to be available to us," Twin Express driver Mark Schember commented about Vigillo's Roadside Resume. But when he registered and logged in, he found out he wasn't in the system. After writing the company, a week later he said, "I have not received a reply from Vigillo, so I assume that there is no info."
What else can I do to minimize CSA impact?
AVOID INSPECTION VIOLATIONS. That starts with thorough pretrips and attention to needed maintenance. Some carriers have begun paying cash awards to operators for clean inspections, which help a carrier's CSA score.
Independent Joe Powell, of Pensacola, Fla., takes a more jaded view of the clean inspection idea due to the relationship between law enforcement and trucking. "If you get stopped right now, you'll get a ticket or you'll get written up," he says. "You're not going to get any good inspections."
Once upon a time, Powell averaged one inspection a year on his 1996 Freightliner, running primarily in the Southeast. In the past year, he says he's been stopped or pulled in a weigh station several times, including twice in one day within minutes of his home, incurring subsequent Level 1 and Level 2 inspections, after the new SMS went live. Bobtail and empty trailer inspections were incurred at Florida scales earlier, in addition to other law enforcement encounters.
Use PrePass or other bypassing system to stay out of the weigh stations as much as possible, wash your truck regularly, dress cleanly and otherwise avoid doing anything that might catch the attention of patrol officers.
"Ninety percent of every motor carrier's problems is speeding," says Tennessee Highway Patrol Lieutenant John Harmon. "Slowing down is going to help your score, because when you speed, we stop you, and when we do that, it's there we find the log book problems and everything else."
PICK YOUR PARTNERS WISELY. A carrier that takes its safety scoring seriously is more likely to have solid customers and its pick of freight.
Owner-operator Robert Shumate is leased to Williams Sausage, doing trucking business as Crystal Refrigerated Express, of Union City, Tenn. Shumate says Williams is concerned about CSA, and company personnel routinely recommend small measures concerning the operator's own tractor and reefer trailer.
Schneider manages company drivers' and owner-operators' DataQs challenges in-house, and "takes compliance seriously," Osterberg says, by installing electronic logs in its entire fleet and covering all costs for its independent contractors. "If I'm an independent contractor," he says, "I don't want a carrier who is going to ask me to creatively log."
GO ELECTRONIC WITH LOGS. Fatigued Driving (hours-related) is the most-frequently violated BASIC. Thirteen percent of all interstate freight carriers have an alert, according to TransCore research conducted with FMCSA. That alert frequency is double all other categories, except for the Vehicle Maintenance BASIC, at 8 percent.
A majority of violations in that BASIC are so-called "form and manner" infractions. "Seventy percent of the HOS violations are administrative errors in how it's represented on the paper," says Christian Schenk, a vice president for Xata, maker of the Xata Turnpike RouteTracker EOBR. "It's writing the wrong number down, or connecting the wrong line." Electronic logs eliminate most of those errors..
Shumate uses the Driver's Daily Log program on a laptop for his hours. The program isn't a federally approved EOBR, but he says having it gives him a more safety-serious profile in the view of law enforcement. "They respect the technology," says Shumate. "DOT officers do recognize that I'm trying to be more thorough. There are times that I don't get hassled as hard as others."
Long Haul's Theis says his fleet's strategy is to reduce hours violations by focusing on running legal with paper logs. And rather than getting rid of drivers who were having problems when CSA began, he says, "we'd rather [spend time with] drivers to help … get them on a better track."
The company reduced log violations by 51 percent in a single year, reducing its percentile ranking in Fatigued Driving significantly.
MIND THE SMALL STUFF. Pay strict attention to all aspects of your operation. For example, Osterberg says, "We find law enforcement stacking citations for speeding and lack of seat belt use." Both violations carry CSA points.
BUILD LAW ENFORCEMENT RELATIONSHIPS. For independents, good relationships with the highway patrol will enable you to call on them for advice. They might also be available to help your ISS or Vehicle Maintenance BASIC scores by inspecting your equipment. Now that CSA is live, Harmon and Hadden of the Tennessee state patrol are frequently requested to do terminal inspections, says Harmon.
As an owner-operator, it's crucial you're actively engaged in every aspect of your business. "If they don't do what they're supposed to," Harmon says, "the feds are going to take notice [and] insurance premiums will go up."
'Red flag violations'
Violation CSA BASIC Regulatory part
Operating with more than one CDL Driver Fitness 383.21
Operating without a valid CDL Driver Fitness 383.23(a)(2)
Driving while disqualified Driver Fitness 383.51(a)
Operating with improper CDL group Driver Fitness 383.91(a)
Unqualified driver Driver Fitness 391.11
Driver lacking valid license for vehicle type Driver Fitness 391.11(b)(5)
Driver disqualified from operating Driver Fitness 391.11(b)(7)
Driving while disqualified Driver Fitness 391.15(a)
Driver uses or in possession of drugs Controlled Substances/Alcohol 392.4(a)
Possession/use/under influence of Controlled alcohol less than 4 hours prior to duty Substances/Alcohol 392.5(a)
Driving after being declared OOS Fatigued Driving (HOS) 395.13(d)
Operating an OOS vehicle Vehicle Maintenance 396.9(c)(2)
Independents: How to create your DOT account
To access your full carrier safety profile, including your scores, request a DOT-issued PIN. To do that, create an account in FMCSA's multipurpose Compass Portal:
• Have a credit card for ID purposes and your DOT number handy.
• Visit portal.fmcsa.dot.gov.
• Follow the links for creating a user account.
CSA interventions begin
Warning letters started going out early this year to carriers with an "alert" in any one or more BASIC categories of measurement, indicating a ranking above the percentile thresholds for the new CSA interventions, of which the letters are the first part. FMCSA said the letters generally outline "possible consequences of continued safety problems" associated with a BASIC. There is no statutory requirement for you to respond directly to FMCSA regarding a warning letter you've received, but the agency hopes you will take action to correct noted problems. If you don't, they will come calling in the future.
The only way to improve a bad rating is with time and/or clean inspections. In CSA, more recent violations are weighted more heavily in making the ranking. If you're one of the few small carriers to be at alert stage, take immediate action to correct problems that a bad score may indicate.
Alert thresholds in the five public BASICs
Unsafe Driving 65
Fatigued Driving (hours) 65
Driver Fitness 80
Controlled Substances/Alcohol 80
Vehicle Maintenance 80
Monitor speeding warnings in 'probable cause' states
In many states, law enforcement officers must always have probable cause, such as observing a moving violation, to pull over a truck on the highway. Problems often arise when enforcement officers want to inspect a truck and issue a speeding warning with a roadside inspection to cover the probable cause requirement.
"We started really monitoring that with on-board computing devices," says Mark Theis of Long Haul Trucking, a largely owner-operator fleet. Anytime a driver received a speeding warning, Theis and company pulled data from the truck's ECM via the company's PeopleNet communications/data monitoring system. "We started fighting back on these" via the DataQs system. With speed evidence in hand, Theis says, he got 21 of 24 warnings removed.
Pay attention to inspection documentation you're issued at roadside; if it notes a speeding citation and you were not speeding, take your truck to a dealer for a data download from the ECM to prove your case to get the warning removed. You'll pay about an hour's worth of shop rates for the procedure (around $100). If you're leased to a carrier and use a communications and/or on-board data recording system, work with the carrier to obtain the necessary data. Handheld ECM data reading devices are available from engine manufacturers as well — for example, the Cummins QuickCheck device (quickcheck.cummins.com).