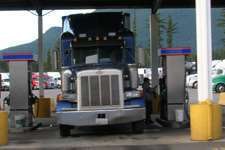 For a second straight week and third in the last four weeks, the national average retail price of diesel dropped during the week ended May 16, according to the U.S. Department of Energy's Energy Information Administration. The national average price fell 4.3 cents to $4.061 but is still 96.7 cents higher than a year earlier.
The weekly price decrease was the largest since 7.3 cents almost a year ago.
All regions decreased in price, with the California price dropping 8.8 cents a gallon to $4.371, the most expensive. The West Coast excluding California fell 5.9 cents to $4.248. The Midwest declined 5.1 cents to $4.015. The Gulf Coast became the only region with an average price less than $4, falling 2.6 cents to $3.996.
The record diesel price was $4.764 in July 2008.
For diesel price information, click here.