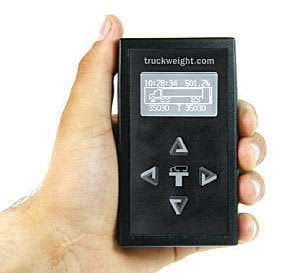 Handheld onboard scale
The Smart Scale system features a backlit handheld wireless receiver and an expanded memory capacity from last year's model. The system has a signal range of up to 500 feet and allows driver monitoring from in the cab or away from the truck. Sensors are available for both air-ride and mechanical suspensions, can be installed without tools and run off of AA batteries. Data can be stored for multiple trailers.
TRUCKWEIGHT, truckweight.com, (877) 757-7888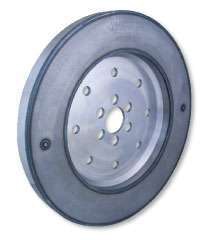 Torsional viscous dampers
The torsional viscous dampers for Caterpillar C10, C12 and C13 engines are direct replacements for the original parts. They are recommended for installation at the 300,000-mile crankshaft vibration damper service or during an engine rebuild. The dampers are made of steel and coated with a rust preventive, and they self-tune to exact engine harmonic frequency across the engine's entire rpm range. The maker recommends installing the parts at a Caterpillar service center.
Vibratech TVD, vibratechtvd.com, (716) 592-1000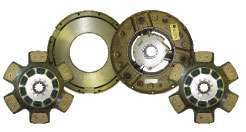 Direct pressure clutch
The New Lipe Clutch, a 15.5-in. cast iron direct pressure clutch, has a torque rating of 2,400 pounds and is made for severe service applications and for high-horsepower, high-torque engines.
SETCO AUTOMOTIVE, setcoauto.com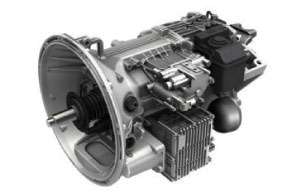 Automated-manual transmission
The AMT3 automated-manual transmission, designed for M2 vehicles, uses a two-pedal shift system to equalize driver performance. It eliminates the torque converter and couples the engine to the transmission with a hydraulically actuated clutch, helping reduce torque interruption during shifting and providing constant lock-up.
FREIGHTLINER, freightlinertrucks.com
Surface-mounted LED
The UL 844 Class 1 LED surface mount has a 30-watt output, high color rendition index and a 5-year bulb life, the company says. The lights carry both Class 1 and Class 2 Division 1 ratings and are available in lengths of 2 feet and 4 feet.
LARSON ELECTRONICS.magnalight.com, (800) 369-6671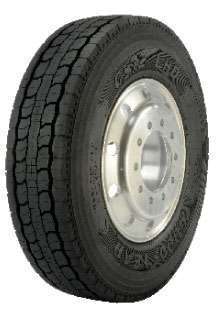 Severe duty tire
The G278 MSD super single tire is designed for off-road, severe-duty vocational applications and features a crisscross tread design that offers improved off-road traction and helps route water from the tread, the company says. The grooved angles have full-width interlocking groove protectors. The tire is available in 385/65R, 425/65R and 445/65R sizes.
GOODYEAR, goodyear.com/truck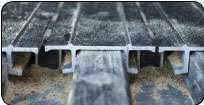 Sealed floor slat
The Pressure Seal PS+ Series floor slat is made to keep materials from sifting through the bottom of a moving trailer and is designed specifically for transporting agricultural products. The flooring features a full-length, integrated hold-down system that eliminates the need for T-blocks. When a load is placed on the trailer floor, the pressure from the cargo creates a seal between the slat and bearing strips.
KEITH MANUFACTURING, keithwalkingfloor.com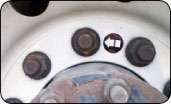 Wheel heat indicator
The Hot Wheel heat indicator label attaches to a wheel or rim with self-adhesives and alerts drivers to possible failure of wheel end, bearing and brakes during walk-around inspections. When the wheel temperature reaches 250 degrees Fahrenheit, the temperature-sensitive white arrow changes and remains bright orange to warn of overheating. After a wheel problem has been corrected, a new decal must be installed.
ESCO, esco.net
Side rollover protection system
The IMMI RollTek side rollover protection system has been integrated in the Atlas Premium Air Ride high-back driver's seat on all Peterbilt Class 8 vehicles. RollTek combines side airbag protection with seatbelt technology. The system deploys within a quarter-second to minimize impact.
PETERBILT, peterbilt.com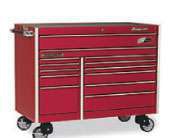 Double-banked roll cab
The Master Series Roll Cab is a double-banked tool storage unit with 13 drawers, made of 16-gauge 304 stainless steel. The WorkCenter features a Slots 'n Dots flexible mounting system and provides vertical storage that turns the roll cab into a moveable workbench.
SNAP-ON, snapon.com
Tire pressure monitoring system
The Dual-Tire Pressure Monitor & Equalizer wireless system monitors two tires via one device. The unit monitors individual pressure for both tires and transmits tire readings to the in-cab monitor, and its built-in equalizer provides equal pressure to dual tires. Equalization shuts off when abnormal tire conditions are detected, and warning signals are issued.
TIRE-SAFEGUARD, tiresafegaurd.com, (562) 926-7123

Synthetic diesel oil
The OE 15W-40 Synthetic Diesel Oil for both on- and off-highway vehicles has a low-sulfated ash formulation that meets emissions standards requirements and is compatible with all exhaust treatment devices, including diesel particulate filters. The oil includes a detergent additive package.
AMSOIL, amsoil.com
Long-haul tire
The FD695 PLUS drive tire, made for tandem axle drive tractors in long-haul and regional operations, features a cap/base tread compounding design and 26/32-in. tread depth. The tire has continuous shoulder ribs and can be retreaded for either trailer or drive axle and is certified by the U.S. Environmental Protection Agency's SmartWay program.
BRIDGESTONE, bridgestone-firestone.com

Dump trailer line
The LE dump trailers, made for landscaping, utility and demolition work, feature Monarch pumps and hydraulic cylinders, ALKO Ultra-Lube axles and PPG powder-coat finishing. The trailers have 6-in. channel mainframes, 3-in. channel cross members, 10-gauge floors and full-length tarp tie-down rods.
BRI-MAR, bri-mar.com, (717) 263-6116