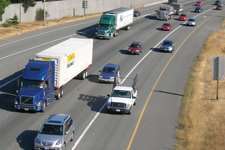 TransCore's second annual Carrier Benchmark Survey reveals that in 2011 to date, carriers' monthly revenue on average was $1,607 higher per truck than in 2010, a 10 percent increase due primarily to a corresponding 10 percent uptick in per-mile rates.
The survey also found for-hire carriers who used load boards for 30 to 60 percent of their loads saw monthly revenues rise by an additional $1,378, or 7.7 percent, per truck compared with 2010.
Among the survey's additional highlights:
• For-hire carriers found 20 percent more of their freight on load boards this year than in 2010;
• The average length of haul declined 2.6 percent year over year, from 903 to 880 miles one way; and
• Empty miles declined this year by an average of 1 percent.
TransCore's Carrier Benchmark Survey is based on responses from more than 600 for-hire carriers, owner-operators and asset-based broker/carriers during the summer.