Truck Stop Missouri a 'trucking ambassador' in reality?
After my interview posted yesterday with Joe Bechtold, General Manager of the Midway Truck Stop and Travel Plaza that is the subject of the Truck Stop Missouri TV show on the Travel Channel, a longtime commenter on the Channel 19 blog took issue with Bechtold's characterization of the show as a positive for the image of the trucking industry generally — and the American driver in particular.
Bandit, proprietor at the Dispatch Me Home social site and blog, accessible via the link, is a man whose point of view I trust, in short, and in his words the Truck Stop Missouri show in fact does little for the image of the American Trucker. If anything, the result may be a negative. Here's what he wrote: "I've watched quite a few episodes of the show and was very disappointed with what was being done and how the trucking industry was being portrayed." Generally, Bandit laments the "lack of the true trucking industry and truck stops being portrayed [in this show]. I found this more of a circus atmosphere. I mean, just a few examples….people taking a pig into one of their motel rooms and bathing it in the tub, people sitting on bleachers all day waiting for a cow to take a dump on a particular number, an elderly lady getting a tattoo — come on, Leftfield Pictures and Mr. Bechtold, if you want to do a reality show on the trucking industry and the real lifestyle of the American Trucker, be realistic about it. I have talked with many of my fellow drivers about this show and so far have not found one that feels what they are showing the public has anything to do with the reality of our industry. I personally feel that a much better job could have been done with this show."
Prior to Bandit's note and Bechtold's sincere contention that the show was an industry positive, I'd talked with a few drivers about the show, all of whom expressed relative indifference to it or hadn't seen it at all.
My question today: What do you think of it?
American Trucker's GATS episode premieres tonight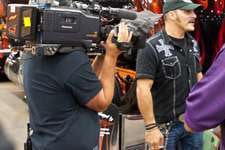 Another television show, one that deals more directly with drivers' and owner-operators' places in the industry, premiers an episode tonight that features a trucking show that is close to my heart here. At the Great American Trucking Show (produced by Overdrive owners Randall-Reilly Business Media and Information) this year, American Trucker show host Robb Mariani and crew were on hand filming the episode (pictured). Mariani participated in the judging of the Custom Rigs Pride & Polish truck beauty competition and national championship, which you can expect to figure prominently.
If you can't catch it tonight at 10 p.m. Eastern, it rebroadcasts Friday at 10 a.m. and Sunday at 9 p.m., both Eastern. For future rebroadcasts, keep an eye on this page.