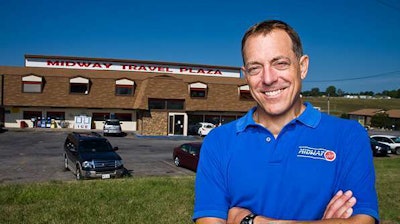 The Truck Stop Missouri series on the Travel Channel has been running for a couple of months now, featuring the goings on in and around the 12 business that make up the Midway Travel Plaza between St. Louis and Kansas City in Missouri, I-70 exit 121. Midway General Manager Joe Bechtold (pictured) has seen his expectations realized in many respects. "Has it brought in more business?" I asked him yesterday.
"Yes. Definitely," he said, simply, as truck drivers and curiosity seekers make plans to stop there on routes across the great state of Missouri with regularity.
And with that new business has come an even better result, he adds: The image of the trucking and travel plaza industries that has emerged from the Leftfield Pictures (producers of Pawn Stars) documentary/reality-style TV show he feels is one of accuracy — and in large part great positivity.
Getting to that end result wasn't exactly instantaneous, though, as he describes in excerpts from our interview yesterday, below. Enjoy it.
You can tune in to the latest episode of the show Thursday at 9 p.m. Eastern and Pacific on the Travel Channel. Here's the Channel's description of the episode: Joe is doing damage control as a heat wave hits Midway. From a crumbling building to a traveling salesman that makes a mess of the bathroom, it looks like an outdoor drink sale is the cards at Midway… Find more about the show, now building to a finale episode set for later this month, via this link.
Q&A
Overdrive: Tell me a little about how the show came to be, and how Midway came to be the featured truck stop. What was your first contact with the producers?
Joe Bechtold: I received a call out of the blue from Leftfield, no pun intended. They contacted us via the Internet – they found out some info about us there, and from there one thing led to another. I think they looked around the country and eventually settled on us.
What was your initial reaction to being asked to participate in the show? Your ultimate hopes?
My initial reaction — and I don't watch a lot of TV — was I was a little skeptical. I thought, a truck stop and reality TV could be a problem. My experience with reality TV was with more of a train wreck on MTV or something like that, so it wasn't until I really did my due diligence and questioned them quite a bit on what their experience was [that I came around]. Leftfield Pictures did Pawn Stars, and everybody in my office had seen it. They portrayed that business in a really good light. I then gained confidence in the production company and the network.
That they would give a realistic picture of what the truckstop was about?
Exactly, and portray truckers in a good light, portray the whole industry accurately, in a good light. The industry image of truckers has changed since the days of Smokey & the Bandit, so we were hoping they would portray it all in a better light. And it's been great, really. I've actually gotten people saying that this show had inspired them to become a trucker. When the first couple of 10-year-olds came up wanting an autograph, that was a shocker as well.
How long has Midway been in your family?
I was 10 years old when my dad bought the stop, in 1976.
What was the state of the business when you took over in 2000? Has it always been as big as it is today?
The truck stop has. I've added the haunted house and hayride – I put feelers out and got that done. I put in the outdoor amphitheater.
How long did the film crew spend shooting with you and your crew?
They were there off an on for quite a few months. They started in January [2011]. That was our first contact with the crew. They were there in March. And we were even filming some just last week.
What were your driver customers' initial reactions to the film crew like?
I think initially, before the show was out — and it had been the same for me and I was involved in all aspects of it from the beginning — it's hard to visualize what it's going to look like. I think when they were trying to get interviews with people, from drivers to locals, they were met with a little hesitancy. Now that the show is out, we have a lot of truckers really taking pride in it. We have people coming in and asking where the cameras are. Before it was out, when a guy came in for dinner and a shower, their initial thoughts on reality TV were they were worried about it going on the negative side. But now they find it very easy [to accept the presence of the film crews], and people want to be a part of it.
Any particularly memorable moments for you from the filming that include your driver customers?
There was a father-son team with an amazing Peterbilt, and they brought it in and swung in during a car show — they just happened to be coming through, and they were a really unique family, from the East Coast. They were a unique pair, had a really interesting family dynamic. But really, nothing that stands out more than another moment, just a lot of really great guys.
What's your sense of the driver community's awareness of the show now that it's been going for a good while?
I think it's still so new that the entire trucking community doesn't know about it. We get people coming in – and this has happened many times – their wives tell them they've "got to swing by that truckstop in Missouri." They know where their husbands' routes are.
And then folks come in and try to get in a picture with me. That's been pretty interesting. I think the word's getting out there and we're getting more and more well-known.