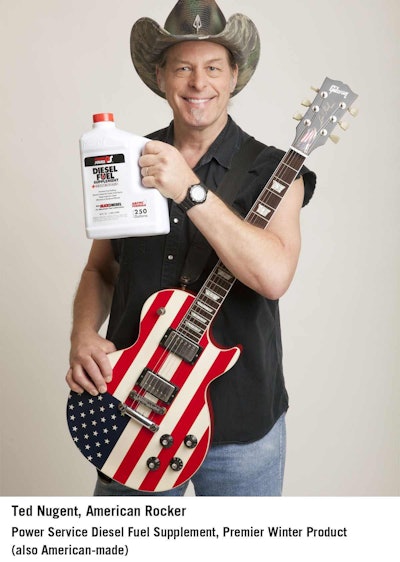 With winter weather well on its way, and with it the looming threat of a gelling stranglehold on your fuel tanks, Power Service Products hope's you'll take note of their "Buy American/Made in the U.S.A." winter campaign, featuring none other than rock legend Ted Nugent (pictured).
An "Uncle Ted Killer Offer" promotional campaign to help you fight the cold war is coming to a truckstop near you — four bucks back on an 80-oz bottle of Power Service Products' Diesel Fuel Supplement +Cetane Boost. To take advantage of the offer, you'll need to purchase an 80-ounce bottle and go to www.powerservice.com to print the mail-in coupon. Major truck stops will have in-store rebate coupons as well.
"Uncle Ted" is slated to be featured in Power Service Products' print and radio ads, as well as point-of-sale materials and other promotions. Plus, the company says, he'll use the PSP's additives in his diesel-powered concert tour bus and back-up rigs, along with his hunting and ranch equipment, and will report the results on his award-winning Spirit of the Wild television show on the Outdoor Channel.
Keep an eye out for him…
Find more about Power Service Products' fuel treatments here.
[youtube vHDA5nHlDrQ&ob=av2n nolink]