Remember the "Art you Carhartt tough?" sweepstakes? I wrote about the two finalists earlier this year, both of them with some behind-the-wheel experience. John Irish (pictured, middle), the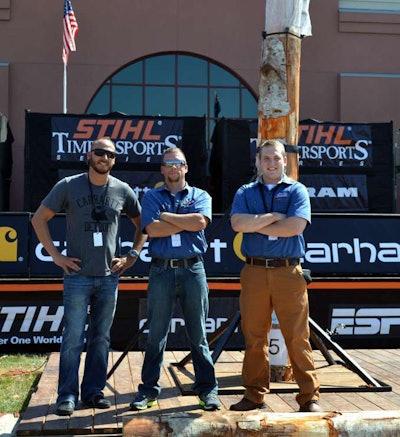 ultimate winner, Carhartt announced, and his wife took the Grand Prize trip in August to Oregon for a competitive lumberjacking event covered by ESPN.
Working long days as a truck driver delivering shingles to construction sites, Irish's job requires him to catch and lift thousands of pounds per day while balancing on steep rooftops.
"Not many people can endure this job for many years, because it's so physically demanding," says Irish. "I'm so honored to be recognized by Cintas and Carhartt, and I'm proud to represent the hard workers in my industry."
The weekend-long event was the start of the 2011 STIHL TIMBERSPORTS Series, the nation's premier lumberjack competition, where the top 20 professionals participated in a variety of competitions and demonstrations. Highlights of the trip included the ESPN promoters recognizing and conducting an interview with the Irishes and John receiving a signed "cookie" from the lumberjacks that participated in the buck saw competition.
"I was in total shock when I won this contest," says Irish. "My wife and I had the most wonderful time in Oregon, and I can't thank Cintas and Carhartt enough for giving us the opportunity to experience this."
Cintas Corporation, North America's largest uniform supplier, created the Are You Carhartt Tough? contest in conjunction with a new partnership between Carhartt, the nation's leading manufacturer of premium work wear for over 120 years, and the roll-out of the new Carhartt Rental Workwear line, which is available exclusively through Cintas.
Irish was selected based on an essay entry that described his qualities of "Carhartt Toughness" — strength, dependability, resilience and ruggedness. For a full year, hundreds of essays were collected through a contest website. Irish was selected as a quarterly finalist in August 2010, and public Internet voting secured his position as a grand prize winner in March 2011.