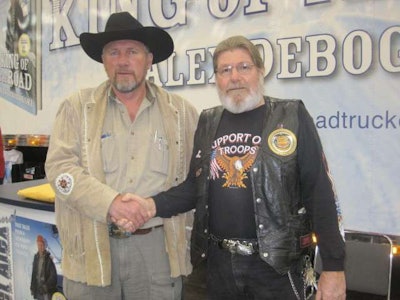 Joe Martin, whom you'll no doubt remember as the operator behind the Truckercise DVDs I wrote about earlier in the year (Martin's pictured, right, with Alex Debogorski of Ice Road fame), announced recently that a new truckers' health strategies audiobook that he contributed a chapter to is out and available. The book, Truckers' Road to Health, is a production of the Man in White health care discount broker service for truckers without insurance, in conjunction with the docs at DevelopMed. The four-CD set takes haulers through a tour of various and sundry key health considerations geared toward those who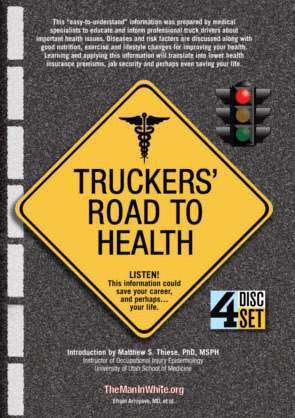 live life largely on the road. Among the topics covered are "pulmonary issues, hypertension, coronary artery disease, cardiac arrhythmia, diabetes, nutrition, vision, obesity, back pain, … sleep apnea, DOT health issues, and recommendations on timely health screenings," according to a DevelopMED press release.
Martin, for his part, wrote the "Exercising on the Road" chapter, of course. Check out — or order — the audiobook via Man in White's website.
Find out more about Martin's Truckercise DVDs.
Convoy for a Cure upcoming
The Convoy for a Cure USA folks are hard at work on preparations for this year's main event, starting at the TA Petro location in Carl's Corner, Texas (formerly Willie's Place), Oct. 29. Designed to highlight breast cancer awareness and raise money for research into a cure, the Convoy event's details you can find here.
Read more about the convoy's origins.
Project 351 getting lower

Just when you thought Anthony Fischkelta's infamous custom Project 351 rig couldn't get any more extreme, he's taken things up a notch — or down, as it were. Among updates he's made to the Kenworth W900 (pictured in full below) since I wrote about it last (in Custom Rigs earlier this year) include a great deal of red paint on the trim –including the visor, headlight bezels, and more — and custom paneling, also painted, under the trailer.
The new slammed effect with the trailer fenders set ultra low he says he's been getting all manner of wows over.
"When you let all the air out," he says, "they're just about on the ground. People go crazy over that."
Believe it or not, Fischkelta's is a (!) full-time working rig. You can find him on Facebook here.