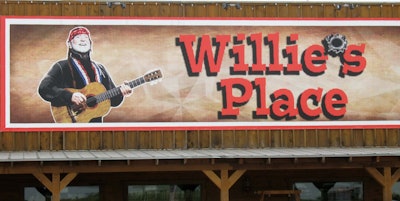 Perhaps you've heard the news. On Jan. 31, the Willie's Place truckstop in Carl's Corner, Texas, will reportedly see it's last day under current ownership. The stop filed for bankruptcy last year, and since then efforts to refinance a large loan with a New Jersey bank have failed, resulting in the impending transfer of ownership to SBL Capital Funding.
I talked with a former waitress in the truckstop's restaurant who still works the bar at the Whiskey River Saloon on the property, an unaffiliated business. She wished to remain nameless given what she calls something of a tense environment for employees in recent times. Jan. 12, one day after "Judge Harlin Hale of U.S. Bankruptcy Court for the Northern District of Texas lifted the automatic stay on the truck stop" that had prevented foreclosure, according to reporting by Overdrive's Jill Dunn, the former waitress says several employees, including her, were laid off and everyone received notification of the change in ownership. "It is our understanding," reads a letter she says was circulated among employees from the current owners, "that the new owners will be rehiring some employees, but we are not privy to that information. We have asked for contact information to reapply for your positions, and will pass it on if it is given to us."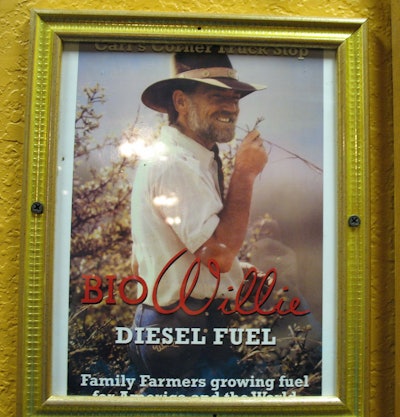 Des Moines, Iowa-based FTS Trucking company driver Doug Coglizer, who stops at Willie's Place frequently on regular runs through Dallas, says the last he heard from employees there was that on Feb. 1 the change in ownership would take place and they'd just go from there, with the stop remaining open.
The former waitress says it looks like the Whiskey River Saloon will remain open as is as the transition occurs, which she wants drivers to know. "The people that I take care of on a regular basis, who go out of their way to come and see me – they need to know. The truckers are the ones who kept this place open."
She wonders at the management situation that allowed the broader business to go under, given that business to her seemed steady throughout her several months working there. "If you've constantly got business in here, you've got a bunch of revenue coming in, and you can't keep staff members paid correctly…"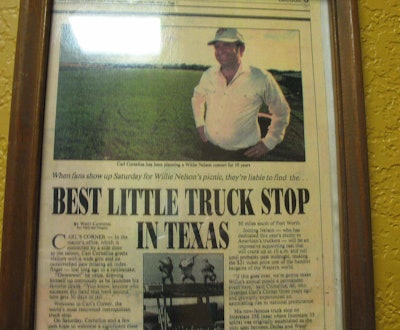 All the same, she says the Carl's Corner, Texas, stop may well remain a great place to layover for "truckers who come in who know they're going to have to be there for days with us. They've got all in one here. I really advocate for the truckers. I've met some of my best friends, some of the greatest people – you wish some of these people were in the same places as you, but you have to enjoy the time you have when they surprise you by coming in."
Greentree-leased specialized hauler Steven Abell, who stops in with his 1997 Freightliner Classic at Willie's when he can on regular runs in the region, fueling with biodiesel, took the pictures you see here on a fuel stop earlier this month. "It is a nice place to stop," Abell says, with plenty of parking for his mostly oversize loads. "Very friendly people, from the fuel desk to the restaurant. Nice showers, great dance hall, and lots of memorabilia to look at."
Today, reports driver Coglizer, most of that memorabilia, at least in the C-store and restaurant, is long gone. "It just looks naked," he says of the restaurant.
The 53-year-old Abell, trucking since he was a teenager hauling from the farm fields in his native Missouri, knew nothing of the changes happening there but says he's somewhat disheartened at the possibility of changes, as in general "I hate to see truck stops that have a good thing going change owners, because the fast food restaurants are popping up everywhere, and your old sit-down restaurants are disapearing way too fast. Though I usually only eat one meal a day, I try to plan my trips where I have a good truck stop to stop at around dark."
For now, Carl's Corner, Texas, may well continue to have such a stop, though the future is uncertain.