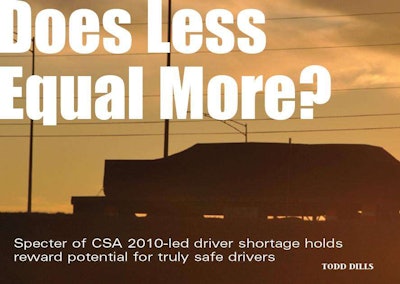 My feature in the January edition of Truckers News investigated a dynamic more and more fleets and their drivers are seeing coming to fruition as freight markets slowly return and, consequently, recruiting staffs expand and fleets begin to hire again. Nothing new there during a recovery, particularly, and the slow pace of this one might seem in direct contradiction to the ever-growing chorus of "driver shortage, driver shortage, oh my!" we've all been hearing for several months now. ('Oh driver where art thou?' you may remember me asking as early as October last year.) But whenever you hear that unfortunate phrase being bandied about you ought to think of it as a supply/demand opportunity in your favor, and this time there's something different. CSA holds at least the potential to represent a reward to truly safe, compliant drivers going forward; many carrier employers at least think so….
I'll be talking with Allen and Donna Smith Thursday evening about the story and related topics as part of their online "Truth About Trucking" call-in show, hosted at BlogTalkRadio.com/TruthaboutTrucking, and would love to hear from you on-air about what you're seeing in the areas of pay and inspections. Any new-year increases in the offing? Inspection levels up, down, the same for you since CSA's Safety Measurement System went live in December?
Click the opening image above to read the January Truckers News story if you've missed it to date.