Not exactly long-haul drivers, John Irish from West Allis, Minn., and Bubba Peters from Seattle, Wash., are two of 12 finalists in the national Are You Carhartt Tough? Contest. Voting will continue from today through Feb. 28 at www.CarharttRental.com, and two grand prize winners will be selected based on the public's votes.
The contest began a year ago and asked for nominations, during which the nominee told his/her personal "Carhartt-tough" story, detailing how exactly the workwear stood up to the challenge of the daily heavy lifting. Each of the 12 quarterly finalists are now featured on the contest's web site, where the public is encouraged to vote.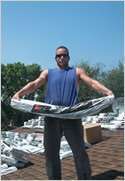 John's story involves the work he performs outside the truck while driving locally for a roof-shingle supplier. John's tough job takes him up and down rooftops while carrying 100-pound bundles, and his daily routine requires him to lift thousands of pounds of shingles while on steep angles.
Bubba's a wrecker operator with a harrowing story worth excerpting her:
Two chartered buses slid down an icy, snow-covered cobblestone street and crashed through a guardrail…, stopping just before they would have plummeted onto [I-5] 30 feet below. The front end of the first bus dangled above I-5 for hours before a tow-truck managed to pull it from the edge. "I grabbed the person next to me and prayed to God we didn't fly," said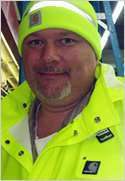 passenger Stephanie Jackson of Spanaway. The buses were carrying about 80 young adults from a Job Core program in Moses Lake, in central Washington, to a downtown Seattle bus terminal. It was their first day of winter break, one passenger said. Eleven young adults were taken to Harborview Medical Center with minor injuries from debris and flying glass. The passengers jumped or climbed out emergency windows before aid crews arrived…
Check out the remainder, and vote for your favorite.
The other ten quarterly finalists are:
Jonathan Backus, an Electrical Lineman from Hampton, VA
Cori Dixon, a Pig Farmer from Kutztown, PA
Tim Zweber, a Dairy Farmer from Elko, MN
Steve Nicholson, a Firefighter from Quincy, CA
Joanna Davis, an Electrician from Minot, ND
Elizabeth "EJ" Robertson, a Laborer/Journeyman from Peoria, IL
David Huskins, a field Technician from Denver, CO
Peter Lindbeck, a Heavy Machinery Operator from Brownsville, MN
Matthew Clark, a Snowmaker from Boalsburg, PA
Gabe Butler, a Navy Diver from San Diego, CA