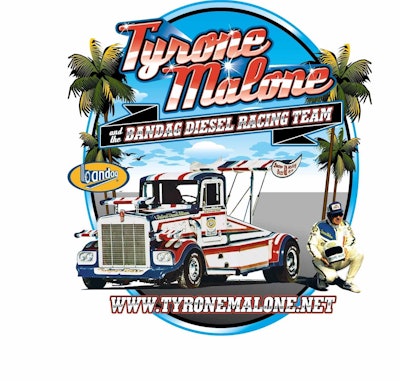 Since I wrote about TyroneMalone.net site proprietor and owner-operator Ken Harris in the October edition of Truckers News and in Overdrive in smaller form around the same time, Harris has continued to make strides keeping the memory of onetime diesel showman Tyrone Malone and his apocryphal Bandal Diesel Racing Team alive. Most recently, he's launched a Facebook page for fans to share memories and new finds of pictures and such. Check it out, or click on the image here to visit it.
In other news, thanks to all who listened in on Allen and Donna Smith's Truth About Trucking online radio show last night. It was a lively discussion of CSA and its potential to change industry dynamics in favor of driver pay going forward. If I could say any one thing about perspectives emerging from the discussion, it'd be that there's no doubt we live in a time of change, the industry landscape as unsettled as it is. As I made note of in my January Truckers News feature about the subject, any constraint in carrier capacity, whoever is to blame and wherever the crucial constraining factor lies, points to the ceiling in terms of rates. Better rates don't necessarily translate to better driver wages, but value perception is a big thing. As the CSA era continues to materialize, it's clear that those on the front lines of safety and compliance — i.e. you, the drivers — are in the minds of carrier employers ever more important. Here's hoping more people attempt to quantify that in pay packages and lease terms for owner-operators, eh?
Listen to the hour/half discussion, including many callers' perspectives in addition to mine, Allen's and Donna's. Hope you enjoy.