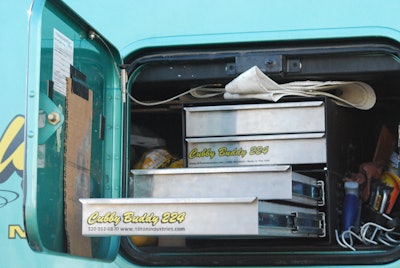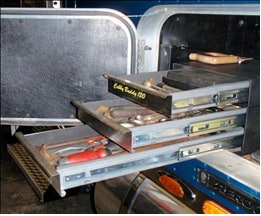 Veteran owner-operator Jeff Zehrer of Minnesota (trucking since 1983) had long known the difficulty of finding the perfect-sized toolbox to fit in his sleeper's side compartment. After 28 years of frustration, he decided to rectify the situation by designing his own. He wanted a toolbox that was sturdy, easily accessible, and could hold all his important tools.
The first Cubby Buddy prototype was born, and Zehrer and his wife Debbie launched sales of the toolbox systems (pictured) in November last year under the 16 Ton Industries company name.
The Cubby Buddy system is a modular storage system. It comes with two depths to fit nearly every American truck on the road — 20 and 24 inches. Start with a base model and add any combination of the one or two-drawer add-on models to customize your system to meet storage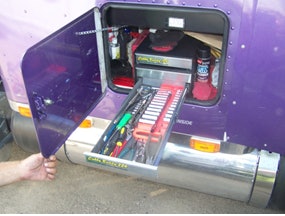 needs. A cradle for each base model allows you to adjust your toolbox to varied floor heights.
Following find listings of the four base models; for the six add-on models, visit https://16tonindustries.com/ for more.
**224 Base Model with Mounting Cradle (Two 2-inch drawers) | 5 1/2″H x 11″W x 24-1/4″D
**220 Base Model with Mounting Cradle (Two 2-inch drawers) | 5 1/2″H x 11″W x 20-1/4″D
**124D Base Model w/ Mounting Cradle (One 4-1/4-inch drawer) 5 1/2″H x 11″W x 24-1/4″D
**120D Base Model w/ Mounting Cradle (One 4-1/4″ Drawer) 5 1/2″H x 11″W x 20-1/4″D