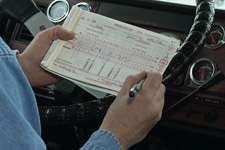 A recast hours-of-service rule is expected by the end of October, and at least one analyst believes the Federal Motor Carrier Safety Administration will reduce hours to 10 from 11 and the duty day to 13 hours from 14, an FTR Associates consultant said Oct. 13.
Noel Perry, an FTR senior consultant, said he heard from an analyst the FMCSA is likely to propose the changes. "It's almost certain there will be a court challenge and that could put the whole thing off for several years," he said.
Perry added that one national carrier, Schneider National, said reduction of duty hours in effect reduces driving hours. He gave the example of taking two hours to load and another hour for a break leaves 11 driving hours under the current HOS rule and 10 hours if FMCSA reworks the rule.
Utilization of ready-to-drive trucks is close to the record set in the early 2000s and could hit a record in 2012, Perry said. The situation is tight because the current trucking recovery is good and because carrier management is conservative about hiring drivers and buying trucks. "They are not adding capacity at the same rate customers are increasing freight," he said.
Also, they aren't hiring new drivers at a fast enough pace. In addition, to needing to replace an estimated 200,000 drivers annually to cover normal turnover, the industry is several hundred thousand drivers short of raising capacity to meet demand, Perry noted.
Perry forecast modest 3 percent growth for trucking this year and in 2012. That growth is enough to maintain freight rates but not enough to replace business lost in the recession.
Among indicators, Perry said the Avondale Truckload Spot Market Index is showing increased spot market volatility as more freight moves to dedicated routes, where's it's easier to recruit drivers. For small carriers, especially start-ups that provide more spot market capacity, he said, it will be more volatile – and assuming the recovery continues, more profitable.
Perry said the recession clobbered trucking to the point that demand won't recover to previous levels until at least 2016. The industry's recovery is slow and not making up for the downturn's damage. "The long-term trends are slow so the industry is not likely to fix capacity in the next four to five years," he said. "In the short term the recovery is better than most people think. That puts stress on variable factors such as drivers and tractors."
On driver pay, Perry said the increase in capacity shortage is slow enough to keep pay rates mostly stable. "The safe forecast is we're going to get modest increases over the next six months," he said. "If we get either an acceleration of economic growth or we get a more aggressive regulatory scheme, we'll get the kind of dramatic increases we got in '04 and '05."