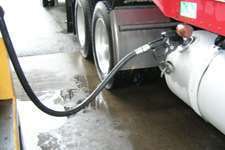 For a second straight week, the national average retail price of diesel gained 2.4 cents to $3.825 in the latest week, according to the U.S. Department of Energy's Energy Information Administration.
Average prices rose in all regions. The biggest increase was 4.3 cents to $4.096 in California, followed by the West Coast, excluding California, where the average price advanced 3.9 cents to $4.049. The Midwest price increased 2.8 cents to $3.782.
The national average price is 75.8 cents higher than a year ago. The record diesel price was $4.764 in July 2008.
For diesel price information, click here.