Highway bill includes truck parking elements
The Senate Environment and Public Works Committee approved more truck parking in a two-year transportation bill.
The $109 billion Moving Ahead for Progress in the 21st Century Act was combined with other committee bills in the full Senate. The House Transportation and Infrastructure committee is working on a six-year transportation measure.
EPW Chairwoman Sen. Barbara Boxer (D-Calif.) introduced the bill, S.1813, which includes a section titled "Jason's Law."
The title refers to New York trucker Jason Rivenburg, robbed and killed in 2009 while he was parked at an abandoned service station. Boxer's bill lists potential funding sources for projects that could include new rest areas or opening existing facilities to truckers, such as inspection and weigh stations and park-and-ride facilities.
Since 2010, the House and Senate have considered Jason's Law bills to create grants mitigating the truck parking shortage.
Boxer has said the bill reauthorizes the federal-aid highway program at the Congressional Budget Office's current funding, adjusted for inflation. It reduces federal transportation programs by two-thirds and eliminates earmarks, she said.
The bill would continue to provide most funding to the states through core programs. They include creation of a National Freight Network Program that would consolidate existing programs into one that would allocate state funding by formula for freight movement projects.
See details at epw.senate.gov.
— Jill Dunn
SHORT HAULS
DAIMLER TRUCKS North America announced the addition of a second shift and plans to ramp up production at its Western Star manufacturing plant in Portland, Ore., creating about 350 new jobs by the end of 2012. Hiring was scheduled to have started in November, and a second wave of hiring is planned for next summer.
FREIGHT HAULING as measured by the American Trucking Associations' advance seasonally adjusted For-Hire Truck Tonnage Index increased 1.6 percent in September. The nonseasonally adjusted index, which represents the change in tonnage actually hauled by the fleets before any seasonal adjustment, was 3.1 percent below the previous month. Compared with September 2010, adjusted tonnage was up 5.9 percent.
Court orders release of truck stop tiger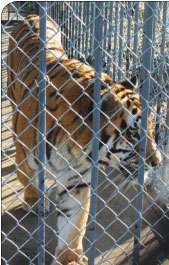 Tony the Tiger must leave the Louisiana truck stop bearing his name after activists won an extensive legal battle for his removal.
Judge Michael Caldwell of the East Baton Rouge District Court ruled Nov. 2 in favor of the Animal Legal Defense Fund, which began litigation in April against Tiger Truck Stop owner Michael Sandlin.
State officials must revoke his permit to keep the Bengal-Siberian mix and are prohibited from issuing a new permit, the ALDF said. Last May, the district court granted its request for a permanent injunction against Louisiana renewing Sandlin's permit.
But in August, a state appeals court ruled Sandlin and his business must be named as defendants in the lawsuit and ordered a new trial, vacating the trial court's earlier decision.
Tony was a few months old when, in 2000, Sandlin brought it to the truck stop west of Baton Rouge. The Louisiana Wildlife and Fisheries Commission annually has renewed Sandlin's permit after the truck stop owner was grandfathered in when the state began banning private ownership of big cats in 2006.
The truck stop has posted statements on its website claiming that activists have lied about Tony's living conditions.
— Jill Dunn
Owner-operator finalists named
Overdrive and the Truckload Carriers Association have announced 11 owner-operator finalists in the 2012 Driver of the Year competition.
The following will compete for the Owner-Operator of the Year contest:

• Bradley Chapdelaine, Dart Transit

• James Leatherwood, Louisiana Transportation

• Larry McCann, Tennant Truck Lines

• Michael McCoy, Great American Lines

• Gary McGinnis, Universal Am-Can

• Jimmy McSwain, Sunco Carriers

• Thomas and Karen Moore, team drivers with Thomas Moore Transportation
• Donnie Parsons, The Mason and Dixon Lines

• Jeanette Simpson, Landstar Ranger

• Robert Stewart, Interstate Distributor Co.
In December 2012, TCA will select the top three finalists. The grand prize winner will be announced at TCA's Annual Convention, March 3-6, 2013, in Las Vegas.
Each owner-operator finalist will be profiled in a 2012 issue of Overdrive.
TCA is conducting a similar program for company drivers with Overdrive's sister publication Truckers News.
— Staff reports
SHORT HAULS
FOR-HIRE FREIGHT rose 0.9 percent in September from August, reaching the highest level since July 2008, according to the U.S. Department of Transportation's Freight Transportation Services Index. DOT reported freight shipments rose 4.2 percent in the last four months. September's index was 4.3 percent higher than a year earlier.
TRANSCORE'S September North American Freight Index rose 3.2 percent from August and 45 percent from a year ago. Alongside the increase in spot market freight volumes, truckload freight rates gained in September for all equipment types.
CLASS 8 TRUCK preliminary net orders for October improved both month over month and year over year, ACT Research Co. reported. FTR Associates said October orders for all major North American truck makers increased 17 percent over September and 46 percent year-over-year, marking the third consecutive month of increasing orders.
Medical certificate changes start Jan. 30
A new law affecting medical certificates for CDL holders will begin implementation Jan. 30 and be phased in through 2014.
In 2008, the Federal Motor Carrier Safety Administration published a final rule requiring CDL holders to provide a current original or copy of their medical examiner's certificate to the issuing state driver licensing agency.
CDL holders will have to continue carrying a copy of their medical certificate and carriers also will have to keep copies of drivers' certificates until Jan. 30, 2014.
Starting Jan. 30, those applying or renewing CDLs must certify with their state driver license agencies what interstate or intrastate driving category they fall under. A few states do not require proof of medical fitness for CDL holders driving in intrastate commerce.
Also on that date, those applying for or renewing CDLs under the non-excepted interstate category must provide their DMV with an original or copy of their medical examiner's certificate. Current CDL holders under this category must self-certify and provide the medical certificate to their DMV by Jan. 30, 2014.
The purpose of the changes is to link the medical certificate more closely to the CDL and include driver medical record in the Commercial Driver's License Information System database.
— Jill Dunn
FTR: Driver shortage to worsen
Although trucking is in a growth period, carriers need to keep an eye on the global economy and its potential impact on freight demand, says Eric Starks, president of FTR Associates, at Commercial Carrier Journal's Fall Symposium.
Starks projects the economy to remain on a slow-growth track, but the long-term outlook poses significant risks, including uncertainty in the European market, a potential slowdown in the Chinese economy and slow U.S. gross domestic product growth.
FTR anticipates average GDP growth of 2.5 percent over the next year and a half. "We are less pessimistic than we were just several months ago, but there is still a lot of uncertainty," Starks says.
One positive indicator for the trucking industry is historically low inventory-to-sales ratios. "As the economy starts to heat up and manufacturers begin ordering more goods, we're sitting in a good spot relative to the inventory situation," Starks says.
While customer orders for Class 8 power units softened in the last few months, FTR is predicting orders will rise. As peak shipping season hits, carriers are starting to place orders for next year, and Starks expects that to continue in December.
Potential changes to the hours of service regulations, including the possibility that drive time will be reduced from 11 hours to 10 hours, will magnify the impact of the current driver shortage. "More drivers will be needed, and lower productivity will require more equipment to move the same amount of freight," Starks says.
FTR forecasts the driver shortage to be much worse than it was in 2004 and 2005. Freight is expected to grow 2.5 percent to 4 percent per year for several years. Freight capacity is tight, with roughly 95 percent utilization of equipment, and could be driven higher with a new hours of service rule.
— Jeff Crissey
Senator calls cross-border program 'lax'
In his second letter to Transportation Secretary Ray LaHood since May, the Senate transportation committee chairman expressed alarm over the U.S.-Mexico cross-border trucking pilot program.
Sen. Jay Rockefeller's letter referred to "the Federal Motor Carrier Safety Administration's lax oversight" of the program.
FMCSA was unavailable for comment.
The West Virginia Democrat said he was concerned about the first two Mexican carriers to pass pre-authorization safety audits, which the agency conducts on Mexican carrier applicants to verify program compliance.
The agency granted "permanent operating authority" to Transportes Olympic, based on its time in the previous FMCSA cross-border program and using the carrier's "nearly three-year-old compliance review," wrote Rockefeller, who heads the Senate Commerce, Science and Transportation committee.
He also noted that Grupo Behr De Baja had cleared its PASA, though agency officials delayed granting authority so they could further investigate claims made by various organizations about that carrier.
Rockefeller has argued the program would threaten competitiveness of U.S. trucking firms, transfer the cost of safety upgrades on Mexican trucking fleets to Americans and fail to eliminate all of Mexico's retaliatory actions.
After Congress voted to end the previous FMCSA cross-border program in 2009, Canacar, Mexico's trucking trade association, filed a notice of arbitration against the United States. "If the U.S. complies with its NAFTA obligations, it would open up a huge market for Mexican carriers to utilize their competitive advantage," Canacar's notice stated.
— Jill Dunn
SHORT HAULS
INTERNET TRUCKSTOP announced its sponsorship of the Truckload Carriers Association's Highway Angel program. The online load board provider said it will commit $75,000 to the program over two years.
CSA needs improvement, panel says
While data-related issues still dog the Federal Motor Carrier Safety Administration's Compliance Safety Accountability enforcement mechanism after one year, trucking executives say more work is needed.
Their comments came in a "CSA: One Year Later" panel discussion at the Commercial Carrier Journal Fall Symposium in Phoenix. The panel included Jeff Davis of Fleet Safety Services, Arizona Trucking Associations President Karen Rasmussen and Brett Sant, vice president of safety and risk management for Knight Transportation.
Davis says the theory behind CSA was that compliance would result in safer behavior and fewer crashes, while noncompliance would result in riskier behavior and more crashes. "Time will tell us if this theory works," he says.
Under CSA, safety ratings are supposed to refresh every 30 days for all companies. The previous SAFER system under SafeStat reached only 2 percent of companies and was lengthy and graded administratively, while the new method uses roadside performance.
The driver safety fitness rating has been on the backburner, but is coming back through the pending highway bill. "We could literally be looking at a ranking of every single driver out there," Davis says.
Under SAFER, companies could pay a fine and move on. "Now, every critical and acute violation in the system" gets monitored for 12 months, Davis says.
The top equipment-related violation is lighting. The biggest driver violation is log book form and manner. A log book not being current ranks second, followed by the driver not being in possession of a medical certificate, a driver not speaking English and hours of service violations.
Rasmussen says Arizona's new DataQ appeals process involves an appeals board created last January that meets monthly. About 50 percent of appeals are denied.
Sant says that while he agrees with FMCSA's objectives to reach more carriers, increase driver accountability and improve safety, he says CSA's Safety Measurement System isn't a reliable predictor of crashes. He also says many drivers under the gun will shift to carriers that aren't as scrutinized, leaving the previous carrier holding the "bad grade" bag.
"Is that really safer or fair?" Sant asks.
— Dean Smallwood
Many U.S. bridges deficient, study says
A new report shows more than 18,000 of the nation's busiest bridges, clustered in the nation's metropolitan areas, are rated as "structurally deficient," Transportation for America says.
"The Fix We're In For: The State of Our Nation's Busiest Bridges" ranks 102 metro areas in three population categories based on the percentage of deficient bridges.
The report found Pittsburgh had the highest percentage of deficient bridges (30.4 percent) for a metro area with a population of more than 2 million. The city also had the highest percentage among all cities.
Oklahoma City (19.8 percent) topped the chart for metro areas of 1 million to 2 million, as did Tulsa, Okla. (27.5 percent), for metro areas between 500,000 and 1 million.
"There are more deficient bridges in our metropolitan areas than there are McDonald's restaurants in the entire country," says James Corless, director of Transportation for America.
Nearly 70,000 bridges nationwide are rated "structurally deficient" and are in need of substantial repair or replacement, according to federal data. Metropolitan-area bridges carry 75 percent of the trips that are made on structurally deficient bridges, Corless says.
The Federal Highway Administra-tion estimates the backlog of potentially dangerous bridges would cost $71 billion to eliminate, while the federal outlay for bridges amounts to $5 billion a year.
— Staff reports
SHORT HAULS
FTR ASSOCIATES' Trucking Conditions Index spiked 3.1 points in September to 9.2 but remains well below a recent peak of 13.3 in March. Any reading above 0 indicates an adequate trucking environment, with readings above 10 a sign that volumes, prices and margin are good for trucking companies. FTR says tight capacity control, modest growth in truck tonnage and falling fuel prices helped improve the trucking environment through September.
DETROIT is the new name for Daimler Trucks North America's Detroit Diesel brand of engines. Daimler says the change, effective next March, is intended to help expand the scope of products offered and allow Detroit to offer alternate fuel and unconventional powertrain technologies. DTNA acquired Detroit Diesel in 2003.
Coalition supports more tolls
A coalition of highway construction groups in nearly a dozen states has launched a national campaign to urge Congress to allow states to impose tolls to pay for long-overdue highway improvements.
The U.S. Tolling Coalition says Congress should provide maximum flexibility to states to add tolls to any portion of their interstate or federal highways for reconstruction and rehabilitation.
"Seventeen percent of our interstates and one quarter of our nation's bridges are structurally deficient," says Patrick Goss, coalition co-chairman and executive director of the Wisconsin Transportation Builders Association. "With Congress struggling to find the money to meet basic maintenance needs, allowing more tolling will stretch dollars, jump-start construction projects and create new jobs."
Under a pilot program, the U.S. Department of Transportation recently allowed Virginia to add tolls along the I-95 corridor in that state to pay for critical rehabilitation and upkeep. Missouri also has been cleared to add tolls. The U.S. Tolling Coalition wants to expand the program nationwide, which requires congressional authorization.
"What's good for Virginia and Missouri is good for the rest of America," says Don Shubert, coalition co-chairman and president of the Connecticut Construction Industries Association. "States are confronting accelerating pavement deterioration due to age and high traffic. As a result, American business is hurting, and we need to act now to give states the power to toll."
Goss and Shubert recently wrote a letter to the chairmen and ranking members of the House and Senate Transportation Committees. "Tolls are gaining public acceptance as motorists see the benefits of electronic collection systems, as well as the negative impacts of the lost buying power of fuel tax revenues," they wrote.
— Staff reports
SHORT HAULS
STARTING JAN. 1, the ports of Los Angeles and Long Beach will stop assessing a Clean Truck fee on trucks with an engine year 2006 and older. Instead, trucks with an engine year 2006 and older will be banned from port marine terminals. The PortCheck website (pierpass-tmf.org) will remain open in January for payment of billed and accrued Clean Truck fees prior to Jan. 1, 2011.
Stolen cargo recovered in Los Angeles
As cargo theft increases nationally, Los Angeles law enforcement has asked for help concerning a series of regional cargo thefts.
On Nov. 3, the Los Angeles Police Department's Commercial Crimes Division/Cargo-Hijack Detectives announced it was seeking assistance locating or identifying individuals responsible for San Fernando Valley cargo thefts.
That day, detectives discovered a warehouse containing stolen cargo of consumer goods in the Sun Valley area of the Foothill Division. Detectives arrested a man for the thefts and other suspects were questioned and released.
They also arrested four men in a related case in the Foothill area with a stolen load of cosmetics on Oct. 18. Detectives believe the cases are related and those involved are responsible in at least 19 thefts where truck and trailers have been stolen since July.
They have asked anyone with information about these thefts to call (213) 485-2509 or, during non-business hours, (877) LAPD-24-7.
CargoNet, a cargo theft prevention and recovery service, has assisted California law enforcement in recovering more than $1 million in stolen cargo. Since its creation in 1994, the service has assisted in the recovery of more than $237 million in stolen property, 5,500 vehicles and 1,850 cargo loads, and the arrests of more than 1,100 people.
Organizations including the American Trucking Associations, California Trucking Association and National Cargo and Security Council have formed an alliance to mitigate the problem. Transportation company security directors and law enforcement also have monthly meetings on the issue.
– Jill Dunn
SHORT HAULS
NEW COMMERCIAL VEHICLE registrations in the United States for 2011 are set to increase 18 percent over 2010 and 33 percent over 2009, according to publisher R.L. Polk and Co. New registrations of gross vehicle weight rating Class 3-8 commercial vehicles remain 45 percent lower than the peak in 2006, when the market boomed in response to the impending change in diesel engine emissions regulations, Polk said.
Republicans block transportation jobs plan
U.S. Senate Republicans blocked a $60 billion White House proposal to repair transportation systems as part of President Obama's American Jobs Act.
All 47 Senate Republicans, one Democrat and one independent voted Nov. 3 against the bill that was part of Obama's $447 billion stimulus plan. The bill would have allocated $50 billion for infrastructure spending and $10 billion in loan funding.
— Staff reports
HIGHWAY HAPPENINGS
ARIZONA. The state has applied with the Federal Highway Administration to toll 29 miles of I-15 in the northwest corner of the state. The target of the tolls would be out-of-state users, including truckers. Tolls would pay to rebuild the interstate, beginning in 2015, the state said.
MISSOURI. The state Department of Transportation received a $1 million federal grant to build new truck parking spaces on Interstate 70. The state will meet with trucking companies to decide where to locate additional truck parking. Construction is set to begin in late 2012.
NEVADA. Starting Jan. 1, police may ticket drivers who are using handheld cell phones or text messaging behind the wheel. Fines start at $50 and go up to $250. Thirty-four states prohibit texting while driving.
NORTH DAKOTA. It's now illegal to text-message while driving in the state. The primary offense, which means police can stop the operator for that offense, could result in a $100 fine.
OHIO. Ohio Turnpike tolls will increase about 10 percent Jan. 1. Trucks generate about 60 percent of the 241-mile toll road's revenue, while accounting for 22 percent of the traffic. E-ZPass rates for six-axle trucks that are more than 7 ft., 6 in. high will go to $50 from $45. Tolls for drivers who don't have E-ZPass will rise to $61 from $55.
OREGON. A recent inspection of truckers' log books placed 22 percent of drivers out of service, the state Department of Transportation Motor Carrier Division said.
PENNSYLVANIA. The state has enacted a ban on texting while driving, which will take effect in March. If caught for the primary offense, a driver could face a $50 fine. A tougher ban on handheld cell phone use while driving was stripped from the legislative bill that went to the governor for signature.
TEXAS. A six-mile stretch of U.S. 77 near Corpus Christi has been designated Interstate 69. The state plans to gain federal approval to convert other sections of U.S. 77 and other federal highways to I-69. Other pieces of I-69 exist in Indiana, Michigan, Mississippi and Tennessee, as part of a long-range plan to extend the interstate from Mexico to Canada.
UTAH. About 12 miles of State Route 14 frequently used by truckers will be closed for months to make repairs after a recent landslide, the state says. The landslide destroyed about a quarter-mile of the highway that runs between Cedar City and U.S. 89.