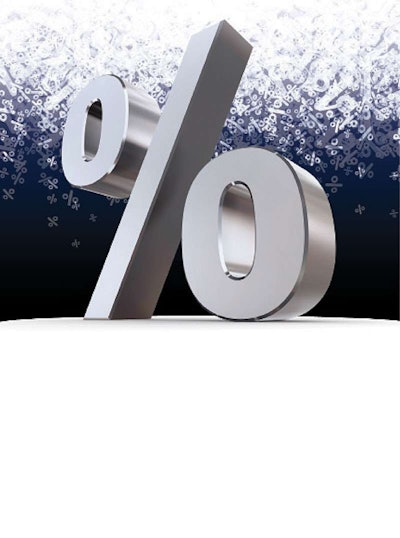 A percentage pay option can be a helpful tool in the right circumstances.
Per-mile or percentage? The better choice isn't always cut and dried.
Evaluating a carrier's compensation package was once fairly simple if the carrier paid by the mile. Ask owner-operators already leased there about expected miles and multiply them by the mileage pay rate. Add or subtract accessorial and chargeback items and there's your bottom line. In today's pay landscape, however, even a mileage pay system can be complicated by rates that vary by length of haul.
But what about percentage pay? Many years ago, percentage programs for owner-operators prevailed. When deregulation came along in the 1980s, "everybody was on percentage when the rates dropped," says Mike Bethea, Schneider National director of independent contractor operations. To help leased owner-operators stay in business and to help carriers get freight moved, many carriers shifted to straight mileage programs, says C.B. Mahaffey, J.B. Hunt vice president of operations for independent contractors.
An owner-operator running on percentage shares the brunt of market conditions with the carrier, earning less money in bad times. In today's environment, however, with rates rising slowly but steadily, that can mean a built-in pay raise without running more miles.
If you're accustomed to mileage pay, evaluating your earning potential under a percentage plan can be tricky. Hunt and Schneider are among carriers making the transition easier by offering parallel mileage and percentage programs. Having those options can provide a mileage safety net in bad times, enhance freedom of choice, and in some cases result in greater income on fewer miles.
Self-dispatch
Overdrive 2011 Trucker of the Year Dan Heister is in Boyd Bros.' Independent Express program, which combines 70 percent of gross pay with self-dispatch capability. He carved out a Southeast-Midwest regional niche that, when the economy began to improve, resulted in a big boost in income in 2010. Typically he takes five loads a week and gets home to Erin, Tenn., most weekends. He says he's netting upward of $80,000.
Boyd launched its Independent Express program eight years ago, before most other carriers who offer a choice between percentage and mileage did so. Director of Owner-Operator Support Steve Bredigkeit says it's reserved for operators who either come to Boyd with their own truck or who finish payments in Boyd's lease-purchase program (paid by the mile) and who want more control and opportunity.
"We were particularly concerned about wanting to create an incentive for lease-purchase guys," he says. "What do they do when they pay off their truck? We wanted to do something dramatic."
Owner-operator Steven South came to Boyd in 2009 after working elsewhere as a company driver. After five months running a company truck, he leased one from the carrier. He ran eight months on mileage pay. "I did good with it," he says, but he wanted more.
South purchased a 2006 Freightliner Classic and leased it to Boyd, joining the IE program. "When I first started, I picked my own loads, and [IE Fleet Manager Jim Davis] let me do it about three to four weeks," South says. Then Davis began giving him closer guidance on load selection.
Now South says he's getting a better handle on what lanes are good and what will keep him profitable. He's established a weekly revenue target of $5,500, largely from shorter hauls that get him home most weeks.
Parallel pay program
Schneider National owner-operator Sam Mobley, of Charlotte, N.C., also learned about load selection and his business preference after years of operating under mileage pay. Mobley, who owns a 2009 Western Star 4900 EX, was one of the Schneider contractors who supported the parallel percentage pay program for the company's owner-operator fleet.
He'd gone to Landstar in 2003 for a year and liked that company's system, especially its self-dispatch. "I spoiled myself when I first went over there," he says. Rather than being sent to the Northeast, as he was before, "When I was first able to dispatch myself, I'd stay on [Interstates]10 and 20 going east and west."
Mobley left Landstar when rates were falling. But back at Schneider, he didn't hesitate to participate in the pilot test for the new percentage program, which pays 65 percent of the linehaul with fuel surcharge and other accessorials.
As Schneider was testing its percentage program, many in Hunt's owner-operator fleet (launched in 2000 with straight mileage pay) became interested in percentage as rates began rising in 2005-06, says Mahaffey. Owner-operators "wanted to be able to take advantage of those increases."
Hunt offers 65 percent of the gross base in the Performance Percentage Plan, a traditional dispatching operation (all compensation packages include 100 percent fuel surcharge pass-through). Its basic Percentage Plan, similar to Schneider's, though, combines 62 percent of the gross pay with freedom for owner-operators to choose their own loads – some on its Load Visibility program and self-dispatched from an in-house load board.
"It's very easy to use," says Dennis Buffington, owner-operator of a 2006 Freightliner Century leased to Hunt. The board gives "your pickup and delivery times and how many miles it is. You'll shoot [office personnel] a number on the computer and ask for a rate on it. They'll break it down for you and send the rate back."
Buffington returned to Hunt in 2008 and opted for the Percentage Plan during the recession, a move he describes as a "hope on a wing and a prayer." As rates have come up with the economy, "I stuck it out and I've seen things improve a lot today." Buffington shoots for $5,000 to $6,000 in revenue weekly on an average 3,000 miles. Based near Atlanta, he sticks to a few lanes when he can.
Try mileage plan first
"One of the difficulties of the Percentage Plan," says Mahaffey, "is it's really for more experienced operators who understand the market," when and where to take an outbound, high-revenue haul so that getting back home at a lower rate can still result in profit, for instance. Those who excel are those "who can actively manage their business," Mahaffey adds. "For inexperienced contractors, we recommend starting on the mileage-pay program."
Mobley has given similar advice to operators weighing mileage/percentage plans at Schneider. "Unless they've been with Schneider for a while, I've told some guys that it wouldn't be a bad thing to consider the mileage program for six months," he says. "Get a feel for their freight lanes, how the company operates."
Bethea says Schneider's seeing the most interest in percentage pay from newly contracting owner-operators. The reason? Without paying for their own commercial auto liability insurance and buying their own trailer, "it's close as you can get to being independent," he says.
The company's online system for freight booking takes self-dispatch to a new level. "We worked our way out of doing it by phone to a beautiful load board that is pure and simple," says Mobley. Looking at potential loads, the system "tells me the date they pick up, the time, city, the date they deliver, city they deliver in, plus the total revenue to the truck and what the rate per loaded mile" and fuel surcharge are. The system "will give you your deadhead miles exactly."
Carriers utilizing pay package options for owner-operators are looking for ways to help contractors stay profitable. In 2006 at Hunt, says Mahaffey, "When we implemented percentage pay, 60 to 70 percent of our owner-operators got on the percentage program," he says. "But today, with the collapse of a lot of freight in 2008 and certainly 2009, recovering a little last year [and continuing], 60 to 70 percent are now on mileage."
As the economy improves, it's likely that ratio will shift back again.


Mileage vs. Percentage Pay
• Rate to the truck inherently stable with miles
• Often little self-dispatch freedom
• Fuel surcharge often averaged among fleet accounts/diesel prices
• Niche specialization possible but not in operator's control
• Home time in control of dispatcher
• Rate per loaded mile variable by lane/market conditions
• Self-dispatch often available
• Fuel surcharge paid in lump according to individual negotiated accounts
• Niche specialization by lane/freight within reach with self-dispatch
• Home time a function of operator's ability to customize schedule
Planning Profit Under Percentage Pay
Under a percentage pay plan, the owner-operator typically takes home 65 percent to 75 percent when pulling the company's trailer. It's a few percentage points more with his own.

Miguel Dunkelberger of Middleville, Mich., however, has found a deal he calls the "best I've run across in years" with a full 90 percent of the gross pay package, leased to LR & Sons Trucking of Grand Rapids.
Before your eyes pop out of their sockets, keep in mind Dunkelberger, who drives a 1996 Marmon 103D flattop, pulls his own 53-foot 1997 Trailmobile dry van. In addition, he says, the high percentage is due in part to the 22-driver carrier being young and trying extra hard to attract other owner-operators.
Also, costs many leased owner-operators don't incur, regardless of pay package, play a part in the carrier's ability to offer the high percentage: chargebacks for cargo and primary liability insurance.
"All in all it runs just over $200 a week," Dunkelberger says, for those plus insurances more typical for leased owner-operators (nontrucking liability, physical damage). Perks include in-house IFTA preparation, a carrier-provided fuel card, and PrePass.
Success under a percentage program required owner-operator Sam Mobley to change weekly targets from miles to revenue, achieved on the fewest miles possible.
"I might take a high-paying load into Pennsylvania," he says, "and take $1.70 a mile. But I might only get $1.02 per mile out. That lower-paying load — you hope that will be fewer miles and average the two together to make a decision."
In this market, he says, he's happy with $3,000 to $4,000 weekly in gross revenue. Running mostly long-haul, he tries to book a load leaving Sunday. "You have a good shot at hitting your target that way," he says. If you come out on Tuesday, "you might just do two loads that week" for $2,700 or so in revenue.
Evaluating percentage plans requires knowing your revenue and costs. With the fuel surcharge, Mobley says, some mileage-paid operators at Schneider National might average $1.42 a mile in revenue, "but I'd average $1.37, and it's my choice to do it that way. I'll make up the difference by doing more in income than they will" with lower overall costs on fewer miles.
"I tell people, if you're comfortable where you are and you're thinking about coming to [Schneider's percentage-paid, self-dispatched program], don't think you'll make a lot more money," he says. "You'll work harder to earn what you do get, but I personally get more satisfaction out of it. I'm the one making the decision about where I go and what I do."
Alt-pay software for small fleets
The accounting headache of offering alternative pay packages might seem too much of a disincentive for a multi-truck independent to bother with. However, there is at least one software program designed for just that market, says David Owen, head of the National Association of Small Trucking Companies (nastc.com).
NASTC in recent years made available its MYSTC ("Managing Your own Small Trucking Company") software, an online-hosted program available to members for $39 a month for the first truck, less with each additional one. It largely automates the settlement process, Owen says.
"We can do it on percentage, mileage" — or both, he says. No more "dispatching the truck, then Suzy in the back office figures out how to settle with the drivers or owner-operators," he adds.
Once trip information is entered, data is stored and available for future IFTA-report calculation, settlements and lane rate analysis.
Small carriers' value for drivers and owner-operators is often built on their strong relationships with those drivers.
"We've got to find a way to keep that competitive advantage," Owen says. "We've got to figure a way to pay [drivers and owner-operators] better, pay them faster and give them comparable benefits — or the gloom and doom about driver shortages is going to actually come true."