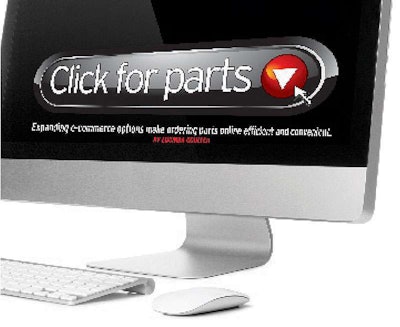 Expanding e-commerce options make ordering parts online efficient and convenient.
Bradley Coddington was happy with Pittsburgh Power's delivery speed when he received a free-flowing muffler for his 2000 Kenworth T800 only four days after he ordered it. When he realized the clamps were missing, the company rushed them to him in two days, says the Bristol, Wis.-based owner-operator.
Leased to J.R. Long, Coddington relies on online sources for truck parts he can install himself. "A lot of times, you can get better stuff online for the same price or cheaper," he says.
He and other owner-operators increasingly go online while they're on the road to compare prices, find local dealers or parts services, and place parts orders.
The variety of parts services available to owner-operators is growing rapidly as dealers, parts distributors and original equipment makers open or expand online catalogs for truckers.
"Five to 10 years ago, the accessibility to parts was such that only carriers could do it," says analyst Thomas Bray of industry publisher J.J. Keller & Associates. "Now an owner-operator has access to information about parts and the ability to get the parts by ordering at 2 a.m."
Technical advances in search engines and databases have made buying parts easier for owner-operators, vendors say. A search engine that PartsRiver started in October has dramatically increased the number of parts cataloged online, says Sherif Danish, CEO of the Fremont, Calif.-based heavy-duty truck parts data management firm. "Our main objective is to find a part for your truck right in the neighborhood that the trucker is in."
The Part Search tool at partsriver.com lists more than 8 million parts. The site includes listings of alternate parts and lists of sellers near the trucker's location. Subscribers can search the site for free. A $99 fee allows users to access the alternate parts and offers information to aid in filing warranty claims.
"There's no question as people become savvy about using the Internet, there'll be more online parts ordering," says Allen Parrott, owner of Tidewater Fleet Supply based in Chesapeake, Va. Last year, the company's 7,700 online orders represented sales of $900,000.
Drivetrain America drivetrainamerica.com was launched in March by Cedar Rapids, Iowa-based Sadler Power Train Truck Parts & Service. The online business augments the dealership's light- and medium-duty truck parts with more heavy-duty ones, Sales Director Adam Sadler says.
Sadler Power Train started selling parts online two years ago. Users can check prices, view in-stock inventory and customized shipping choices. While most of its 400 online accounts are small repair shops, owner-operators also can use the service. The site's sales grew from $50,000 in 2009 to more than $300,000 in 2011.
River City Truck Parts, based in Louisville, Ky., has seen similar success since 2010 selling diesel engines and parts through its website, rctpinc.com, says Daniel McWhorter, advertising director for the supplier of used parts and cores. Small orders are shipped the same day.
"We still push everyone to call us, but they can see the part numbers online," he says. Customers view the inventory through heavytruckparts.net, a site owned by I-Soft Data Systems that lists River City's inventory and that of other diesel truck part vendors that purchased I-Soft's software. "Having our inventory online allows truckers to answer some of their own questions and see pictures of our inventory," McWhorter says.
Not all buyer questions about parts get answered at any given vendor. Because OEMs still do not share proprietary information on all parts installed on a truck or certain repair information, it often takes an owner longer to determine a replacement part when not dealing with a dealer. Most distributors are able to help customers determine the right part. The so-called "right to repair" issue continues to be debated among OEMs and others in the heavy-duty truck industry.
Some online parts vendors have a narrow range of offerings. Steve Rowe, co-owner of autohaulersupply.com, started the online strap and chains supply business out of his house seven years ago with little more than a web page, a cell phone and a database of names.
His Portland, Ore.-based service now delivers auto hauler parts and other supplies from 17 domestic and overseas vendors, funneled through five fulfillment centers.
Kevin Andrews, of Dave Meeker Auto in Oklahoma City, started getting fax notices from Rowe six years ago, before the website launched. He's bought wheel straps from him ever since. "Keeping me updated with emails and sale information is a big help," Andrews says.
Industry experts urge owner-operators to find out where parts are made and check on a part's quality before ordering online. "They can get less-than-satisfactory parts from overseas markets, where the use of banned materials in their construction is common," says Karl Mowat, Paccar Parts general marketing manager. For example, brake linings with asbestos in them have been sold.
Bray says truckers should seek reputable manufacturers and suppliers with immediately recognizable names for making purchases online. He also urges online users to use secure sites so that credit card numbers are protected.
Jay Lott, owner of NAPA Auto & Truck Parts, based in Panama City, Fla., points out that owner-operators on the road can buy parts online and have them arrive before they bring their trucks in for service.
NAPA, which has no online parts ordering, has an efficient system for phone orders. "We have the ability to get parts overnight, or two days at the most," Lott says. "Time is money, and we know that."
Favorites on the parts menu
Regular maintenance parts, as well as those that can ship without high costs, are the most popularly ordered online by owner-operators. Oil filters, lights, air dryer cartridges and belts, for example, can be ordered and waiting for a trucker when he gets home from a run.
Owner-operator Bradley Coddington usually buys engine parts and wheel bearings at the dealer because of the advantage of having expert advice. "You want to make sure you've got the right part for those," he says. He often uses online sources for high-performance and accessory parts.
An online order for 6-inch stacks shipped to him free of charge is one of the best deals he's come across, he says. His total cost for them was less than what he paid for 5-inch pipes earlier.
In some cases, the benefits of an online purchase of a bulky or heavy item can be outweighed by high shipping costs. "If a part is too big and heavy, the shipping costs can quadruple the overall price," says J.J. Keller's Thomas Bray.
Manufacturers expand online offerings
E-commerce trends are prompting truck and engine makers to accommodate more Class 8 customers with online service.
In early 2010, Navistar International Corp. launched partsmartparts.com, which allows users to find parts based on vehicle and engine models. In July 2011, the catalog was sold to Amazon.com, where it's now Amazon.com/partsmart.
The site's parts are geared toward used truck owners seeking maintenance items such as brake parts, filters and water pumps, says Navistar Marketing Manager Kim Speciale. Online prices are the same as at all Navistar dealers.
Volvo launched mvselect.com for Volvo and Mack Class 8 customers in 2009. The site lets users order Volvo parts, with inventory and pricing verified with a specific dealer. A coupon website, truckpartssavings.com, started in March, offers discounts for parts on mvselect.com. Smartphone apps for the coupon site and mvselect.com are being developed, says James Chenier, Volvo's vice president for parts sales and marketing.
Paccar Parts has a customer call center with "leading-edge telecommunications and computer technologies to make it easier for owner-operators to get priority service 24 hours a day, seven days a week, when they really need it," says Karl Mowat, Paccar Parts general marketing manager. Although Paccar has no online parts ordering sites, Kenworth owners can call PremierCare Roadside Assistance Center at (800) 592-7747, and Peterbilt customers can call TruckCare Roadside Assistance Center at (800) 837-2458. The system helps owners in need of parts find the closest dealer.
Daimler Trucks North America also offers no online parts ordering, but has a partnership with OEConnections.com, a supplier of online technology solutions, says Daniel Haggerty, of DTNA. That collaboration allows dealers to locate and buy parts for customers of DTNA's brands: Freightliner Trucks, Western Star Trucks, Sterling Trucks, Detroit Diesel and Alliance Parts. Also, truckers can peruse Daimler products on the online catalogs and order through dealers at alliancebrandparts.com, freightlinertrucks.com, westernstartrucks.com and Detroit Diesel engine parts at detroitdiesel.com.