Continual Improvement
'Professional tourist' from the land down under sets her sights over and above.
By James Jaillet
When Australia native Jeanette Simpson immigrated to the United States in 1999, she had a background in banking she wanted to employ in a business of her own.
The same year, she earned a CDL and started work as a company driver for Keystone Freight Corp. That was partly to become a "professional tourist," she says, but also to advance her career.
"I wanted to see the country, and what better way to see it," she says. "But I could also see the potential in trucking from a business aspect."
In 2001, she bought a truck and leased to Keystone, but moved to Landstar in 2002. In 2007, she bought a 1999 Freightliner Century, which she still drives.
Through a divorce and severance of a team operation, "I continued to push the business," she says. "I wanted it to be successful, so I did everything I could to do that."
She's propelled her business to the high-risk, high-value – and high-paying – freight operation it is today. Her business netted roughly $75,000 in 2011.
She's leased to Landstar Ranger and, due to the nature of the freight, can't talk publicly about it.
"Jenny's taken her owner-operator business from a once struggling start-up to a successful operation by creating and implementing a business plan," Landstar CEO Henry Gerkens says. She "represents our industry's best when it comes to safe driving skills and professionalism."
Here's what Simpson says makes a successful owner-operator:
ACT LIKE A PROFESSIONAL. "The No. 1 thing is to be personable and communicate well," Simpson says, "meaning your company, customers, brokers, basically everybody.
"You have to keep your head on your shoulders and keep your cool. You can't just get upset over anything. Also, dress professionally. Don't go up to customers looking like 100 miles of bad road."
If customers "remember you for good reasons, they'll want you back," says the Grand Prairie, Texas, resident. "If you say you're going to do something, do it. I don't take a load unless I can give it 100 percent."
Simpson "steps up professional standards in everything she does," Landstar Logistics agent Mike Jackson. "She keeps herself active and does a tremendous job. She's one of the few in the industry that goes the extra mile to ensure everyone's satisfied with her work."
WORK TOWARD GOALS. Simpson works to continually improve profits by controlling spending, she says. "The theory is it's not how much you make, but how much you keep. If I need something, I get it. If I want something, I just think about it."
She also sets safety goals. "It's a goal of mine to reach a million safe miles," says Simpson, who already has nearly 750,000.
STAY ON TOP OF PM. "Everybody's out here to make money," Simpson says. "You don't want to waste it by being complacent about repairs. It's much cheaper to take your truck to the shop when you have downtime than to get it towed because you were too complacent or too lazy or you just had too much on your mind."
GAIN BUSINESS KNOWLEDGE. When she lived in Australia, Simpson worked in banking and for an attorney. She worked in the lending branch of the bank and dealt with small businesses and business plans.
"The details differ in every business, but there is a core there that's with every business," she says. "When I worked in banking, I could see trends and see where businesses were failing. I wasn't realizing how much knowledge I was gaining, but now I can look at my business and know what caused downturns and what made things better."
Though other owner-operators may lack the business background she does, Simpson says, anyone can learn about business basics. She says she continues to use self-help learning options online and through carriers.
Gaining Dual Citizenship
After moving to the United States from Australia in 1999, Jeanette Simpson married and attained working rights. After she divorced, she could have stayed in the United States with green card, permanent-resident status, but she wanted to consider dual-citizenship options. "I didn't want to risk not being able to visit my mother or my family," she says.
In 2009, she found out she qualified for dual status and applied for it in January 2010. She became a U.S. citizen on Aug. 31, 2010. "It's been fantastic," she says.
Though it didn't change her day-to-day life much, she says it changed her business in that she's been able to gain access to ports and other areas she didn't before.
Professional Pipes
Jeanette Simpson calls singing at a local recording studio "her outlet," and she sets aside time on off days to record songs.
She started recording at home in 1998. When a friend died in 2000, she recorded a song to be played at the memorial. "It's kind of like a drug," she says. "I can disappear from all the other problems and just sing and relax."
She's achieved one goal by recording an entire album, and hopes to write and record an album of her own music. "I just want to continue to improve and hope one day I get to the point where I can do that."
Jeanette Simpson
1963: Born in Mooroopna, Victoria, Australia
1999: Immigrated to the U.S.; obtained work rights and CDL; became driver for Keystone Freight
2001: Purchased first truck, a 1997 Kenworth T600
2002: Leased to Landstar
2007: Started new business and purchased current truck, 1999 Freightliner Century
2010: Became U.S. citizen
The Cab's Furry Fixture
Kittie, a white-nosed gray Tabby, came into Simpson's life roughly seven years ago when the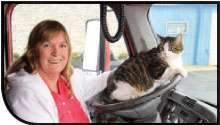 feline was dumped behind her trailer at just a few weeks old. Kittie's called the truck home ever since, Simpson says. "She's great company. I don't know what the truck would be like without her."
Jeanette Simpson is a finalist for the 2012 Owner-Operator of the Year, which is sponsored by Overdrive and the Truckload Carriers Association. The winner will be announced at TCA's annual convention, March 3-6, 2013, at the Wynn Las Vegas Hotel in Nevada.