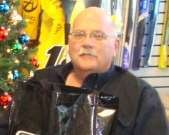 Veteran trucker Ron Phares won a flat-screen TV, DVD player and power converter for his Freightliner Cascadia as a grand prize package in a promotion named the 12 Days of Christmas, said Troy, Ill.-based Truck Centers Inc. Phares, an owner-operator and resident of Springfield, Ill., also garnered other prizes, the total for which is valued at $900.
Nearly 500 customers at seven of the family-owned dealer group representing various Daimler Trucks of North America entered the contest to win gift certificates, safety equipment, winter truck packs, GPS units and sporting events tickets.
Visit Truck Centers Inc. for details.