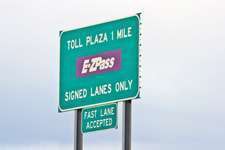 Turnpike toll rates in Ohio, Pennsylvania and New Jersey will increase Jan. 1.
Under the new rates, the cost to travel the entire 241-mile Ohio Turnpike from Indiana to Pennsylvania for 5-axle vehicles will increase to $44 from $40 for cash customers. E-ZPass rates for the end-to-end turnpike rises to $35 from $32.
Rates for travel between one or two interchanges may not change, the Ohio Turnpike Commission said. The new rates were approved by the Ohio Turnpike Commission in March 2009. View 2012 rates at www.ohioturnpike.org.
Cash tolls on the Pennsylvania Turnpike will go up 10 percent on Jan. 1, while E-ZPass rates will stay the same.
For a trucker driving from the Ohio border to the Delaware River Bridge, the 5-axle cash rate will increase to $185.50 from $168.60. Rates will be unchanged for E-ZPass customers, who account for about two-thirds of Turnpike travelers, the Pennsylvania Turnpike Commission said.
The increase will be applied to all vehicle classes on all Turnpike sections except the Southern Beltway (Turnpike 576) in Allegheny and Washington counties, where rates will be unchanged, the PTC said. For more information go to www.paturnpike.com.
In New Jersey, cash 5-axle rates for the length of the New Jersey Turnpike will go up more than 50 percent to $49.75 from $32.50. E-ZPass tolls will increase to $45.45 from $29.70. Garden State Parkway tolls will rise 50 percent.
This is the second phase of a two-phase toll increase approved in 2008. For more information go to www.state.nj.us/turnpike.