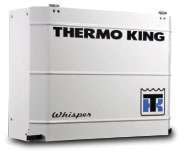 Intermodal temp control
The Heat King 430 provides temperature control for both rail and trailer applications. Its freeze-protection control is based on solid-state technology to avoid use of moving parts, and its controller is inside the unit enclosure for protection. A controller automatically starts the unit when coolant drops below 30 degrees. Return and supply air temperature sensors provide built-in redundancy for continued performance. The Heat King features flash-load programming and diagnostics system for troubleshooting.
THERMO KING, thermoking.com

Stereo upgrade
The new Alliance replacement stereo has an AM/FM receiver, MP3-capable CD player, remote control and auxiliary input for MP3 players and portable satellite radios. The display shows track info read from MP3 tag information, and the unit has 18 station memory presets. It's compatible with any truck that has an ISO harness.
ALLIANCE TRUCK PARTS, alliancetruckparts.com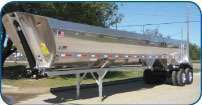 Aluminum dump trailer
The 39-foot Alumatech half-round dump has seamless floor and side sheets and a redesigned nose, sub-frame, tailgate and draft arm connections. Alumatech also plans to expand its line to frameless, quarter-frame, frame-type and straight truck dump body options.
TRAVIS BODY & TRAILER, travistrailers.com,
(800) 535-4372

All-electric APU
The Idle Free APU meets heat and air conditioning needs and requires no idling. It runs on alternating current and doesn't use the truck's batteries for power. It pulls energy from the engine's alternator and stores it in an independent AGM battery bank.
IDLE FREE SYSTEMS, idlefreesystems.com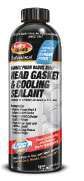 Winter cooling sealant
The Carbon Fiber Block Seal Head Gasket & Cooling Sealant is made to seal coolant leaks in radiators, heater cores, freeze plugs, gaskets, intake manifolds, cylinder heads and engine blocks. It is anti-freeze compatible and doesn't need to be removed after a repair. The formula combines liquid glass with aramid and refractory fibers reinforced with carbon fiber to bridge larger leaks and create a seal.
BAR'S LEAKS, barsproducts.com, (800) 521-7475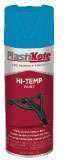 Hi-Temp paint
Formulated to resist intermittent temperatures of up to 1,300 degrees Fahrenheit, the Hi-Temp paint is suited for engines, exhaust manifolds and headers. It's available in red, aluminum, orange, blue and cast gray. The salt spray-resistant paint dries in 60 minutes and produces a silicone resin that resists chips and peeling.
PLASTIKOTE, plastikote.com,
(866) 222-871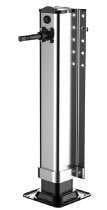 Lightweight landing gear
The AlumiLightX and UL500, two new lightweight landing gears with internal gearboxes, work to reduce trailer weight. The AlumiLightX's lower leg is made from polyester-coated steel to protect against corrosion, and its upper leg is made of extruded aluminum and features a heavy-duty reinforced strap. The UL500 is made of a re-engineered lift nut and high-strength, low-alloy steel. Each leg can use a grease tube for reduced maintenance.
JOST, jostinternational.com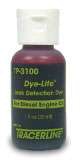 Engine leak dye
The Dye-Lite TP-3100 fluorescent dye helps pinpoint leaking engine oil, hydraulic fluid, lubrication fluid, compressor oil and gearbox oil. Dye added to and circulated in the system for several minutes allows leaks to be seen with an ultraviolet or blue light lamp. The dye glows a bright yellow to show leak locations. Dye can stay in system until oil is changed.
TRACERLINE, tracerline.com,
(800) 41-1133