Governmental efforts to expand truck parking continue in many states. The next step — providing real-time space availability information — is just around the corner in select areas.
Larry Cunningham, an owner-operator leased to Tennessee Steel Haulers, pulled into a TA truck stop east of Seattle one recent night and found all parking spaces occupied. He circled five times before he saw the lights of a rig that was ready to leave. "I got lucky," he says.
Such luck is too often missing. Since the 1990s, the federal government and some states have mounted studies and funded projects to address truck parking availability. While most federally funded programs are not developing additional parking spaces, they are focused on using Internet and other media to provide parking availability information to truckers. A few states have begun restoring rest area parking that had been closed, but little new capacity has been added. Truck stop chains, however, are opening new facilities.
Fueling the initiatives is a concern that a parking shortage is forcing truckers to drive longer to find open spaces. That contributes to fatigue, possible hours of service violations and diminished safety.
The safety aspect was tragically demonstrated in the case of Jason Rivenburg almost three years ago. Prevented from parking at a warehouse where he was scheduled to make a delivery, Rivenburg waited at an abandoned gas station, where he was murdered in a robbery. The incident led to a Congressional bill known as Jason's Law that seeks $20 million annually for parking-related initiatives.
Jason's Law and increased truck parking were reportedly recently discussed in a Senate committee meeting on a new transportation funding bill. The bill lists potential funding sources for adding truck parking, such as developing rest areas or converting inspection and weigh stations and park-and-ride areas. The committee approved the funding bill last month.
Truckers often have to seek parking, like Rivenburg did, at sites other than truck stops or rest areas – large retail stores, distribution centers or industrial areas. Cunningham once or twice a week will search for a warehouse district or other area where trucks are parked. He says he's never been told to leave such a place and tries to leave early the next morning before workers arrive.
"If you pull in a lot some place, you're a target," he says. "California doesn't want you parking in industrial areas."
Parking in an industrial area is a last resort, says Bryan Peirsol, leased to Landstar Ranger. Since he frequently pulls oversize loads, he's required to get off the road before dark. That often forces him to start looking for parking by mid-afternoon.
Matching supply with demand
A 2005 FMCSA study measured the daily parking demand of 287,000 spaces compared with the daily supply at 309,000 spaces. This suggests less a parking shortage than problems with geographic allocation or getting current information to drivers.
That's long been the concern of NATSO, the trade group representing truck stops. "It's also important to focus on maximizing the spaces that we already have," says Tiffany Wlazlowski, NATSO spokeswoman. "We could have all the parking spaces in the world, but if truck drivers don't know where they are or when they are open, or if everyone is trying to get into the same spot at the same time, then it doesn't really matter all that much."
California is developing a system that would provide real-time information on parking availability and a space-reservation system.
The initial phase of the five-year pilot program covers engineering and deployment at two test sites on I-5, one a drop-and-hook terminal in Lathrop, east of the Bay Area, and the other a Flying J truck stop with 187 spaces at Lodi. The Lathrop location is a secure facility that will be used to test sensor performance, while the state Department of Transportation will test several sensing systems at Lodi. A second phase will add two public and four private sites to the program.
In a trucker survey, 72 percent said it would be useful if they could use the Internet to monitor parking availability.
Government tackles parking
For the last few years, the U.S. Department of Transportation has awarded grants to states to help reduce truck parking shortages. In 2006 the Federal Motor Carrier Safety Administration launched its SmartTruck program, designed to examine how technology can provide real-time data, including parking availability, to drivers.
Earlier this year, DOT awarded $4.4 million to Michigan and more than $2 million to Minnesota to cover truck parking information systems that deliver real-time information on parking availability.
Michigan's project is focusing on I-94 from the Indiana state line to the I-69 interchange. Initially five state facilities – four rest areas and a welcome center – will be wired. Later, 15 truck stops will be outfitted with instruments.
The exact format of the information and the type of information is still being discussed, says Collin Castle, ITS engineer with the Michigan Department of Transportation. "Ultimately we're trying to determine the number of available parking spaces at facilities," he says.
Under consideration for the project to be delivered in 2013 is a web-based system where a user could check individual parking facilities to see real-time availability. Another option is a smart phone application that could deliver parking information to a subscriber, as well as to a statewide management system, Castle says.
Minnesota is targeting 100 miles of I-94 west of the Twin Cities for its project aimed at mitigating driver fatigue. The state is preparing to install equipment at three rest areas and a Pilot truck stop, says project manager John Tompkins of the state Department of Transportation. The state DOT and University of Minnesota will set up electronic message signs on highways and a website for the anticipated rollout next summer. Equipment will scan the facilities for open parking spaces and real-time information will be presented to system users.
In 2010, DOT provided grants to Mississippi, Oregon, Pennsylvania, Tennessee and Utah to add parking capacity or intelligent transportation infrastructure along key interstate lanes. All but Mississippi have begun to take advantage of the grant money.
Tennessee's Department of Transportation is evaluating where to locate Intelligent Transportation System instrumentation to monitor parking availability. The state's $800,000 federal grant originally had targeted facilities on I-40.
Pennsylvania's $2.1 million grant covers a system to alert truckers to parking availability at rest areas along I-81. The state DOT is planning testing for a system that would start in 2013 or later.
Kentucky's Truck Rest Haven program has provided truck parking at weigh and inspection stations over the last few years. Information is available through the state's 511 Traffic and Travel service online or by dialing 511 or (866) 737-3767.
These states have added or plan to add parking facilities:
Florida: Recently the Federal Highway Administration awarded $1 million to the state to add 90 parking spaces at the Florida 595 Truck Stop in Davie. The goal is to supplement the facility's 35 paved spots by early 2013.
Iowa: Over the past decade, Iowa has opened truck parking at abandoned weigh and inspection stations and reconfigured rest areas to add more spaces.
Missouri: From 2002 to 2010, Missouri added more than 400 spaces at rest areas and former weigh stations.
Utah: Utah is considering options for increasing parking along I-15, a key commercial route from Southern California ports. Among the possibilities under a $545,000 grant is working with big-box retailers to create truck parking.
Oregon: With a $480,000 federal grant, the state is working with a native American tribe to build and operate parking spaces on I-5 in southern Oregon. The tribe already runs a truck stop and rest area and is likely to expand truck parking at those locations.
Scoping the I-95 corridor
Some of the worst parking shortages occur along the East Coast. For nearly 20 years, federal and state transportation officials have been working to find solutions to traffic congestion and parking availability on the I-95 corridor from Florida to Maine. Early projects focused on creating 511 information systems and other technology deployment.
A current $5.5 million program aims to work with public and private facilities to monitor how many parking spaces are open by using thermo-optical imaging technology and cameras. Information would be updated every two minutes and made available to truckers through a website and/or smartphones, says Marygrace Parker, I-95 Corridor Coalition coordinator. The information might focus on specific truck stops or rest areas or those clustered in a geographic area chosen by the trucker.
The coalition considered a space-reservation system, but drivers voiced reluctance to pay for reservations, Parker says.
In Maryland, testing is under way on cameras that cost $150,000 to deploy, Parker says. In January equipment will be installed at four or five truck stops in Maryland and New York State. Carriers will be recruited to test the equipment to make sure it's working properly. By the end of 2012, the goal is to expand the project to 14 or so sites along the corridor.
"Regardless how much information you put out, there's still a capacity issue," Parker says. "We hope to eliminate vehicles having to park on road shoulders and ramps, even though spaces might be available."
TRUCK STOP SPACES
Among major truck stop chains, Pilot Flying J's network numbers more than 550 facilities with more than 50,000 parking spaces. The company plans further expansion through new locations or acquired facilities, a spokesperson says.
TA Petro counts 43,960 spaces at 230 sites, after adding about 2,000 spaces through acquisition and new sites this year. The company offers a TruckSmart smart phone app that updates parking availability about every two hours.
To its network of more than 17,400 spaces, Love's Travel Stops is adding 1,820 spaces at 23 locations this year. Most of the additions are new construction, a spokeswoman says.
NATSO, an organization representing about 1,400 truck stops that provide about 90 percent of overnight truck parking, noted in a 2010 study that truck parking is more plentiful on interstates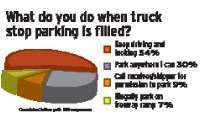 where commercial rest areas are prohibited. Under federal law, 14 states are permitted commercial services at rest areas.
PAYING TO PARK
An alternative to parking at truck stops and rest areas is private lots that offer security for a price. Many carriers maintain their own yards and make parking available, while private owners run lots in major markets.
TXS Secure Trailer Parking provides more than 170 truck and trailer parking facilities around the country. J.P. Harwood says he's adding another 80 locations and aims to have up to 300 facilities by the end of 2012.
The facilities are private lots and fleet yards. Rates per space vary from $85 to $350 a month, depending on local real estate values.
Harwood says carriers and operators can park an entire rig or just a trailer in the facilities, but he requires the tractor and trailer be separated inside the fences. The driver can stay inside the facility in the designated truck parking area. "The idea is to protect the cargo of the other trailers," Harwood says.
His current project is developing a wireless reservation system. A client would be approved after screening and a credit check. The user can pull into a facility when needed and receive an invoice when he leaves that will be billed to his card.
"The wireless reservation system is going to be a real asset for owner-operators," Harwood says. Many parking yards don't want to do business with owner-operators, he notes, because it's hard to get paid. Yet it's not cost-effective for most owner-operators to keep a monthly designated slot since they're usually on the road. "Once they have an account with my company and have a need, they have a home away from home," he adds. "They can leave their equipment and it will be there when they get back."
In Phoenix, Security Truck Park offers more than 250 spaces for tractors and trailers in a lot with cameras that is patrolled by a guard. Customers vary from large carriers to long-haul owner-operators to local contractors who leave their car at the facility during the day. Vice President Pam Howerton estimates 25 percent of customers are owner-operators.
Drivers can stay with their trucks and use a driver's lounge, vending machines, restrooms, TVs and free Wi-Fi. The facility plans to add showers within a year, Howerton says.
Delta Truck Parking in Otay Mesa, Calif., a base location for many warehouses and trucking outfits near San Diego, offers 110 spaces for truck and trailer parking for $10 per space per day just a mile from the Mexican border. Manager Miguel Vilchis estimates 80 percent of its customers are long-haul and local owner-operators.
Carriers hauling specialized equipment for trade shows or machinery for a construction project might stay for two weeks or more. Others are contractors who haul to Los Angeles and destinations north. Still others are Mexican operators who pick up or deliver at Tijuana or who leave their vehicles to take a vacation.
"It's a safe place to leave a loaded trailer," Vilchis says. "Truckers from Mexico come and leave their equipment because they don't trust truck stops."
The facility commonly attracts more local operators not only because of its proximity to the border but also its location between two truck stops that have free parking. Vilchis says his facility has portable toilets but no other amenities.
The facility, often 70 percent full in the morning, gets increasingly congested as the day goes on and might fill up by night. "Many owner-operators don't like to pay for parking," he says. "They park outside our lot, maybe because they feel they will be more protected parking next to us."
Vilchis says the area is extremely safe because state patrol, border police and immigration control officers are constantly driving around.