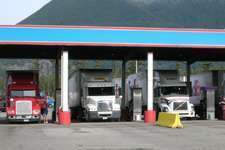 For the sixth consecutive week, the U.S. average diesel price fell, dipping 0.8-cent to $3.783 through Jan. 2, according to the latest figures from the U.S. Department of Energy's Energy Information Administration.
Over the last six weeks, the national price has dropped 22.7 cents. The latest price is 45.2 cents higher than a year earlier.
Prices were mixed, with decreased reported in the Rocky Mountain region (2.5 cents to $3.836), Midwest (2.3 cents to $3.683) and West Coast without California (0.6-cent to $3.90). California to $4.046 and the Central Atlantic region to $3.923 had small 0.7-cent gains.
The record diesel price was $4.764 in July 2008.
For diesel price information, click here.