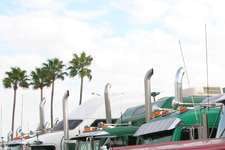 A trucking company and others suing the U.S. Environmental Protection Agency over new greenhouse emissions standards for heavy-and-medium-duty vehicles is fighting a joint request to intervene from state governments and environmental organizations.
California-based Dalton Trucking, a 100-truck specialized services operation, and additional petitioners have said the new rule will increase fuel efficiency and decrease emissions, but also will increase transportation costs substantially.
On Jan. 17, they filed a response to the joint motion to intervene.
The U.S. Court of Appeals for District of Columbia has not scheduled oral arguments in their Nov. 4 petition to review the EPA's final rule published last September. The other petitioners are Delta Construction Co., Southern California Contractors Association and the California Dump Truck Owners Association.
They have told the court the agency's Science Advisory Board should have been given an opportunity to comment on the rule before it became final. They also have asserted EPA officials did not meet special federal rulemaking provisions the petitioners say they were required to comply with, which would have made the proposal subject to stricter scrutiny.
Earlier this month, those seeking to intervene responded to the petitioners' Dec. 29 motion against that request.
The Natural Resources Defense Council, Environmental Defense Fund and Sierra Club provided a reply, soon followed by the joined response of California, Illinois, Iowa, Maryland, Massachusetts, New York, Oregon, Vermont, and Washington and the City of New York.