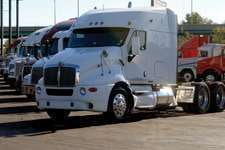 Used Class 8 truck sales rebounded 13 percent in December from the previous month, ACT Research said, while trailer orders for last year were 38 percent higher than in 2010.
Used truck sales at auction, retail and wholesale all increased in December, but were 9 percent lower than the previous year. The sales figure is based on a sampling of used truck dealers.
Steve Tam, vice president-commercial vehicle sector with ACT, said that the biggest factor is continued lack of sufficient inventory, "which is the limiting factor in sales growth. On pricing, we believe year-over-year pricing growth will continue to slow. Prices will not necessarily fall, but just grow at a slower rate."
Net orders for trailers grew 38 percent year-over-year, while build increased 69 percent.
"Following some mid-year sponginess, the trailer industry ended 2011 on a particularly strong note: Orders in December were a virtual duplication of November's five-year high, backlogs rose to their highest level this cycle, and cancellations were virtually non-existent," said Kenny Vieth, president and senior analyst at ACT.