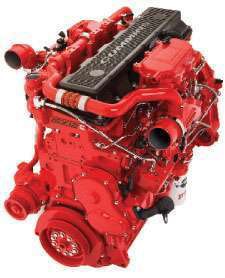 ISX 12-liter for regional, vocational hauls
The ISX12, built for regional hauls and vocational and specialty applications, uses components of the big-bore ISX15 to offer more power and better fuel economy than its predecessor, the ISX11.9, the company says. An enhanced cooled exhaust gas recirculation system, a single variable-geometry turbocharger, the proprietary XPI fuel system and Cummins aftertreatment system with selective catalytic reduction technology are borrowed from the ISX15. The engine is designed for rigorous duty cycles, including dump and mixer trucks and refuse applications. The engine's horsepower and torque ratings are appropriate for regional haul and daycab operations in Class 8 trucks.
The engine's standard horsepower ratings range from 310 to 425. Production will begin in March.
CUMMINS, cummins.com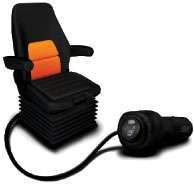 Plug-in seat warmer
The seat heater plugs in to any Class 6, 7 or 8 truck's 12-volt outlet and warms to a maximum of 110 degrees. Installation of the heater takes less than five minutes. The product is available at original equipment truck dealers.
SEATS INCORPORATED, seatsinc.com,
(800) 443-0615

Supernova series
Grote Industries' Supernova lighting series has added integrated flange 4-in. stop, tail, turn and dual-system back-up lamps to its collection. The LED light has a cushioning gasket seal to keep out water and debris, and a lens-to-housing seal that reduces moisture and component corrosion. The flange design mounts directly onto the vehicle, and each lamp features concise potting that holds the lamp's solid-state circuit board.
GROTE INDUSTRIES, grote.com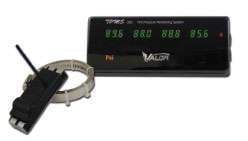 Tire pressure monitoring system
The new commercial truck tire pressure monitoring system measures pressure and heat buildup. It is installed inside the wheel to prevent theft. The system records any significant air loss over time caused by leaks in the tire. Drivers can hook up to any trailer without having to register sensors on the tractor.
ESCO, esco.net, (800) 754-1117

Sentinel tracks fuel pressure
The new TURBO3000D Sentinel monitors fuel pressure and provides early warnings on low pressure or abnormal pressure fluctuations to help prevent fuel system breakdowns. The Sentinel is available at Travel Centers of America and Petro Lube stops. The Sentinel is designed to be exclusively used with the Turbo3000d, a fuel/emissions reduction device. The TURBO3000D contains no moving parts. Its maker says it requires no maintenance and has better fuel economy, increased horsepower, quicker throttle response and smoother idle.
TURBO3000d, www.turbo3000d.com, (877) 526-7728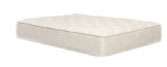 Memory foam mattress
The Big Dawg Memory Foam mattress conforms to your body for a soft and supportive feel. The American-made mattress is 10 inches thick and has a plush 2-in. bamboo-fabric pillowtop.
SLEEPDOG, sleepdogmattress.com, (866) 953-1019

Gloves for truckers
The Panther Driver's Gloves line now includes leather gloves lined with 40 grams of 3M Thinsulate lining. The gloves come in sizes small through XX-large.
GALETON COMPANY, galeton.com,
(800) 221-0570