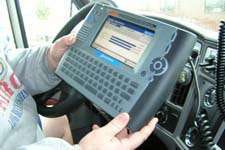 A safety panel on Feb. 8 finalized a report on mitigating the use of electronic onboard recorders to harass drivers that provides suggestions to the Federal Motor Carrier Safety Administration.
The document from FMCSA's Motor Carrier Safety Advisory Committee contained information the agency should explore in any rulemaking on EOBRs for hours of service compliance.
Following the U.S. 7th Circuit Court of Appeals' decision last August that vacated the 2010 limited mandate for EOBRs for certain noncompliant carriers, the harassment issue may be the key consideration for the agency. The agency has expressed intent to devise a rule that mandates some version of electronic logging devices for virtually all trucks in interstate commerce.
The MCSAC concluded four days of meetings in Alexandria, Va., Feb. 9.
Harassment issues relative to electronic logs cover driver relationships with law enforcement personnel and with carriers, tilting heavily toward the latter and favoring drivers' positions in certain instances. For example, a Feb. 8 draft said, "Drivers should be able to save records of carrier contact with drivers."
The statement was presented relative to an item about the difficulty of regulating the role EOBRs can play in hours of service compliance.
"Trying to regulate the difference between productivity measures and carrier actions that result in harassment is difficult because it should be judged by a standard of reasonableness that could be interpreted differently based on a specific factual circumstance," the item read.
"I'm glad we have some recognition by this committee of the fact that dispatchers can lie," said MCSAC member Calvin Sturdivant, of Community Coach.
In the same section, the committee spelled out the need for any EOBR regulation to avoid giving carriers what could be considered a harassment-enabling tool. "You cannot regulate bad management practices," the report read. "You cannot prevent a carrier from pressuring a driver to do his/her job in a potentially unsafe way, yet that is the situation you want to avoid."
The report suggests the agency "consider civil penalty sanctions as deterrents for harassment" and/or "seek out current regulations that appropriately address" any driver complaint that is made. Also suggested was FMCSA-led training for driver supervisors and law enforcement regarding what could constitute harassment.
Debate about limiting real-time two-way communication with the devices ended with the committee in part divided on the subject of whether such fleet management tools should be required to be included in new standards for the devices. Both the Owner-Operator Independent Drivers Association and Teamsters Union representatives on the committee, in addition to others, opposed requiring such tools to be a part of any electronic logging system.
"Minimum requirements for electronic logs do not harass drivers," a note in the report read, "but the fleet management system that could be incorporated into the device could open the door to harassment."
Stephen Owings of Road Safe America, a safety advocacy group, proposed an item for inclusion that pointed out "benefits of EOBRs" to drivers relative to harassment by carriers. With EOBRs in use, the report stated, "carriers are less likely to pressure drivers to drive beyond their maximum hours."
OOIDA Executive Vice President Todd Spencer disputed Owings and anyone else "who thinks that EOBR data can't be and isn't changed in back rooms and in the systems that collect the data," he said. "It does happen, and I think it probably will always happen, for those who want to do that. There's no way to make those systems foolproof, because data will be managed, no matter how it's delivered, no matter how it's stored."