Pack the right parts and inspect your truck diligently to avoid time-consuming, costly inspections.
Attitudes about maintenance are changing. For that you can blame – or thank – the Compliance, Safety, Accountability program.
Sumter, S.C.-based owner-operator Jimmy Ardis, leased to Sapp Trucking, is one who's noticed the shifting winds. His aggressive approach to preventive maintenance hasn't always been shared by many carriers. "I've seen a lot of companies with trucks that used to run down the road with stuff that wasn't exactly right," he says, but now they've "really tightened up" on maintenance.
"If there's a real positive story about CSA, it's the maintenance side of things," says CSA consultant Rickey Gooch of LegalShield and Justice for Truckers. "Before, the carriers would tell you that the only reason they ever had any equipment problems was that they didn't know about them," he says. "The drivers, on the other hand, would tell you the opposite – that the carriers just wouldn't fix the problems." With the Federal Motor Carrier Safety Administration's CSA program, "the driver now tells the carrier about the problems and they'll actually deal with them," he says.
Gooch says he believes federal enforcement of the regulations will rise, meaning carriers will feel pressure from an expanded FMCSA staff that's conducting more interventions. If you or your carrier has bad maintenance numbers "and nobody's shown up at your door yet," Gooch says, don't be complacent.
Data from FMCSA's Analysis and Information website (ai.fmcsa.dot.gov/) show that the most commonly cited items in inspections are often observable defects, such as problems with lights, tires and brakes. These kinds of violations often lead to other problems in the Behavioral Analysis and Safety Improvement Categories, such as Driver Fitness and Hours of Service, says Drew Anderson, director of sales for CSA data mining firm Vigillo.
Owner-operators who successfully deal with the Vehicle Maintenance BASIC are those who develop maintenance procedures to prevent or cope quickly with problems in these and other areas. Their attention to maintenance often helps them avoid inspections and enhances their relationships with their leasing carrier or shipper customers.
Maintenance efforts can go a long way by focusing on these key areas.
Lights
The most common light violations are worth 2 points in CSA's accounting. That's relatively low, but considering the number of lights on a truck and how easy it is to maintain them, it's worth taking the steps to be prepared.
After CSA's launch, light manufacturers Grote and Truck-Lite offered fleets light-replacement kits to address most on-road situations. Minnesota-based Jeff Zehrer, leased to Hensley Inc., always runs with at least "one of every light for my truck and trailer on hand," he says. "As soon as one's gone, you've got to replace it."
While the strategy is nothing new for Zehrer, who runs a 2003 Freightliner Century and Great Dane dry van, CSA has upped the ante. "I'm a little more diligent on clearance lights and everything," he says. "A trooper will see a light out and use it as a reason to inspect."
The two most frequent Vehicle Maintenance violations last year were for lights. The total 820,244 citations for either the leading violation, Inoperative required lamp, or number 2, No/defective lighting devices/reflective devices, accounted for nearly a third of the top 12 most frequently cited maintenance violations. Those 12 numbered more than 2.62 million. Furthermore, two other lighting violations – Inoperative turn signal and Stop lamp violations – were also in the top 12.
Dealing with on-highway light problems is relatively simple, provided you're carrying the right replacements and tools. It's simplest if you can minimize the types of lights and use products that have long lives. Before Zehrer switched from standard incandescent bulbs to a Sylvania halogen high-low light for his headlights, "I replaced five a year," he says, a frequency that is now much reduced.
The stop-tail-turn lamp in the Grote CSA light kit is an LED model with a much longer life expectancy than an incandescent. Many fleets have attempted to minimize outages of lights on the difficult-to-access top rail of the trailer by installing LEDs, says Grote National Accounts Manager Mark Blackford. LEDs are also used in other hard-to-reach areas of the truck.
Owner-operator Bill Taylor, who drives team with his wife, Robyn, leased to FedEx Ground, has outfitted their 2007 Western Star 4964EX with LEDs. "My light problems are minimal," he says, except for occasional corrosion in the plugs, which he'll replace. He carries spare headlights, among other lights, in his bag of replacement parts for "all the normal stuff that goes out," he says.
Taylor consults regularly with ATBS Maintenance Management Consultant Bill McClusky, who advises ATBS owner-operator clients to carry electrical contact cleaner and dielectric grease to prevent corrosion. "Say you've got a marker light and connection corroding," McClusky says. "You can dip them in that and keep them from becoming corroded."
Tires
Owner-operator Taylor ran out of luck on a Friday the 13th in Kingman, Ariz., where his truck sustained a steer tire blowout. It was a freak incident for Taylor, who calls himself a "stickler" on preventive maintenance. "A roadside breakdown can absolutely cost you everything you've made this week and the following," he says. The Jan. 13 blowout cost him $1,400.
Closely monitoring tire condition will not alleviate every tire-related emergency, but it will catch many and pay off in other ways. Many of the most common tire violations carry a high severity weighting in the Vehicle Maintenance BASIC's safety ranking system, meaning they will disproportionately impact your or your carrier's overall CSA ranking. Among the top 12 most common violations, only one – having tire tread depth less than 2⁄32-inch – involved tires. But operators cited for it racked up a hefty eight negative points toward their carriers' or their own Vehicle Maintenance BASIC ranking.
Furthermore, if you narrow the list to just out-of-service violations, three relate directly to tires, says J.J. Keller and Associates' Thomas Bray, who supplied the list of the top 2011 violations for this article.
Out-of-service violations each carry an extra 2 CSA points, making that easily monitored tread depth infraction worth 30 points for the first six months after the violation was incurred if it puts you out of service. That's because violation severity weights are multiplied by three for the first six months. In this case, that's 10 points (8 plus 2 for an out-of-service violation) times 3. That violation will hit you with a weight in Vehicle Maintenance equal to what a reckless driving charge will get you in the Unsafe Driving BASIC, clear evidence FMCSA takes tire problems seriously.
Given that kind of risk, it's a good idea to carry a plug kit and use it not just for a flat tire, but for fixing a slow leak. This is OK for an emergency patch, though to prevent moisture from corroding the tire's belts, interior sealing of the puncture should be performed within days.
It's also wise to carry pressure and tread depth gauges on the road and use them regularly during pretrip inspections. Zehrer is considering going beyond that: "I think the next thing I'll do is get one of those tire pressure monitoring systems that monitor pressure in real time. If you get 15 to 20 percent off on a dual, inspectors can write you up for that." If you enjoy the regularity of pulling your own trailer, it can be worth installing such systems to reduce time spent checking tire pressure and to alert you to a dangerous drop in pressure.
The PressurePro system is available with automated drop-and-hook capabilities for connections with multiple trailers. "We give you 100 percent pressure monitoring," says Duane Sprague of PressurePro, "and about 99 percent of tire issues are related to pressure correction." Other systems are the Bendix SmarTire system and one from Esco.
Zehrer priced these systems for 18 wheels at around $1,000. Sprague says the PressurePro system costs about $1,100.
For more such products, find the "Dynamic dozen" feature via digitalmagazinetechnology.com/current/overdrive. Select the September 2009 issue via the issues tab.
Brakes
Brake violations accounted for three of the top 12 most commonly cited infractions, in both all-violations and out-of-service lists. Automatic slack adjusters, standard equipment on new vehicles since 1994, take care of continuously adjusting brakes for operators, but an auto slack isn't maintenance-free. Checking push-rod travel will tell you when an auto slack has failed.
Proper pushrod travel length is specified in the regulations as 80 percent of "the rated stroke listed in SAE J1817 … or 80 percent of the rated stroke marked on the brake chamber" by the manufacturer. As an example, FMCSA notes that pushrod travel for Type 16 and 20 long-stroke clamp-type brake actuators must be less than 2 inches, or 80 percent of the rated stroke, 2.5 inches for Type 30 chambers.
Beyond checking for push-rod travel, the biggest factor of brake maintenance – and particularly maintenance of auto slacks themselves – is regular greasing. Zehrer hits every grease fitting under the truck and trailer once a week, he says, and inspects all undercarriage components as well.
"Even if you get your truck greased at the SpeedCo for $23, at least somebody's under the truck checking everything out," says Taylor.
For general preventive maintenance for component longevity, say both Taylor and Zehrer, nothing beats doing greasing work yourself and inspecting the parts of the braking system and suspension, including all hoses – all on a regular basis.
Brake hose-related violations are particularly common, accounting for the sixth most common violation overall and the third most common out-of- service infraction. They carry a four-point CSA weighting. To avoid the most common of the violations, make certain brake hoses are properly secured against potential mechanical damage.
Catching a brake hose securement problem comes back to knowing what to look for during pretrip inspections, says McClusky. "One of the requirements is that you inspect all hoses and brake lines for rubbing, chafing and cracking – try to catch these things prior to them breaking. Breaking an air line is a top safety item." For inspectors, it will be a high priority check.
Tie hoses out of harm's way, McClusky adds, making sure there's "nothing hanging down or rubbing against something that might cause damage." Zehrer utilizes zip-ties to properly secure all hose lines.
"Cracking is common in winter," says McClusky. Carry spare lengths of hoses and appropriate end fittings, particularly if you're utilizing ferrule-type non-reusable fittings that are crimped over the hose end.
The appropriate fix to an inadequate hose, including any with a leak, however small, is replacement, McClusky says. "You can't really carry a spare hose for everything, but focus on those that are subject to ice and snow or subject to road debris under the chassis" – for instance, the lines that go to the brake chambers, he adds. "Carry a length of each of those sizes." If the fittings are a reusable type, you can just remove the fittings, install the hose and move on.
– John Baxter contributed to this report.
LIGHTS
Necessary equipment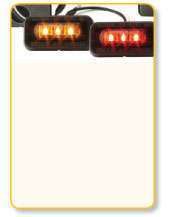 • Spare lights, crimpers and 12-, 14- and 16-gauge wiring
• Basic hand tools
• Small electrical connector kit
• Heat shrink tubing
• Electrical contact cleaner
• Dielectric grease
• Wire and metal snips
• Duct tape and electrical tape
TIRES

Necessary equipment
• Tire pressure gauge
• Tire tread depth gauge
• Air hose with an air chuck on one end and a gladhand on the other that would connect to the emergency line on the back of the truck. "If you need air," says ATBS' Bill McClusky, "you just connect that hose to your red line/gladhand off the back of the truck."
• Plug kit
• Needle-nose pliers.
Inspect to prevent
The top violations in the chart represent the most common infractions in CSA's Vehicle Maintenance category. "Most, if not all, are items that should be caught during driver inspections and definitely during maintenance inspections," says J.J. Keller's Thomas Bray.
ATBS' Bill McClusky advises operators to build a good relationship with a reliable repair shop, whether a dealer's service location or an independent garage. "Take the shop a couple pizzas and throw them some Cokes — they tend to remember that and pay better attention to you," he says.
An operator should work with his shop to be "proactive rather than reactive" about maintenance, says McClusky. He recommends getting an inspection that's more in-depth than a simple pre- or post-trip, at every oil change, if not more frequently. "Someone in the truck maintenance field is going to spot things that an owner-operator might not."
Top Vehicle Maintenance BASIC violations in 2011
All violations
393.9(a) Inoperative required lamps
393.11 No/defective lighting/reflective devices
396.3(a)(1) Inspection/repair and maintenance of parts and accessories
393.75(c) Tire tread depth less than 2/32-inch
396.5(b) Oil and/or grease leak
393.45(b)(2) Failing to secure brake hose/tubing against mechanical damage
393.47(e) Clamp/roto-chamber-type brake(s) out of adjustment
396.17(c) Operating a CMV without periodic inspection
393.95(a) No/discharged/unsecured fire extinguisher
393.25(f) Stop lamp violations
393.9TS Inoperative turn signal
393.48(a) Inoperative/defective brakes
Out-of-service violations
393.9TS Inoperative turn signal
393.9(a) Inoperative required lamps
393.75(a) Flat tire or fabric exposed
393.45 Brake tubing and hose adequacy
396.3(a)(1) Inspection/repair and maintenance of parts and accessories
393.25(f) Stop lamp violations
393.48(a) Inoperative/defective brakes
393.75(a)(3) Tire — flat and/or audible air leak
393.43 No/improper breakaway or emergency braking
393.75(c) Tire tread depth less than 2⁄32-inch
393.207(a) Axle positioning parts defective/missing
393.100(a) Failure to prevent cargo shifting
BRAKES
Necessary equipment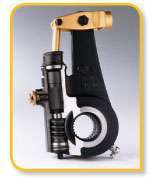 • Spare hoses and end fittings
• Recommended grease
• Grease gun
• Ruler (in inches)
• A marker or sharp instrument to scribe the pushrod position
• Wrench to rotate and adjust slack and/or replace hoses
• Hand cleaner and rags
TEXAS TOUGH ON INSPECTIONS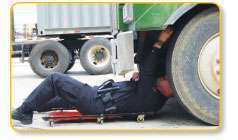 While CSA is a nationwide program run by a federal agency, it's a mistake to consider it "a national safety operating model," says Drew Anderson of Vigillo Inc., which mines CSA data for fleet clients. "It's a 50-state operating model, and each state has its own unique issues to focus on. Texas is far and away in order of magnitude the worst for vehicle inspections and violations." California, too, is a standout, and beats Texas in inspections per lane-mile.