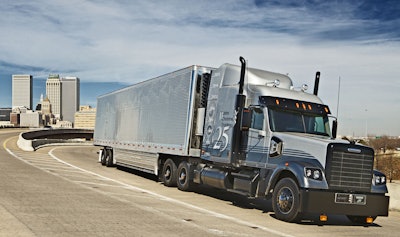 Longtime customer John Christner Trucking, of Sapulpa, Okla., celebrated its 25th anniversary with the gift of a customized Coronado from Freightliner Trucks.
The truck was given to the refrigerated truckload carrier at the Tulsa Convention Center in late 2011, adding to a fleet of more than 330 Freightliner trucks. The Coronado's silver exterior features a 25-year timeline on the side of the cab, the company's logo and chrome accents.
Founder John Christner was also presented with two motorcycles customized by Orange County Choppers, one modeled after a 1968 Freightliner, and the other a representation of the aerodynamic Cascadia.
The anniversary truck will be on display in the PKY Truck Beauty Championship at the 2012 Mid-America Trucking Show. Visit Freightliner for more information.