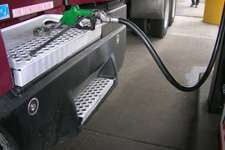 The U.S. average diesel price rose 1.9 cents to $4.142 in the latest week, the highest price since 2008, according to the U.S. Department of Energy's Energy Information.
Prices gained for the eighth straight week and tenth in the last 11 weeks. A year ago the average diesel price was 23.5 cents lower.
The current price is the highest since Aug. 25, 2008, when it was $4.158 a gallon. The record diesel price was $4.771 in July 2008.
Prices in all regions rose except for California, which dipped 0.2-cent to $4.481, the nation's highest average. Rocky Mountain region gained 5 cents to $4.119. The Midwest increased 2.4 cents to 4.04, while Washington and Oregon also increased 2.4 cents to $4.372.
For diesel price information, click here.