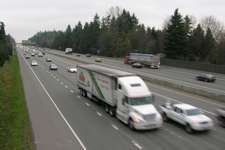 Readers, I'm beginning research on a story I'm preparing for Overdrive's June issue on which I need as much owner-operator input as is possible. It's one that will probe the five biggest problems owner-operators face in the industry today, offering practical and forward-looking ideas/examples toward solutions to those problems.
My main problem, at this point, is how exactly to determine what the top five problems are? There are many pressures on owner-operator businesses today, from the longstanding difficulty of detention at shipper and receiver docks to the unsettled hours-of-service regulations to the many other safety regulations coming down the pike — and CSA's hard-edged computation of them all into numerical safety rankings. That is to say nothing of fuel and freight rates.
So please take a moment to review the concerns listed in the poll here and vote for your personal top concern. If we've left out anything as you see it, tell me in the comments to this post, and feel free to elaborate on your choice there by listing your total top five. Any commentary on solutions to each of the problems is greatly appreciated, too. Contact me directly via email (tdills [at] randallreilly.com] if you'd prefer to share that way.
And thanks, as always. Here's that poll.
I'm on the road today in Minnesota and Wisconsin, and will be through Wednesday, visiting with both the owner-operator and company driver of the year and making a stop to see Bryan Dax's Diamond Reo Red Giant up close. Keep an eye on my Twitter feed and/or Facebook page for photos and updates from the road. Hope to see you out there. . .