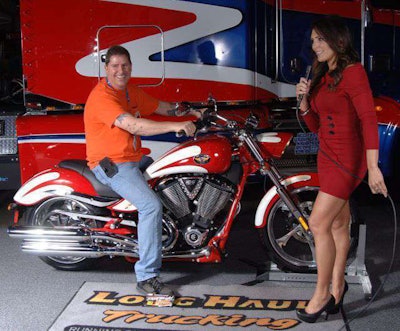 Steve Wright, owner-operator leased to LHT, won a 2012 Polaris Victory Jackpot motorcycle in the Long Haul Trucking safety contest. Second- and third-place prizes of $1,000 and $500 were given to the respective winners.
Wright was honored for a full year of meeting the following criteria: accident-free and DOT-violation-free driving, on-time pickup and delivery with no customer complaints and a referral of at least one driver that came to work for Long Haul in 2011.
The contest, which served to promote safety at LHT, helped increase the fleet by 8 percent and reduce LHT's DOT Safe Stat Rating by 31 percent.
For more information, visit LHT.