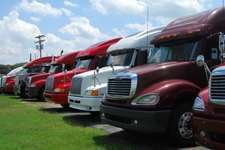 Used Class 8 truck prices slipped 1 percent in February from January, due to softness in the retail segment of the market, according to ACT Research Co.
"Prices will not necessarily fall in the long term, but their growth rate will slow. This projection is based on the assumption the availability of inventory will take the pressure off pricing as more new trucks are purchased and trade-ins ultimately become available as used trucks," reported Steve Tam, vice president-commercial vehicles with ACT.
Meanwhile, net orders for van trailers in February were down 32 percent from January, while orders for all other trailers increased 31 percent, ACT said.
"Backlogs have risen to the highest level during this recovery cycle and the strongest order board since August 2006," said Frank Maly, director-CV Transportation at ACT. "We expect to see a gradual growth path in production during the next six months," he added.