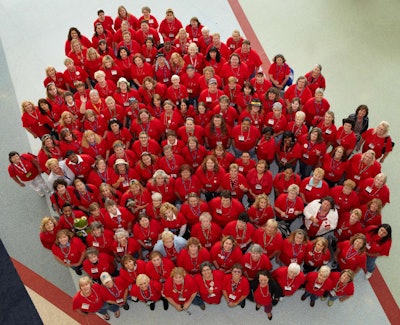 Longtime trucking-industry photographer Paul Hartley took this impressive overhead shot of the collection of 1-million-mile plus female drivers honored at the Women in Trucking Association's annual "Salute to Women Behind the Wheel" last Saturday at the Mid-America Trucking Show in Louisville. In total, the group included 67 women who had driven one million accident free miles, 36 who had reached two million safe driving miles, fifteen with three million mile records and seven women who had attained four million safe driving miles during their careers.
The final seven, WIT noted in a press release, were given a standing ovation by the audience. Well deserved, said Joyce Brenny, President of Brenny Transportation and Brenny Specialized of St. Cloud, Minn., in her address to the audience of approximately 800. She called the drivers heroes and thanked them for their dedication to safe driving. Brenny's passion is to elevate the image of the professional driver, "I want professional truck drivers to get the respect they have already earned, I said already earned!"
For more about WIT and the industry organizations that sponsor them, visit their website.
RELATED STORIES:
Brenny named Influential Woman in Trucking
New blog from Women in Trucking
Trucking salute to appear during the Idaho Potato Bowl on ESPN today
New Frito Lay trailer wrap supports Women in Trucking
Gorman receives woman's award