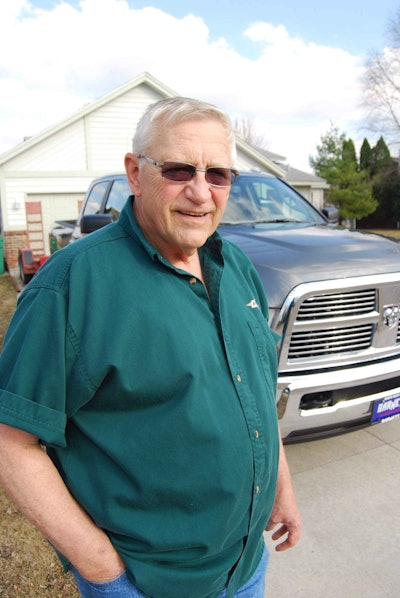 Leased to Dart Transit since the late 1970s, Truckload Carriers Association/Overdrive Independent Contractor of the Year Larry Severson's longevity with the company beats that of even some of the Oren-family management. Dan Oren, grandson of the company's founder and one of three brothers who continue to be active participants among the company's family ownership, remembers riding along with Severson (pictured) in his 1978 Ford LNT9000 conventional, powered by a Detroit 6V92, the second truck Severson had leased on with the company.
"I was a high school kid," says Oren, when he got his first experience with Dart loading and unloading trucks for certain of the city drivers at the time. Severson, running mostly local and short-haul regional then and now, and Oren trucked around Minneapolis/St. Paul in those days on no more than a basic bench seat in the Ford daycab.
Severson, finally, had found an ideal home for his owner-operator business, which started in 1976 when he bought a 1975 International TranStar cabover and leased to International Transport for a short time.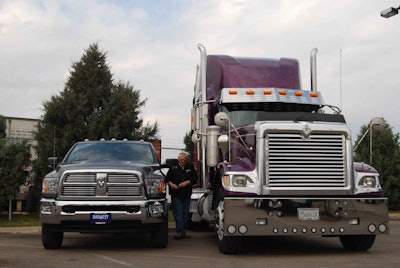 Before that, though, he'd worked for many years as a company driver with Northwest Transfer, the origin story of which he tells in the following video. Severson, whom I met a week ago now in the Twin Cities, is nothing if not a storyteller. Enjoy the vid — 'How Straight-Truck Carrier Northwest Transfer Got Its First Tractor' — here, as well a gallery, following, from my photo shoots with Severson, his current 2001 International 9900i (fresh from a swap of the 12-Liter Caterpillar engine for a Cat C15 — yes, it took a great deal of doing to get 'r done) and his prize in the IC of the Year contest, a brand-new Cummins-powered Dodge Ram 2500 pickup (pictured with the International).
[kaltura-widget wid="ezwz3ndork" width="400″ height="365″ addpermission="" editpermission="" /]