Today's post by Overdrive Managing Editor Lucinda Coulter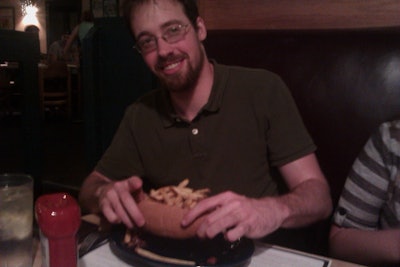 The Trucker's Jumbo hoagie at Ray's Steel City Saloon in Tallahassee, Fla., used to be full of bologna — fried bologna Pittsburgh-style, that is — with everything else piled inside. A tradition of the Steel City's mill districts, the Trucker's Jumbo was first prepared for truckers and steel workers on break with coleslaw and french fries stacked inside so that that laborers and haulers could eat the meal in hand and run. Primanti Brothers' restaurant, a Pittsburgh mainstay, is one of the first short-order restaurants said to have offered the sandwich.
When restaurateurs Ray and Keri Fisher returned five years ago to their native Florida after a 10-year stint serving up hoagies and beer in Pittsburgh, they found out the longtime classic needed an overhaul for Tallahassee clientele to really dig it. But they still wanted to offer some of Pittsburgh's authentic cuisine.
The Trucker's Jumbo got a second life when the couple replaced the fried bologna with their melt-in-your-mouth corned beef, made in-house. It's flavored with a tangy, ketchup-based horseradish sauce and comes packed with sauerkraut, tomatoes and fries, shown here before my 24-year-old son Eric munched it down the March evening my family visited.
The sandwich's Rachel version is served with the restaurant's signature horseradish coleslaw. "They're both very, very popular now," Keri Fisher says.
All the hearty eaters at my table enjoyed the onion rings and the pierogies, a Polish pastry, fried or baked, and filled with potatoes, sauerkraut or meat. Having a well-earned name, the saloon serves 150 varieties of beer. (I can speak for the wine — cheers to the Relax German Riesling.)
Drivers who stop by on a Tuesday evening for Science Café might hear talks on subjects ranging from the strength of a crocodile's bite to the strength of the world's strongest magnets in the pub's basement, where diners can also play pool and darts.
Truckers running anywhere near Tallahassee on Interstate 10 can get to the pub from exit 199 and head south, to 515 John Knox Road. The parking lot would be tight for a tractor-trailer, and, a sure sign of the eatery's popularity, the lot is always packed.
Former steel hauler Bill Archer, now a resident of Bluefield, W. Va., and longtime columnist for its local newspaper, doesn't remember the restaurant in Pittsburgh that served the meal customized for truckers in the '70s. But he's a fan of the chunk bologna, skillet fried with bell pepper and onion.
He says, "I ate my share of jumbo sandwiches over the years. The main reason I went into Pittsburgh was to load or unload. In a time-is-money-world, the streets were too confusing to get around on unless you actually lived there, and people were really bad with directions. I always tried to simplify my routes in and out of the city and travel around rather than through, although I got trapped inside a few times learning that lesson."
If you remember bolting a trucker's jumbo in the steel district — or pierogies, for that matter — let us hear about it. —Lucinda Coulter