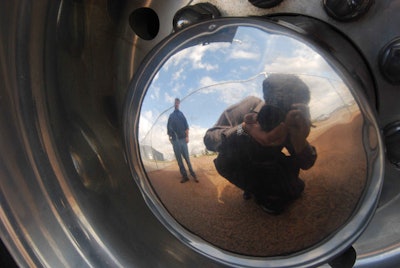 Yesterday at Roehl Transport, after a day of talking with TCA/Truckers News Company Driver of the Year John Moeller (pictured here behind me in one of his Roehl Freightliner Coronado's drives' hubs), Roehl President and COO Rick Roehl and I were talking about owner-operator Bryan Dax as I prepared to head off to Two Rivers, Wis., this morning to visit with him. Dax is owner of the 1990 Diamond Reo "Red Giant" truck I saw briefly in Nashville last year – Dax has turned the Reo in a mobile marketing vehicle, saving the beauty from years of hauling freight for Kaukauna Cheese.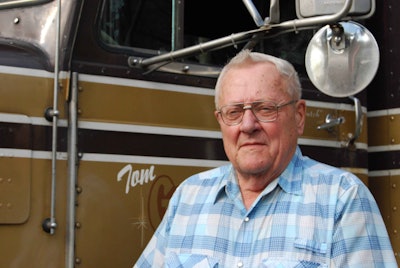 In any case, Rick Roehl made mention of a vintage Pete he'd always made note of on drives between Roehl Transport's Marshfield headquarters and Wisconsin Rapids nearby. After Roehl gave me precise directions to the house, I decided to take a little detour down County Road F toward Rapids, where I found (pictured) Leon "Butch" Mueller and his wife, Janet. Semi-retired today, the 76-year-old Mueller makes intrastate milk runs two-three times a week in this 1971 Peterbilt 358. He's been driving it for Tom Gullickson of Gullickson Transport in Deerfield, Wis., since it was new, "the first or second Peterbilt conventional they sold out of Peterbilt in Waukesha," he says.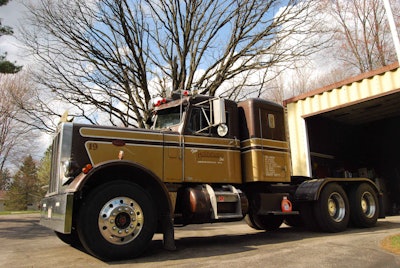 Powered by a 350 Cummins Big Cam, the rig's second engine, Butch Mueller's put every one of his almost 4 million miles down behind the rig's wheel. "I always dreamed of driving a Peterbilt conventional," he says he told Tom Gullickson's predecessor (his father Irving), when he bought it. "This is the last truck I'll ever need."
Big thanks to Roehl for the tip. And to Mueller for the hospitality. Enjoy the pictures of the rig at Mueller's place below.