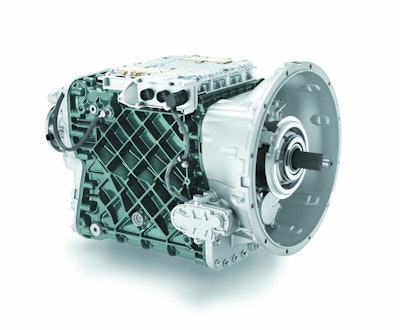 Volvo Trucks announced it is adding two XE drivetrain packages featuring the 16-liter Volvo D16 engine. The first, a heavy-spec XE16 package rated for combination weights of up to 143,000 pounds, was designed specifically for the North American heavy long combination vehicle (LCV) market. The second XE16 package is designed to combine fuel efficiency with performance for five-axle tractor-semitrailer combinations up to 80,000 pounds, the company says.
The XE16 packages "downspeed" the engine at cruising speeds by 200 rpm or more than traditional specs. Each package utilizes a new D16 engine rating of 500 horsepower and 2,050 lb-ft. of torque, Volvo I-Shift automated mechanical transmission, specialized axle ratios, specific tire sizes and proprietary software are designed to facilitate seamless communication among Volvo's integrated powertrain components.
The XE16 provides the full 2,050 lb-ft. of torque while running as low as 1,000 rpm to improve low-rpm drivability. Key enablers of XE16's low engine speed technology include the Volvo Engine Brake, as well as massive connecting rods with large bearing surface areas that help alleviate bearing stress.