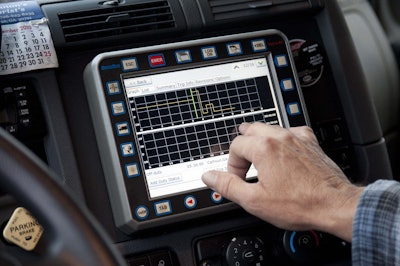 The American Trucking Associations President on Wednesday, April 25, called on members of the upcoming conference committee on the surface transportation bill to require motor carriers to use electronic logging devices to promote drivers' compliance with hours-of-service driving limits.
According to Landline, though, the Owner-Operator Independent Drivers Association is asking its members to call their House representatives and Senators to ask them to not support an EOBR mandate in the new surface transportation bill.
The story quotes Todd Spencer, OOIDA executive vice president, as saying, "The device only tracks when the wheels are moving, not taking into consideration the colossal waiting times spent by truck drivers at shipping docks. Plus, we hear every day from truckers whose companies use the devices to improve 'productivity,' which actually means harassing truckers into driving more hours."
Bill Graves, ATA president and chief executive officer, said ATA supports an electronic logging mandate based on feedback from member carriers who find the technology improves compliance, safety and operating efficiency.
"We urge conferees in both bodies to adopt the Senate's requirement for carriers to use electronic logging devices," Graves said. "Clearly, these devices lead to greater compliance with maximum driving limits, which is very good for the trucking industry as a whole and highway safety."