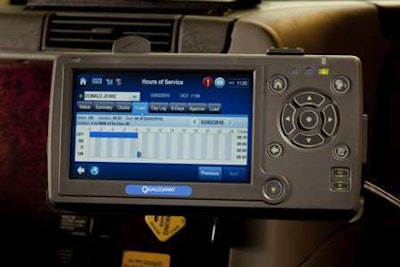 The Federal Motor Carrier Safety Administration has issued a final rule that formally rescinds its April 2010 final rule concerning electronic onboard recorders for hours-of-service compliance. FMCSA's action responds to a court decision that vacated the rule that would have mandated EOBRs on all trucks used by certain non-compliant carriers.
The U.S. Court of Appeals for the Seventh Circuit in August 2011 vacated the agency's EOBR rule following a challenge by the Owner-Operator Independent Drivers Association. OOIDA had argued that the final rule had not met federal regulations stipulating FMCSA ensure the devices not be used to harass vehicle operators.
FMCSA on Feb. 10 announced its intent to move forward with its rulemaking regarding EOBRs and hours-of-service supporting documents by preparing a supplemental notice of proposed rulemaking. FMCSA also announced via the Federal Register several steps to augment its efforts to obtain comprehensive data to support its supplemental notice of proposed rulemaking, including:
• Listening sessions on the issue of driver harassment;
• Tasking the Motor Carrier Safety Advisory Committee to assist in developing material to support the rulemaking, including technical specifications for EOBRs and their potential to be used to harass drivers; and
• Conducting research by surveying drivers, carriers and vendors regarding harassment issues.
The Motor Carrier Safety Advisory Committee on Feb. 8 finalized a report on mitigating the use of EOBRs to harass drivers that provides suggestions to FMCSA. The document contained information the agency should explore in any rulemaking on EOBRs for hours-of-service compliance.
Harassment issues relative to electronic logs cover driver relationships with law enforcement personnel and carriers, tilting heavily toward the latter and favoring drivers' positions in certain instances. A Feb. 8 draft said, "Drivers should be able to save records of carrier contact with drivers." The statement was presented relative to an item about the difficulty of regulating the role EOBRs can play in hours-of-service compliance.
"Trying to regulate the difference between productivity measures and carrier actions that result in harassment is difficult because it should be judged by a standard of reasonableness that could be interpreted differently based on a specific factual circumstance," the item read.
FMCSA held an EOBR listening session April 26 in Bellevue, Wash., to allow interested persons to present comments, views and relevant new research the agency should consider in development of its SNPRM.