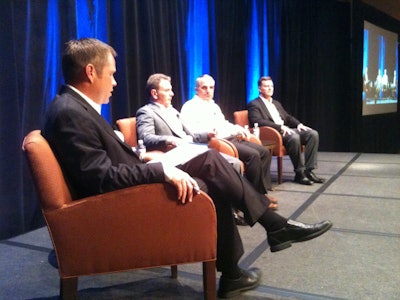 Motor carriers have not always done a good job explaining their costs to shippers. But now that the tables have turned, shippers are willing to listen, said a panel of fleet executives at the CCJ Spring Symposium in Birmingham, Ala., on Wednesday, May 23.
Negotiating weekly adjustments to fuel surcharges is one example. Panelist Brent Nussbaum, president and chief executive of Nussbaum Transportation Services, a 200-truck carrier based in Normal, Ill., dispatched the company's chief financial officer on sales calls to explain the fuel surcharge. Nighty-eight percent of the company's fuel surcharges now are adjusted weekly instead of monthly or quarterly, he said.
Panelist Gary Lewis, president of Pendulum Shift Consulting, said shippers and carriers still are not spending enough time talking about a fair fuel reimbursement — one that is lane-specific with a daily reset. Discussions with shippers and carriers about the topic typically will last between four and six hours, he said. During the first two hours, shippers think carriers are trying to gain the upper hand.
"Then they realize that this creates an environment where you are reimbursed for exactly what you purchased," he said.
Besides fuel, panelists agreed that educating customers about the need to increase driver pay and utilization is bearing fruit. "Shippers are coming around and helping us be more efficient," said Steven Tapscott, vice president of sales and marketing for Miller Transporters, a 400-truck chemical hauler located in Jackson, Miss.
Shippers are being more flexible with scheduling and allowing carriers to set appointment times for pickup and delivery. "They can't afford to spend more money — they are all operating on minimum profit, but are cognizant of what is happening," he said.
Developing a custom yield management system has helped Nassbaum Transportation target specific lanes for pricing adjustments. "It allowed us to give criteria on all of the lanes instead of saying we need a 3 to 5 percent rate increase," Nassbaum said. "We started attacking lanes and improving yield every month."
Nassbaum has focused on growing with existing customers in the last couple of years. "We've gone back and explained the value we bring to them," he said. The company also sends monthly e-mail blasts to customers to keep them informed of the company's Compliance, Safety, Accountability scores and safety initiatives.
Adding more capacity to absorb growth has been the difficult part of the equation, however. "Banks are still a little bit bitchy about proving finance to this industry," he said.
Nassbaum mentioned a successful project that has increased its market share with a customer. Working with Wabash, the company designed a new dry van trailer with a 35,000-pound heavy-duty floor rating (see "One Trailer, Two Loads," CCJ February 2012).
The HD35 trailer can support a 15,000-pound steel coil loaded with a 20,000-pound forklift. The design solved the problem of moisture damage and inconsistent pricing for a customer with inbound flatbed shipments of steel coil. Flatbed carriers were charging for deadhead mileage since the customer was shipping its outbound finished product in dry vans.
"It completely eliminated the moisture issues, gave consistent pricing and took two modes of transportation and turned them into one," he said.