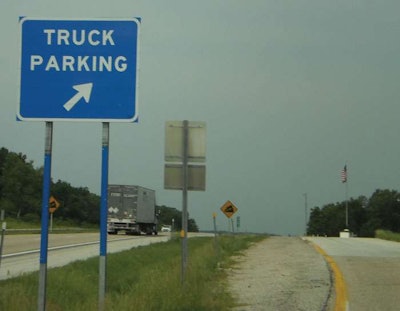 Missouri will continue its initiative to expand interstate truck parking by transforming the I-29 Mound City rest areas to truck parking. Work begins this month.
The Mound City rest areas each currently offer seven spaces for trucks or RVs, but will provide 60 spaces each after conversion. In recent years, Missouri has increased parking by converting older facilities to strictly truck parking areas.
State transportation workers will demolish the northbound location, which is the last Missouri rest area on I-29 before Iowa. They will start on the southbound rest area after completing the new Rock Port Welcome Center at the I-29 Rock Port exit. The new Rock Port location is expected to provide more truck parking than older welcome centers have and is anticipated to open mid-June.
MoDOT will remove Mound City's buildings and picnic areas to create parking, as it did when it transformed the I-70 Mineola rest areas into truck parking last June. The new Mound City locations will provide minimal facilities, including vault or no-flush toilets.