Owner-operators find big money and good schedules working the oil and gas services boom.
In early 2011, Jimmy Lessley took three trucks and tank trailers and formed Lessley Services to run crude and natural gas condensate for Trans Montaigne Crude Products Group. "Now we're running 36 trucks," he says, all owner-operators, plus a 2006 Kenworth W900 daycab that he runs.
The success of Lessley and others who've transitioned from other applications comes as companies leverage new technologies to produce oil and gas. These truckers are finding the perfect mix of above-average pay and job satisfaction working in the growing oil services industry. Rates can run as high as $3-plus per mile in flatbed to $5 or $6 working more locally with pneumatic tanks. A liquid crude tank-owning owner-operator team can earn up to $4,000 a day.
Around Williston, N.D., oil boom central for the past couple years, "we're seeing on average 60 new trucking companies a month," says North Dakota Trucking Association Executive Vice President Tom Balzer. Most have one to three trucks and many serve various aspects of the fracking operations, such as bulk water, sand and crude haulers. Others are flatbeds and dumps "for gravel hauling, housing materials" to account for the population boom.
"Anything that goes along with that kind of boom, you'll see big growth," Balzer says. For example, "Diesel sales here are unbelievable."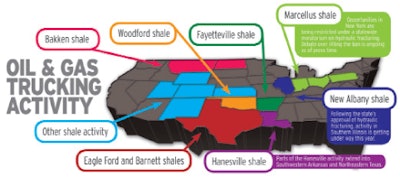 Owner-operators and drivers are "making pretty significant money," he says, "and trucking companies in that area are adding multiple drivers on a daily basis."
Based in the similarly booming area around Williamsport, Pa., Landstar agent Brenda Hoover notes strong, though sporadic long- and regional-haul heavy-equipment volume both in- and out-bound from varied states, such as Texas, Pennsylvania and North Dakota. She's seeing "a lot of flatbed freight and a lot of oversize equipment on double-drops, lowboys."
Since 2010, when the boom really got going, Williamsport has ranked among the nation's top 10 fastest growing metro areas. Truckers are following the money there.
Strong demand for capacity is bringing in competition as large as Schneider National. The large truckload company is hiring in Texas, especially, but also around North Dakota/Montana and in Pennsylvania, says Recruiting Vice President Mike Hinz. For now, it's only company drivers, but "we're looking at the potential for owner-operators," he says.
"An average guy with average experience [whatever the application] can expect $60,000 minimum his first year," says Hinz, "depending on how long he wants to work." Pay in many cases is salaried, based on a five-day workweek. With bonuses for extra workdays, it could run as high as $90,000.
Former team over-the-road owner-operators Kristin and Chris Stump joined Schneider as company drivers in February in separate 2012 Freightliner Cascadia daycabs. They mostly haul sand in pneumatic tanks to gas well sites in West Virginia. "It's more money," Kristin says, and "it's a lot more stable." Hauls are short, meaning easy home time. The Stumps moved to Pittsburgh to join the operation.
New drilling technologies and energy prices are driving the production boom. "As they bring new wells on, they'll truck them until they can get them pipelined out to a common point facility," Lessley says of crude coming out of the Texas wells. "We go out there and service the wells and keep the liquids moving off of them."
One type of liquid is condensate from natural gas, the byproduct of running the "wet gas" through a separator before it's piped. The other is somewhat heavier crude oil.
Hydraulic fracturing and horizontal drilling technology, combined with seismic devices that can better pinpoint where the oil and gas are, give drillers the ability to reanimate old, slow-producing wells, Lessley says. Many existing wells can see production increased from 20 or 30 barrels a day to 130 to 180 barrels a day, he adds.
The Stumps are working the Marcellus Shale, where fracking has sent gas activity into boom mode through Pennsylvania and parts of Ohio and West Virginia. Owner-operator Mike Mace and the team of Steve and Doris Bixler also haul frack sand in pneumatic tanks to the area.
Years of unsatisfying work toting reefers and flatbeds left Mace on the verge of selling his 1996 International 9300 and exiting trucking. Then Mace leased to Reed Trucking of Schuylkill Haven, Pa., in 2010. Now, running sand regionally, "I absolutely love trucking again," he says.
A large part of that is driver camaraderie. "It's like you're on the same level with the same group of guys" day in, day out, he says of his current operation. "You have your CB on, you talk to them – the communication is just unbelievable."
Kristin Stump echoes that sentiment. "This is the most fun I've had in 11 years' driving," she says. "It's a good old-fashioned trucking team and you get to know so many more people."
The attraction isn't all about teamwork, of course. "I think I was up around $140,000 before expenses" last year, Mace says, on just 41,000 miles, for an average $3.41 per mile. Reed books its loads through the KSM Brokerage, with rates adjusting weekly with fuel prices, Mace says.
Owner-operator Bixler entered the business following Mace, also finding a diamond in the rough. "For the first time in 12 years as an owner-operator, I'm really making money," he told Overdrive as part of our reporting on high-paying niches in the January issue.
"The industry's getting a lot more competitive," he said in May. "We have a lot more people coming and trying to get into it – they're cutting rates." Companies also "scaled back a little bit as natural gas prices have gone way down," Bixler says.
As reported in January, Bixler at one point could expect up to $6 per mile gross, but in May, after 12 months in the business, he'd banked $170,000 gross on 45,000 miles, or $3.78 a mile.
Mark Kathrein and Wendy Wing moved their 2006 Freightliner Classic (with an 84-inch sleeper) to hauling crude with the Lessley's small fleet after having leased to FedEx Custom Critical for years. Similar opportunities exist there in Texas, but with crude oil a bigger part of a gas/oil mix. Kathrein and Wing got their start in crude briefly working the Bakken Shale area in North Dakota, where they'd heard a team might gross $300,000 yearly take-home on low miles.
That proved to be an inflated number, and the ultra-rugged climes didn't make for many pleasurable days. So they plunked down close to $100,000 for a brand-new Tytal 8,400-gal./200-barrel 407-code-compliant crude tanker to get in on Lessley's operation (though Lessley does own some tanks). "We run from Corpus Christi to the ranch" in the Eagle Ford Shale area, he says, referring to a well situated equidistant between Laredo and San Antonio on the old "King Ranch."
On a really good day, says Kathrein, "we can get in three loads in 24 hours. That's a huge payday – we can make up to $4,000 a day doing that, but we typically make about $2,500 to $2,600 a day seven days a week."
They're paid an 80/20 split with the carrier, and the rate is computed per-barrel. "And the further the haul, the higher the barrel rate," Kathrein says. For example, 190 barrels hauled 200 miles might be priced $6 a barrel, a 30-mile run at $3 a barrel. "This is where the money's at as far as I can tell," he adds. "We're making twice what we were making" hauling expedited.
Oil field hours exemption stirs controversies
A May 15 New York Times story suggested many on-highway deaths could be blamed on the oil field exemption to hours of service regulations, based on analysis of truck-related fatalities. The exemption permits a 24-hour restart provision for drivers dedicated to oil field operations.
Further, it allows an extension of the 14-hour on-duty clock during on-site waiting, available to drivers of vehicles "that are specially constructed to service oil wells." There is some debate about how strictly to interpret that last qualification. Brian Remus, a safety manager with WHW Trucking of Billings, Mont., says Montana DOT told him his dry bulk haulers — including belly dump, side dump and pneumatic trailers — cannot take the exemption due to the equipment's versatility potential, even though dedicated to servicing wells.
Yet in Pennsylvania, says owner-operator Steve Bixler, hauling sand in a pneumatic tank, he's had no problems extending his clock as recently as February, when inspected by a DOT officer. On the other hand, other Reed Trucking-leased owner-operators have been told by inspectors that they're not eligible. "Like a lot of things with DOT," Bixler says, "it depends on the officer who checks you. How they personally see it is how they're going to write it."
The Owner-Operator Independent Drivers Association told Bixler that its reading of the regs is that his dedicated equipment is eligible for the special hours provisions, even though it holds the versatility to be used elsewhere.
Some oil services haulers are able to take advantage of many states' more permissive intrastate hours regs, given the local nature of the work. Owner-operators Mark Kathrein and Wendy Wing, hauling intrastate in Texas, can "drive 12, work 15, take an 8-hour sleeper period and a 24-hour restart," Kathrein says. If they cross state lines, however, they're back on the regular federal hours rules, with the restart exception.
Platform/dry van opportunities
Hydraulic fracturing is a materials- and waste-heavy process, one reason truck demand and rates have been so high for those working the wells with dry and liquid bulk tanks. Some dry van haulers as well as flatbedders have taken advantage of similar opportunities. Landstar-leased Tim Philmon, for instance, hauled the pump pictured below on his flatbed out of a Montana oil field in May, after carrying in fracking fluid packaged in totes.
Empty totes have to be carried back out, too, notes Brenda Hoover of MicBee Transportation, a Landstar agent based in Cogan Station, Penn. At sites around the nation, Hoover notes, "I arrange about a load a week of them, at better than average van lane rates."
Backhauls don't always work out so well for Philmon when bringing totes in. He had to deadhead all the way to Kansas to get a decent load the last time he went into the fields.
Rates he's seen for liquid in totes coming out of Texas to North Dakota and Montana fell by $1,300 to the truck (from around $5,000), or as much as a buck a mile, between February and May, too, he says. "I'm usually hauling about 18 totes at a time," he says. Philmon guesses the supply of trucks willing to take it north falls sharply when temps are reaching 30 below.
"All there is to do up there is work. It's not pretty," he says. The area is "lacking in truck stops," Philmon adds.
All the same, it's brimming with local opportunity in oil and gas services. "If you want to go up there and drive a truck, you can really make a killing running sand and oil tankers," says Florida-based Philmon. "If I didn't have a family, I'd go up there in a heartbeat."
Oil and Gas Hauls
CARGO TRAILER* DEMAND
Oil Liquid bulk crude tank — High
Sand/cement Pneumatic tank, dump — Very high
Water/Waste fluid Liquid bulk tank — High
Heavy equip Platform — Sporadic, moderate/high
Fracking fluid in totes Platform — Sporadic, moderate/high
Empty totes outbound Dry van — Moderate/high
Buying What You Haul
Mark Kathrein and Wendy Wing's crude-hauling operation, leased to Lessley Services, is unusual in that the operators and their carrier are testers and buyers of the product they're hauling.
"I buy a tanker of oil and I have a guaranteed buyer [who sells it] to other outfits," says Kathrein. But it's up to Kathein and Wing to ensure the oil is not too contaminated or the buyer will reject it, so they take samples.
A centrifuge on their truck separates water and sediment, says Kathrein, "and we have to report that level to decide if we're going to buy that oil."