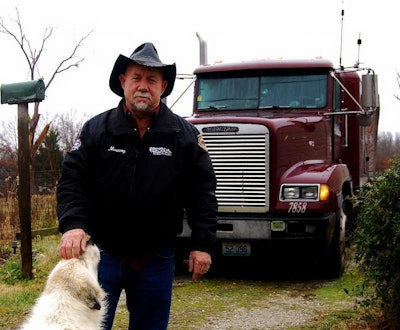 I got a friendly check-in call from owner-operator Mike "Mustang" Crawford (pictured) last week — aside from the Merry Christmases and inquiries about the family, the Long Lane, Mo.-based flatbed hauler (running with his own authority dedicated to Prime's logistics wing) was upbeat about business prospects as a general rule, and more particularly about, no doubt, the price of diesel.
With his access to Prime's volume discounts at most of the major truck stops and the declining-price environment generally, he says, the cost of 120 gallons has fallen in some instances as low as $280 for a real fuel cost per mile at 6 mpg of just 48 cents, or nearly half of what many owner-operators have, no doubt begrudgingly, gotten more or less used to the last few years here.
Crawford laid out his prior week's miles, revenue to the truck and overall what he cleared after fuel and miscellaneous ongoing expenses, low for him given he's run his 1994 Freightliner with no truck payment for more than a decade now — likewise with no scheduled or other maintenance conducted during that week. For the week, he ran at around 59 cents a mile on basic costs to keep the truck running down the road insured and plated.
On average over a year, given expenses not included in the calculation, Crawford's total business cost per mile (cpm) will no doubt be north of that — for most owner-operators, with or without ongoing truck or trailer payments and/or plenty spent on upkeep, no doubt, among other costs, cpm sits somewhere between $1 and $2 a mile, as the chart from recent polling below shows (methods of calculating CPM among the hundreds of respondents weren't controlled for here — for instance, higher ranges may include small fleet owners with calculation of driver pay in total CPM per truck, which some 1-truck operators won't include — but the chart at least gives a broad picture).
Distribution of owner-operator/small-fleet-owner-reported CPM/truck
Headed into the new year: here's hoping both fuel and rate trends continue well and that falling crude prices on the global market (hovering close to $60 a barrel as of this writing, way down from near $120 earlier this year) don't decimate the often-lucrative oil-services hauling business. That business has fueled a lot of growth in prospects for many an owner-operator business the last several years.
Crawford himself has hauled a considerable amount of flatbed freight destined for fracking operations in Texas and elsewhere this last year, he says, and from what he hears operations are hunkering down for the long haul. "I'm not a good inside source on this," by any means, he says, but "the people I've been talking to in the oil business [are saying] that if OPEC wants to shove oil into the market" in an attempt to further deflate prices and induce U.S. oil companies to slow production considerably, "they're saying, 'we're just going to keep drilling.'"