When Overdrive profiled its 2010 Trucker of the Year, "Mustang" Mike Crawford, the Long Lane, Mo.-based owner-operator had his 1994 Freightliner leased to Prime Inc. Within a year, however, Crawford and some other Prime owner-operators made a change to address a problem. The age of their trucks was falling outside Prime's leasing guidelines, Crawford says, but the Springfield, Mo.-based company wanted to keep the longtime haulers as a reliable service option.
The truckers got their own operating authority, and today, Crawford continues to haul virtually exclusively for Prime's brokerage wing, Prime Logistics, as an independent carrier.
"Instead of making $50,000 to $60,000 a year," he says, his flatbed loads on exceptional weeks net as much as $3,000. "My wife likes $3,000-a-week take-home," he says.
Not to say that carrier authority comes without added costs. The biggest share is the necessity for true independents to carry primary liability insurance. The yearly premium of $6,000 to $10,000 or higher is a crucial point to consider before making the move.
Crawford draws a broad analogy for a typical progression in trucking: "Running as a company driver is like being in middle school – your parents still do most everything for you. When you buy a truck and lease on, you're in high school or college. You've got some freedom, but your carrier still shoulders a good bit of responsibility for you."
When you get your own authority, Crawford says, "it's like your dad finally kicking you out of the house." Getting kicked out, at least in this day and age, can be tough.
Among Overdrive readers, roughly half of whom run under their own authority today, 61 percent of respondents to a December poll probing industry conditions relative to new operating authority responded negatively. Nearly half of all respondents indicated that regulatory and economic pressures were such that profitability was extremely difficult to achieve. Another 10 percent cited the new norm of slow economic growth as a prime limiting factor in obtaining new freight contracts with shippers. In the decades since deregulation, owner-operators able to secure shipper-direct freight serving a particular niche typically have been the most profitable. Full poll results follow.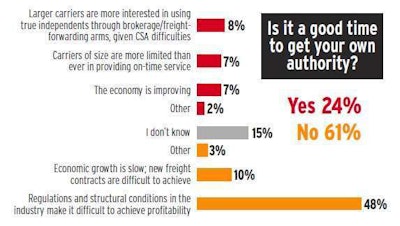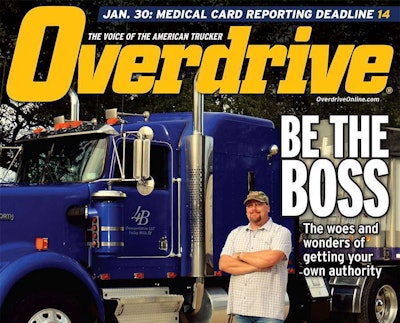 ON THE COVER | Following a Texas shoot for Overdrive's January cover photo featuring independent Cody Blankenship (by Laura Burt of Cowgirl at Heart Photography), Senior Editor Todd Dills caught up with the operator at an unload in Bells, Tenn. Blankenship delivered the last of the blackeyed-pea loads that came out of a particular Texas acreage to a storage facility of a large fresh-frozen food processor in the area. Blankenship was hopeful the receiver could become a direct customer itself, a way to keep his reefer loaded between harvests, when he runs the Cornhusker convertible hopper bottom almost exclusively.
Catch further photos of the unload via this linked post from December on Dills' Channel 19 blog. And in the video at the bottom of this story, Blankenship walked through the basics of his business as well as the equipment that powers it.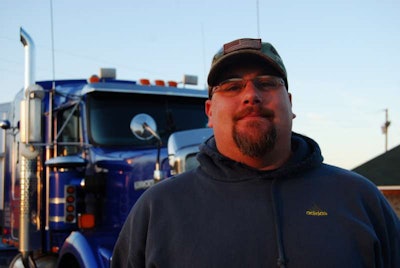 It's in shipper-direct freight where Cody Blankenship's 4B Transportation reaped rewards when he returned to trucking after years fighting fires in San Marcos, Texas. In 2006, Blankenship reinstated interstate authority he'd obtained in 2000 when he ran dump trucks as Blankenship Construction, then pulling open-deck loads with a 1980s 359. He learned a friend's dad, former longtime bull hauler Dale Bohne, had been hauling as an independent for Allen's Inc. – best known for its Popeye spinach brand – working harvests and running the vegetables to canning operations. Blankenship got back into operation with a 2003 Kenworth W900B and a Cornhusker convertible ag trailer. "Whenever you're getting $3.50 to $4 a mile, you think you've hit the Holy Grail," he says.
Those rates mostly have been high and stable over many years because operators in demand often bobtail straight back to the harvest site after unloading, though weather-related harvest hiccups and other factors have forced Blankenship to diversify. In addition to a hopper bottom trailer he pulls with the W900B, he also owns a reefer trailer he keeps loaded via a few broker relationships and some shipper-direct freight.
Connecticut-based owner-operator Joe Bielucki got his authority in 2005 when the company where he leased had too many slow spells. An Owner-Operator Independent Drivers Association member since 1988 when he first started out leased, Bielucki – like Crawford – used the association's services to obtain his authority.
Today Bielucki relies to a certain extent on his most recent former leasing carrier, a private tank hauler. The vast majority of his business, however, is shipper-direct freight, run in a tight Northeast region. It all remains so close to his home that he's able to run a daycab – a 2004 Kenworth T800 he spec'd new, powered by a Cummins ISM with a 10-speed Eaton transmission. Under lease at slow times, he says, "we'd trip-lease on occasion, but having your own authority gives you a little more flexibility."
WEIGHING THE PAYOFF | A one-truck operator who moves into running under his own authority eventually can expect higher earnings when the economy is healthy.
Independents with their own authority saw the biggest gain in average net income during 2012: $5,813, to $55,994 for clients of owner-operator financial services firm ATBS. That income was $4,000 higher than the $52,000 yearly average for all ATBS clients, including leased operators. ATBS data from the four quarters ending in September also show that independents earned more money than leased dry van and reefer haulers.
While independents have more potential for extra earnings, they often also are the first hurt by a sudden economic downturn. If one or more customers go out of business or reduce shipping dramatically, it can be difficult to replace that business, especially when the economy already is suffering.
Bielucki had a friend doing flatbed work and hauling lumber. In 2005, "business was booming," he says. "Everything was still cranking along before the crash, and I started hauling lumber locally," often to a Connecticut port. "If we went farther than 100 miles out, we'd use a broker to get back," he says. "We started with one main direct customer and a few brokers." Following the 2008 crash and ensuing recession, Bielucki was able to hang on via new customers he'd picked up. Now "very seldom do we use brokers," he says.
"You have to get out and look and make phone calls and knock on doors," Bielucki says. "I made the mistake of trying to contact shippers through email," to which he received little promising response.
Some customers came more easily. "I'd be unloading somewhere, and a guy comes up wanting a business card," he says. "Next thing you know, a call's coming in asking about your load availability."
Putting aside time to make customer contacts won't be necessarily easy, given the pressure to stay loaded day to day, and it's something Bielucki feels he could do better. It will be key – whether you're contacting shippers or establishing trusting broker relationships – to avoid the all-eggs-in-one-basket situation that, though sometimes a feast and convenient, easily can become a famine and break the business.
Illustrating such perils, this fall Allen's Inc. filed for bankruptcy in the middle of what looked like the first good pea harvest in years, says Blankenship. As of early December, "now I have a fair amount of my near-term profit tied up in bankruptcy," he said, close to $7,000, after a shaky period when he and other operators "decided to stick with" Allen's. Following the bankruptcy announcement, operators are getting paid for current loads. Time will tell how the pre-bankruptcy loads sort themselves out.
[youtube WuhS5ehMc1s&feature=c4-overview&list=UUVb9_pwbvG99tK1apahFyIg nolink]
PART 2 IN THIS SERIES: How-to: A primer on filing for your own authority