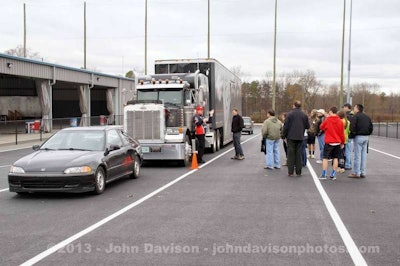 Owner-operator Todd Modderman is shown in the John Davison shot above running through safe auto operation around big rigs for students of the B.R.A.K.E.S. program of teen driver instruction, which regular readers will recall I wrote about in this story last month. Get over to the program's site for Davison's story about a significant milestone the program recently reached. On "Dec. 7, 2013," Modderman checked in with me recently, "our 10,000th teen driver went through the school."
Here's a link to the Davison story.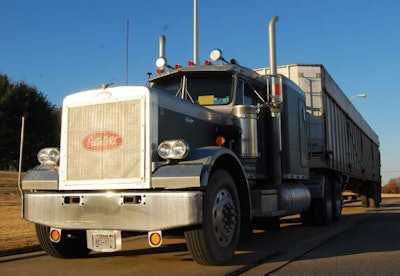 Owner-operator Dale Bohne's 1986 Peterbilt 359
Running along with owner-operator Cody Blankenship on his black-eyed pea delivery earlier this week in Bells, Tenn., I got another rare treat when we rolled up to the unload facility to find Blankenship's running partner on the haul, likewise Texas-based Dale Bohne, and his warhorse of a rig. Bohne is in the process of a full restoration — he's gotten much of the mechanical side of things in top shape, he says, including the 425-hp Caterpillar 3406B engine: 4 million miles on the original block, he says.
But, he adds, "we haven't gotten to the beauty part."
All the same, it's looking pretty great from this angle.
Find more shots in the gallery below, including a couple of Bohne's open-top van — the walking floor made relatively quick work of the pea unload.