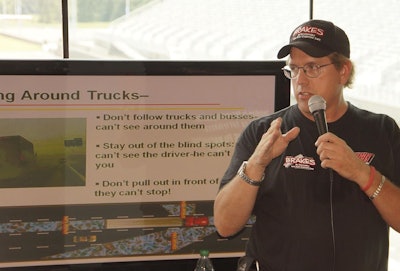 Drivers, meet Georgia-based independent owner-operator Todd Modderman. In addition to his five-year-old luxury- and designer-car transport business, he's recently taken a more active role in something he feels quite strongly about — the need for a driving-around-trucks component in teen driver education. Others have pursued such ongoing goals by various and sundry means — longtime readers will recall company driver Toby Bogard's Semi-Aware instructional book written especially for teens just starting out operating motor vehicles. Modderman, however, has made himself and his rig available in partnership with the B.R.A.K.E.S. program of driver instruction, beginning this past June. Instructional rograms today in which Modderman regularly participates are held in Charlotte, N.C.; Atlanta; and Orlando, Fla.
The 25-year operator's route toward the instructional work has been a long one.
"In 1993 I had a car cross the center line and plow right into me," he says. "The driver was killed, my truck was totaled, and I was out of work for six months with injuries." Before that, and with a renewed vigor after he got back up and running hauling in the entertainment industry (before he went out on his own he "drove for Eddie Money, Ronnie Millsap, Tanya Tucker, Snoop Dogg, … Ron White on the blue-collar comedy tour," he says), he'd see driver's ed cars at various points on his day-to-day business. "I'd say, 'Let me come by and talk to kids about driving a truck.'"
When he found out about the B.R.A.K.E.S. program founded by NHRA drag racer Doug Herbert after he lost his two sons in a January 2008 highway tragedy, he called the director, in 2012, who "didn't really get into the idea" at first. Then a haul put him through the Charlotte area, where the program is headquartered, and Modderman "went and talked to the director again" — ultimately, a partnership was formed.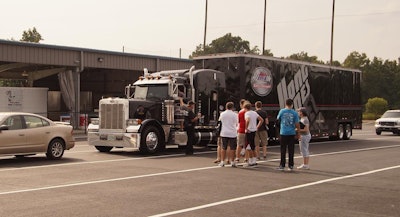 Following the core class — when Modderman is on-hand, he contributes to the section on accident avoidance — "I have my truck set up," he says, with cars positioned both close in front and behind the trailer. He gives students an opportunity to see what he sees from up above in the cab of his Peterbilt 379. "Most people think jumping into the front of a truck [in traffic] is a good place to jump in – I'll put one car on the right side by the tandems in that blind spot and another 50 feet back in that blind spot."
He demonstrates to students those "No Zones," where four-wheeled vehicles essentially disappear from the truck driver's view, and also educates them on what truck drivers are telling them with light signals: "If truck turns his four-ways on – don't just rush around them. We're trying to signal something [is happening up ahead] to you because you can't see past us."
He also sets up truck "braking distances for 40, 50 and 60 mph," he says. "When I show them where my truck is in relation to where the marks are, how much distance it needs to get stopped," eyes are opened wide.
Often, parents participate as well. Both young drivers and parents, Modderman long ago realized during a Microsoft Mobility tour he hauled — a trailer that "turns into a 40-by-40 stage — have a natural curiosity about big trucks that he exploits to school them in safe driving. During stops on that old tour, the truck wasn't exactly part of the display, but he found "people almost getting made because they couldn't get into the truck," he says. Today, "parents thank me often" for what he does with B.R.A.K.E.S. both for their children and themselves.
Find a gallery of further photos by John Davison of Modderman's work with a class in Charlotte below.