Court rejects EPA's Navistar exemption
A federal appeals court on June 12 rejected the Environment Protection Agency's ruling that allowed Navistar to sell heavy-duty diesel engines that don't meet the agency's 2010 emissions standards limiting the amount of oxides of nitrogen (NOx) in diesel exhaust.
Navistar says it disagrees with the ruling and will ask for a rehearing.
An interim final rule (IFR) issued in January allowed Navistar to pay fines and continue to sell the noncompliant engines. Mack Trucks and Volvo Group North America then sued EPA over the IFR, arguing, among other things, that the agency had failed to give adequate notice and opportunity for comment.
The three-judge U.S. Appeals Court for the District of Columbia on June 12 agreed, ruling that EPA didn't meet any of the statutory criteria for issuing a "good cause" exception. The court said Navistar's current financial situation wasn't a proper justification for the EPA to issue the rule without following normal administrative procedures.
"The rule does not stave off any imminent threat to the environment or safety or national security," Judge Janice Rogers Brown wrote for the court. "It does not remedy any real emergency at all, save the 'emergency' facing Navistar's bottom line."
The ruling is at least a temporary win for Navistar's competitors in the diesel engine market, all of which chose to use selective catalytic reduction technology (SCR) to achieve EPA's NOx requirements. Navistar has been able to use banked emissions credits in order to comply with the regulations.
As Judge Brown put it, however, "Navistar's day of reckoning is fast approaching: its supply of credits is dwindling and its engines remain noncompliant." EPA issued the IFR after Navistar informed the agency in October 2011 that it might have as few as three or four months of available credits remaining. EPA's rule allowed Navistar to continue to sell 2012 and 2013 EGR engines in the United States while paying a noncompliance fine of $1,919 per engine.
"Navistar will work with EPA to fully understand the ruling and its impact on the use of NCPs [non-compliant penalties] until a final rule is implemented," the company said in a written statement. "Navistar continues to make and ship engines and our customers will continue to receive the products they ordered with EPA certified engines."
— Staff reports
Expanded Overdrive coming in August
Beginning in August, Randall-Reilly's Overdrive will join forces with its sister publications Truckers News and Custom Rigs to deliver more tricked-out trucks, equipment how-to articles and health and entertainment content than ever before.
The newly combined and completely redesigned magazine and website will carry the 50-year-old Overdrive name while continuing to deliver the news and business features owner-operators have come to depend on.
"Readers of Overdrive, Truckers News and Custom Rigs will continue to receive the same great content each month, all under one comprehensive brand," says Max Heine, Overdrive editorial director.
Truckers who have picked up Truckers News and Custom Rigs in truck stops around the country will instead be able to pick up the new Overdrive. Owner-operators who have Overdrive delivered to their homes will see no change in their subscription.
A key component of the new Overdrive will be a completely redesigned website, OverdriveOnline.com, that will extend Overdrive's content to a much broader audience than is possible through the print magazine. The website will make it easier for readers to comment on stories using fully integrated social media functions and to share their own photos from the road. Photo slide shows and videos will expand options for how readers receive their information.
Part of the new Overdrive will be a multifunction app available for iPhone and Android. It will include a complete truck stop guide, routing and fuel optimization, loads and other features.
— Staff reports
EOBRs among hot topics for agency
The industry can be on the lookout for a Safety Fitness Determination proposal and perhaps a rulemaking in 2013, said Anne Ferro, head of the Federal Motor Carrier Safety Administration. Also on the boards is a long-awaited entry-level driver training rule, Ferro told attendees at the CCJ Spring Symposium in May.
Ferro also discussed where the electronic onboard recorder rulemaking process now stands in light of the Owner-Operator Independent Drivers Association's successful court challenge that FMCSA failed to address how fleets would be prevented from using the devices to harass drivers.
"We've worked closely with EOBR partners – vendors, carriers and law enforcement – on the technical standards," she said. "We've also worked with drivers to learn more about the harassment issue." FMCSA also must address the issue of hours of service supporting documents for EOBRs, she said.
All of those components will be dealt with in a forthcoming Supplemental Notice of Proposed Rulemaking on EOBRs, due late this year or early 2013. "It will be a proposal, and we'll need your feedback," Ferro said.
Ferro also reminded symposium attendees of the July 2013 effective date of FMCSA's final hours-of-service rule, but chose not to address pending legal action targeting the rule and instead emphasized its definitive status in the agency's eyes. "The whole intent was to target cumulative fatigue," she said of the new 34-hour restart provision.
— Dean Smallwood
OOIDA challenging Minn. out of service criteria
The Owner-Operator Independent Drivers Association is returning to court over out of service criteria against the Minnesota State Patrol and the Commercial Vehicle Safety Alliance.
In April, the alliance adopted amended criteria for Minnesota and other jurisdictions that say out of service orders for fatigue can be issued based on reasonable articulable suspicion instead of the stricter standard of probable cause.
U.S. District Judge Donovan Frank will hear the association's motion for an Order to Show Cause Sept. 21, the first anniversary of the Minnesota judge's upholding of his previous order against the MSP. Last September, Frank ruled that the patrol's OOS criteria violates truckers' civil rights and his previous court order. That suit did not name CVSA as a party.
Minnesota State Patrol Lt. Eric Roeske said the patrol was "aware of the motion and will respond in due course." CVSA declined to comment, said Executive Director Stephen Keppler.
Last September, Frank ruled that during inspection, troopers are to observe drivers for impairment resulting from fatigue or illness. However, troopers cannot expand the driver portion of the inspection to determine impairment without reasonable articulable suspicion of driver impairment.
Drivers will not be ordered OOS for fatigue without probable cause to believe the drivers' fatigue or illness has made them an imminent public safety risk, he wrote.
The newest CVSA criteria states that when, based on reasonable suspicion, drivers are fatigued enough that they should not continue the trip, then they should be declared out of service until rested.
OOIDA has asked the court that CVSA and MSP defend why they should not be held in contempt for what the association said is a violation of the court's ruling.
The court will continue jurisdiction of the issue until September 2013.
— Jill Dunn
SHORT HAULS
SPEED LIMITERS are unsafe, arbitrary and violate the principles of justice, according to a June ruling by an Ontario judge. The case involved owner-operator Gene Michaud of St. Catharines, Ontario, who challenged the province's law requiring speed limiters on trucks.
CATERPILLAR HAS PARTNERED with Westport Innovations to co-develop natural gas technology for off-road equipment, including mining trucks. The companies will combine technologies, like Westport's High Pressure Direction injection and Caterpillar's off-road engine tech.
PRELIMINARY DATA show Class 8 truck orders in May at 17,650 units for all major North American manufacturers, says FTR Associates. May orders are up 5 percent from April and down 24 percent from May 2011.
Freightliner unveils Cascadia Evolution
Freightliner Trucks and parent company Daimler Trucks North America unveiled the new Cascadia Evolution in Washington, D.C., on May 30.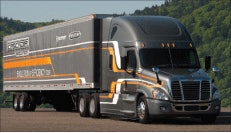 Key advancements have made fuel economy increases possible for the Evolution, which will be the standard Cascadia spec beginning in 2014, says David Hames, general manager, marketing and strategy for Daimler Trucks North America. These improvements include substantial upgrades to DTNA's Detroit DD15 diesel engine, including a new, ACRS fuel rail system, a new water pump design to reduce parasitic engine drag and an asymmetric compounding turbocharger.
These enhancements are combined with an exterior aerodynamic package to achieve substantial fuel economy gains that DTNA says have been validated in wind tunnel, closed-track and real-world test conditions.
The Cascadia Evolution will also include a premium fuel efficiency specification model that has extras like an integrated automated manual transmission, wide-based single tires, wheel covers and trailer aerodynamics.
The truck will enter production in the first quarter of 2013.
— Jack Roberts
Panel discusses hauling in California
Dealing with California Air Resources Board regulations, congestion, limited parking and frequent inspections can make operating in California one big headache. But a panel of fleet executives at the inaugural Great West Fleet Executive Conference in Las Vegas last month told attendees that there are also plenty of opportunities in the Sunshine State.
With a $2 trillion GDP, California has the seventh largest economy in the world – the same as Germany's. Panelists said smart carriers will capture some of that business by finding ways to turn the state's obsession with all things green into new ways to market their businesses.
Scott Blevins, president and CEO of Mountain Valley Express, for example, looks for ways to turn regulations into positives. "Why not market it and be eco-green, since we have to do it anyway?" he asked. Blevins, whose company offers overnight and second-day service between California, Arizona and Nevada, has found that his customers are willing to pay more to have his company deal with California so they don't have to.
He adds a clean air surcharge to every bill of lading, a bridge toll fee and has increased his rates 6.9 percent this year. But he's also made investments: retrofitting a tractor costs $15,000, putting skirts on a trailer is $1,400, and a new tractor can run $125,000.
UPS also has seen great success in getting its customers to pay for its sustainability platform, said Noel Massie, president of UPS Central California District. "There are a lot of customers that wouldn't use us if we weren't a green fleet," he said. Massie's company runs 2,500 alternative fuel vehicles and has reduced carbon dioxide by nearly 8,000 metric tons.
The panelists agreed that diesel will play a reduced role in their fleets. "Looking out 20 years, I think the fuel for our industry is going to be natural gas," said Paul Truman, president of Truline Corporation and Estenson Logistics. "The problem is the equipment makers are too slow. They need to build more to gain economies of scale so they can close that price differential, which right now is about $50,000 to $60,000" over diesel-powered trucks, he said.
The Great West Fleet Executive Conference was sponsored by Bridgestone, Chevron and Freightliner Trucks.
— Linda Longton
SHORT HAULS
WTSA US EXPRESS has been shut down by the U.S. Department of Transportation after an audit uncovered violations in hours of service, driver qualifications and drug testing requirements.
SURFACE TRANSPORTATION trade between the United States and its North American Free Trade Agreement partners reached an all-time high in March, exceeding $85 billion for the first time since data collection began in 1994 and topping the $80.8 billion record set last March.
THE PUBLIC COMMENT period on proposed changes to the Federal Motor Carrier Safety Administration's Safety Measurement System has been extended to July 30.
O&S files for bankruptcy, seeks Prime affiliation
After filing for Chapter 11 bankruptcy protection, O&S Trucking asked a court June 5 to grant it the privilege to a business relationship with carrier Prime Inc.
The two Springfield, Mo., companies had reached an agreement before O&S filed its May 30 petition in U.S. Bankruptcy Court for the Western District of Missouri. The court granted an emergency motion to expedite the hearing to affiliate with the 4,000-truck Prime.
In May, O&S principal Jim O'Neal stepped down during his second term as Springfield mayor after stating business and personal issues required his full attention.
The owner of the 300-truck refrigerated carrier also resigned recently as an American Trucking Associations vice chairman. O'Neal had served as the 2007-2008 Truckload Carriers Association chairman, a position Robert Low, president of Prime, assumed last March.
The Chapter 11 petition lists equity security holders as O'Neal, with 142,000 shares, and the 31-year-old company's employee stock ownership trust, which has 79,403 shares. It estimated its liabilities at $10 million to $50 million and assets to be less than $50,000.
The affiliation the two companies want approved would allow O&S to retain 80 percent of its revenue, but use Prime's buying power for fuel and trucks and trailers. It would grant O&S access to Prime's rolling stock and additional freight business.
If approved, the agreement would provide O'Neal a 3 percent commission for O&S revenue generated the first year, 2 percent in the second year and 1 percent in the third year.
The court has scheduled a July 18 meeting for O&S creditors.
— Jill Dunn
Cross-border pilot program could fail
The U.S.-Mexico cross-border trucking pilot program may fail unless more Mexican carriers elect to join, a Federal Motor Carrier Safety Administration official said in May. To date, Mexican trucks have entered the United States only 33 times under the program, said William Quade, FMCSA's associate administrator for enforcement and program delivery.
"The agency is extremely concerned about not having sufficient data," Quade told the agency's Motor Carrier Safety Advisory Committee at its meeting in Alexandria, Va. Without more participation, FMCSA cannot collect adequate data to evaluate Mexican carriers' safety, resulting in the program's failure, Quade said.
The pilot program's rebirth sprung from talks between President Obama and Mexican President Felipe Calderon that yielded a July 2011 deal. Mexico had imposed billions in tariffs on American imports, citing violations of the North American Free Trade Agreement, after the United States ended the initial pilot program in 2009 under political pressure and protests from the Teamsters and other interests.
Quade told MCSAC that, to date, only three Mexican trucking companies have sent a total of three drivers and three trucks across the border, accounting for all of the trips. The largest Mexican trucking firms haven't applied due to uncertainty over the program and insurance issues, he said.
— Staff reports
SHORT HAULS
THE AMOUNT of freight carried by the for-hire transportation industry rose 0.2 percent in April from March, up 2 percent from the same time last year and 16.7 percent from the April 2009 low.
Shell names calendar trucks
Driver John O'Keefe of Portland, Conn., won Best of Show at the 2012 Shell Rotella SuperRigs competition, May 17-19 at the Joplin Speedco in Joplin, Mo., with his 2007 Peterbilt 379 Legacy. The truck, called Low Life, also captured first place in the Best Interior, Best Theme, Best Chrome, Best Lights and Best Engine categories.
Paul Rissler of California, Mo., won Best of Show, first runner-up and $4,000 with his 1996 Peterbilt 379. Shell awarded the truck's owner, Todd Roccapriore, with $10,000, which he donated immediately to All Roads Lead to Joplin, a group developed to help raise funds to benefit the YMCA of Joplin's community disaster recovery efforts following a devastating tornado in May 2011.
The event helped raise $100,000 for the relief fund.
In addition to O'Keefe, 11 other trucks were selected for the 2013 Shell Rotella SuperRigs calendar:
• Larry Pruitt; St. Clair, Mo.; 2007 Mack CHN-613
• Ron Saris; Leamington, Ontario; 2000 Kenworth W900
• Chad Blackwell; Greenville, Va.; 2007 Peterbilt 379
• Dan Look; Appleton, Wis.; 2004 Peterbilt 379
• Josh Ihlenfeld; Owatonna, Minn.; 2005 Kenworth W900
• Jeremiah Wolfe; Roanoke, Va.; 1998 Kenworth W900L
• Don Wood; Denmark, Wis.; 2003 Peterbilt 379
• Caleb Eilers; Odessa, Texas; 2000 Peterbilt 379
• Larry Bontrager; Kolona, Iowa; 2007 Peterbilt 379
• Albert Tocci; Inola, Okla.; 1955 Mack LTL
• Travis Buhr; Adams, Neb.; 2001 Peterbilt
— Staff reports
Rule reduces paperwork on intermodal equipment
Truckers operating intermodal equipment no longer are required to submit inspection reports if they have not found nor been made aware of defects in the IME.
The Federal Motor Carrier Safety Administration's final rule eliminates the requirement that drivers submit no-defect Driver-Vehicle Inspection Reports after their inspection indicated no issues with the equipment nor were any problems brought to their attention. Agency officials estimated the final rule, effective June 12, will represent an annual costs savings of 1.6 million hours and $54 million dollars.
The new rule lifts only the mandate that drivers file no-defect DVIRs when the chassis is not owned or leased by the motor carrier, such as if the IME is the property of a port facility operator. It also does not change a driver's obligation to assess the condition of IME for deficiencies.
The FMCSA published the final rule in response to a joint petition for rulemaking from the Ocean Carrier Equipment Management Association and the Institute of International Container Lessors.
Agency representatives estimated the DVIRs take drivers a little more than 2.5 minutes to complete and about 95 percent of DVIRs indicate no defects found.
— Jill Dunn
SHORT HAULS
DIESEL PARTICULATE pollution is down 50 percent in the last 20 years, according to presentations to the California Air Resources Board in May. The experts also challenged CARB to tackle short-lived climate pollutants, which have an atmospheric lifetime of a few days to a few decades, unlike carbon dioxide, which stays in the atmosphere for hundreds of years.
CONGRESS HAS been urged by the American Trucking Associations to address several trucking issues while working on the multi-year highway bill, including adoption of an electronic onboard recorder mandate, re-examination of the hours-of-service rules and prevention of a new carrier safety fitness rule before addressing "serious flaws" in the Compliance, Safety and Accountability program.
Truck makers discuss meeting looming fuel economy standards
Glen Kedzie, vice president of energy and environmental counsel for the American Trucking Associations, said the industry will deal with "low-hanging fruit" to meet the first round of changes under the new fuel economy standard that beings in 2014, while the challenge will be in meeting the second round of standards by 2018.
Kedzie was the moderator of a panel that spoke on the subject at the Great West Fleet Executive Conference held in Las Vegas June 13-14.
Kristine Koblenzer, western division manager for Cummins, said, until recently, engine companies have been focusing on meeting particulate matter and NOx level reductions. Starting in 2013 and 2014, the attention will turn to reducing carbon dioxide and improving fuel efficiency since engines are at near-zero levels on NOx and PM.
David McKenna, director of powertrain sales and marketing for Mack Trucks, said OEMs have to maximize operating efficiency of the vehicle, because they are not getting cheaper over time. We have to do our best to make them as efficient as humanly possible."
Moving forward, McKenna said those changes likely will be incremental, with solutions such as load-based variable power programming, smooth cruise speed options, electronic programmable shifting and other options, each contributing about 1 percent fuel economy gain.
Dan Kieffer, director of emissions compliance for Paccar, said waste heat recovery and finding replacements for today's auxiliary power units are challenges and opportunities for engine companies.
— Staff reports
Volvo plans 13-liter gas engine for 2014
Volvo Trucks announced in May plans to launch its own 13-liter liquefied natural gas engine for North America in 2014.
The new LNG engine's advanced high-pressure diesel ignition technology will provide fuel efficiency gains compared with current natural gas products, the company says.
Combined with its previously announced offering of compressed natural gas-powered Volvo VNM and VNL model daycabs, the new engine will round out a complete range of natural gas-powered offerings.
The company is also testing another fuel that can be produced from natural gas, DME (dimethyl ether), which could become an attractive alternative for the North American market.
Through advanced high-pressure diesel ignition technology – using trace amounts of diesel to ignite the natural gas – Volvo's LNG engine will deliver a 30 percent fuel efficiency improvement compared with spark-ignition engines, making it a viable alternative for demanding long-haul applications. The Volvo 13-liter LNG engine will also reduce greenhouse gas emissions by about 20 percent compared with current diesel products.
Volvo says the engine will accomplish these savings without sacrificing power, torque or fuel efficiency.
North America's abundant supply of natural gas, and the reduced emissions and minimal aftertreatment CNG engines offer, make the technology suitable for customers operating in localized or closed-loop applications. To meet current demand, Volvo offers the CNG-powered VNM daycab equipped with a factory-installed Cummins ISL G engine.
The company also recently announced that it is operating natural gas-powered VNL demonstrator trucks. The larger, more robust VNL model features a 12-liter Cummins-Westport ISX12 G gas engine. Production of the natural gas-powered VNL daycab will begin in conjunction with commercial availability of the 12-liter gas engine in early 2013. These heavy-duty engines feature maintenance-free aftertreatment, requiring only a three-way catalyst to meet EPA 2010 emissions standards.
— Jack Roberts
Trucking adds 7,300 jobs in May
For-hire carriers added 7,300 payroll jobs in May, up from a revised 2,700-job increase in April, according to estimates from the Bureau of Labor Statistics. Payroll employment in trucking was up 0.6 percent over April and 3.4 percent over May 2011. Employment is up by 109,100 jobs, or 8.8 percent, from the bottom in March 2010, but it remains 110,100 jobs, or 7.6 percent, below the peak in January 2007.
— Staff reports
HIGHWAY HAPPENINGS
COLORADO. The state is installing high-definition TV monitors at truck stops that will offer streaming video on roadway, weather and traffic conditions on major highways. Walmart Transportation has donated 20 42-inch monitors, and CDOT is installing software for the service, which began June 1 at Johnson's Corner Truck Stop.
FLORIDA. Construction along a 9.4-mile stretch of I-75 in Sarasota County from north of River Road to State Road 681 is scheduled to be completed this summer. The project includes bridge construction and widening the interstate from four to six lanes.
INDIANA. A resurfacing project on I-70 in Clay and Putnam counties from six miles east of State Road 59 to three miles west of State Road 243 will cause lane restrictions until the end of the month.
MAINE. The Turnpike Authority has presented 10 options for upping tolls, but favors a plan focusing on hikes for the York, New Gloucester and West Gardiner toll plazas. Hikes would be roughly 50 percent greater than current tolls. The authority is accepting written comment through July 16.
MICHIGAN. The Ambassador Bridge Plaza now has a two-lane road for inbound commercial vehicles from Canada, eliminating the need for trucks to use neighborhood streets. The road provides truckers a direct route from the plaza to I-75 and I-96. Reconfiguring multi-lane roads within the plaza should be done by October.
MISSOURI. As part of its initiative to expand interstate truck parking, the state is transforming I-29 rest areas to truck parking. The Mound City rest areas will offer 60 spaces each after conversion. The locations will provide minimal facilities.
NEW YORK. Ten bridges on Route 400 in Erie and Monroe counties are undergoing repair projects, which are scheduled to be completed this fall. One lane of traffic will be maintained in both directions during construction.
NORTH CAROLINA. A 1.5-mile section of N.C. 194 is closed in Watauga County, east of Banner Elk, to allow crews to perform road work related to the construction of a retaining wall. Work is expected to be completed in October. Drivers are advised to follow the detour of Pigeon Roost Road.
OHIO. A new law banning texting while driving takes effect in late August. Warnings will be issued to offenders for the first six months. Afterward, fines will range from $150 to $300.
VIRGINIA. The state has launched a mobile app for 511 traffic information that includes real-time traffic cameras, travel times, electronic message signs and traffic maps, construction zones.
Arkansas Best buys Panther Expedited for $180M
Arkansas Best has closed on its $180 million acquisition of Panther Expedited Services, which will become a sister company to AB's largest subsidiary, ABF Freight System.
The Arkansas transportation holding company announced the purchase June 15 of the Ohio-based company that described itself as "North America's largest independent expedited transportation provider."
Arkansas Best bought Panther, which leases 1,007 owner-operators, from the private equity firm Fenway Partners. The purchases price includes repayment of Panther's outstanding debt of $100 million.
— Jill Dunn
Mexican officials corroborate Bogan's story
On June 19, the El Paso City Council unanimously approved a resolution urging the U.S. and Mexico to work to free Jabin Akeem Bogan, who's been incarcerated in a Veracruz federal prison since April 17.
The Demco Express driver's cargo of 268,000 rounds of ammunition from Johnson City, Tenn., was destined for United Nations Ammo in Phoenix. The 27-year-old Dallas resident was headed to a third stop in El Paso before his final destination when he missed his exit and landed in a lane designated for Juarez, Chihuahua.
Bogan, who had been a Demco Express driver for three years, says he asked a Bridge of the Americas official for help, who instructed him to drive straight, do a U-turn and return to Texas.
When he attempted to do so, Mexican federal officials searched his truck. Later, a Mexican federal prosecutor charged him with "clandestinely introducing arms into Mexico used exclusively by the military," which carries a 30-years prison term.
Council members reviewed case testimony and evidence, including Mexican customs agents' preliminary investigation, which indicated Bogan's truck was positioned just before the Juarez entry lanes and that he was trying to return to Texas through a non-authorized route.
Federal Judge Carlos Miguel Garcia Trevino of the 5th Judicial District, Chihuahua, echoed that conclusion May 14.
Three additional Mexican custom agents swore under oath before Trevino that the cargo was on open pallets and covered in plastic, yet another indication Bogan was not attempting to smuggle the ammo, they said.
— Jill Dunn